By Niña Terol-Zialcita and Toni Alvarez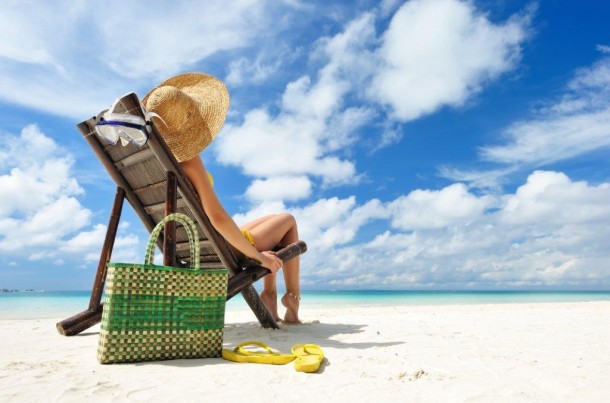 It was the late great French explorer and author Jacques Cousteau who labeled Palawan "the last refuge." Indeed, this group of islands in the southwestern part of the Philippines presents Mother Nature in her purest and most unbridled: deep-blue waters teeming with rich biodiversity; virginal islands with lush green forests and powder-fine sand sans the bars and drunken crowds; fresh, succulent seafood worthy of a Michelin restaurant; and gentle people with a deep love for their culture and environment.
It would take weeks — even months — of intrepid exploring to fully suck the marrow out of Palawan. For those with limited time and just the right amount of resources, the best place to start is Honda Bay.
Located 45 minutes away by boat from Palawan's capital city of Puerto Princesa, Honda Bay is a modest body of water surrounded by several islands and islets. Some of these islands are named matter-of-factly: Snake Island (for the shape of its sandbar), Starfish Island (for the abundance of starfishes on its shore), or Isla ng Puting Buhangin (for a sample of the whitest sand you will see on the planet). Others have names of foreign origin: Cowrie/Cannon Island, Señorita Island, and Arreceffi Island. One, in particular, is named for its unique feature — "Lu-li", or "lulubog-lilitaw" — denoting how the island seems to sink and float, or appear and disappear, with the tides.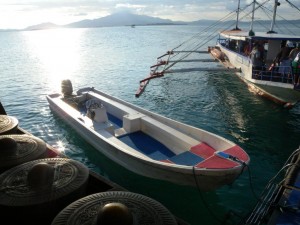 Its names notwithstanding, the islands along Honda Bay offer traveler a unique combination of leisure, adventure, and indulgence. Here, we present our 10 favorite ideas to make the most of a Honda Bay holiday.
Enjoy the luxurious beachside lifestyle at Dos Palmas Island Resort & Spa
The sole property in Arreceffi Island and in all of Honda Bay, Dos Palmas Island Resort & Spa offers spacious, tropical-style bay cottage or beach villa accommodations enveloped by lush greenery, powder-white sand, and azure waters.  Here, you can lounge around your own beachfront space, enjoy a sunset walk to a nearby mangrove, take a cool dip in the resort's pool, chill out in the Jacuzzi, arrange for quiet beachfront picnics, and be soothed by a traditional hilot massage. At Dos Palmas, the operative word for everything is "holiday."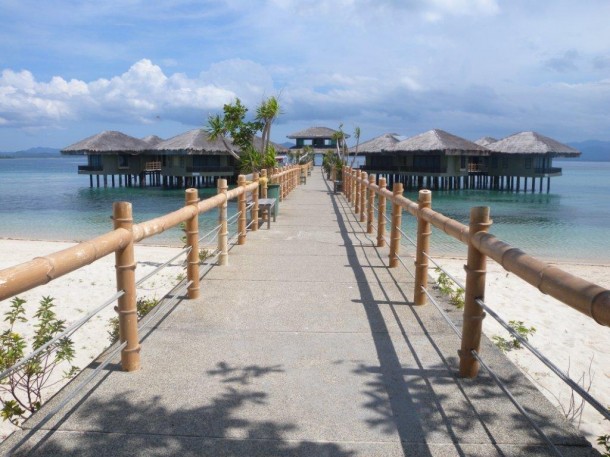 Go island-hopping and make the most of fun in the sun
With its chain of unpolluted, white-sand islands, Honda Bay is one the best locations in Palawan for island-hopping. A typical island-hopping tour would cost anywhere from PHP1,100 (US$25) around PHP2,000 (US$46) per person and would usually include the following: air-conditioned van transfer from Puerto Princesa to Honda Bay (unless you're staying at Dos Palmas), motorized boat transfer to the islands, life vest and water safety equipment, entrance fees to the islands, buffet lunch, and a licensed tour guide. For maximum enjoyment, wear swimwear, bring snorkeling equipment, and take your sweet, sun-kissed time. For group rates, ask your hotel concierge.
"Own an island" for the day at Isla ng Puting Buhangin
Do you know what it feels like to be lounging on a practically deserted virginal island? To see nothing but a carpet of white around your feet and nothing but a sea of blue wherever else you look? That's exactly what it's like at Isla ng Puting Buhangin. Part of the small island is actually used to house buffet lunches for small groups of 30 or 40, but if you wander just a few feet away from the activity and closer to the shore, you can feel — even just for a brief moment — that there is nothing else around you but sun, sea, and soft sand. (Just be wary of sea urchins and starfish!) For best results, book your island-hopping tour and buffet lunch with a large group of friends to truly have the island all to yourselves.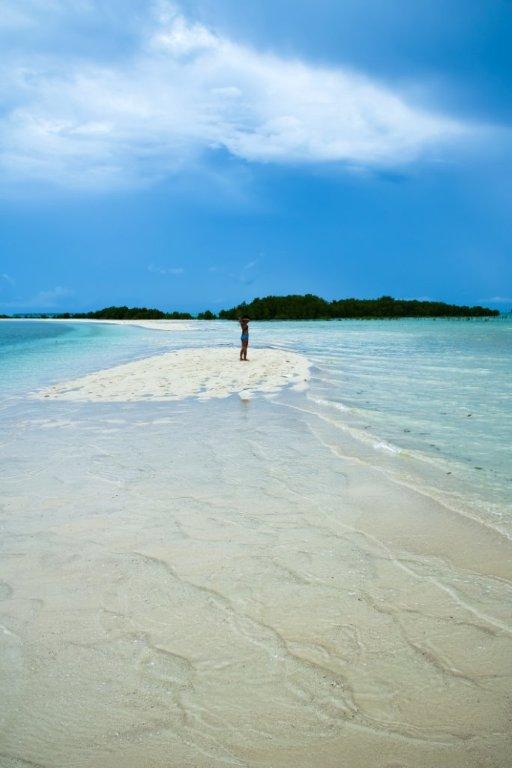 Snorkel, dive, and have awesome underwater adventures Ask anyone who's been to Honda Bay, and it's likely that their top two activities in the area would be snorkeling and diving. The bay is teeming with vibrantly rich marine life, and some islands have colorful coral beds that would make anyone wish they had an underwater camera.  For snorkeling and swimming, head over to Pandan Island, Starfish Island, Isla ng Puting Buhangin, or Arreceffi Island.  For diving, take your dive buddies to Pandan Island or Pambato Reef, just a 15-minute boat ride away from the Sta. Lourdes Wharf.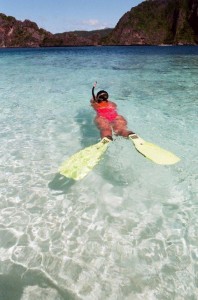 Work up a sweat with action-packed water sports Honda Bay isn't just all laid-back and cool. For those who want hot, sweaty action atop the bay's blue waters, some tours and islands offer the use of kayaks, banana boats, or even jet skis. Rates vary according to the type of tour you're getting, but if you're billeted at Dos Palmas, your room rates come with complimentary use of ocean kayaks, snorkeling equipment, resort bicycles, or facilities for "land sports" such as tennis, basketball, beach volleyball, beach badminton, or table tennis.
Go lobster-shopping at Pandan Island
Pandan Island is known for the ladies who sell fresh, succulent lobsters for only PHP600 (US$14) a kilo. (Yes, you read it right!) If you'd like to have some of the best lobsters in the Philippines for rock-bottom prices, make sure you have enough luggage allowance (you're sure to want to take some home) — and zero seafood allergies.
Indulge in a wide variety of local and international flavors
When you're done with island-hopping and with savoring the best of Palawan's fresh seaside fare, head back to Dos Palmas for a wide variety of indulgent options for every meal. Room rates come with full-board meals (breakfast, lunch, dinner), and options include sugba-style (grilled) seafood, global cuisine favorites, and oddly-delectable dessert combinations. One of our favorites were the sweet and savory bacon-wrapped banana fritters, which pretty much disappeared within minutes of being served on the dessert buffet table!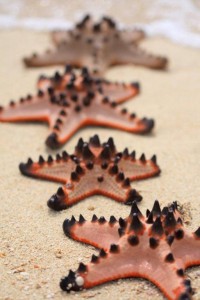 Have a jamming good time with indigenous instruments
One of the first things you will notice upon landing at the jetty at Arreceffi Island is the exuberant sounds of indigenous drums, kulintang, and other traditional southern Filipino instruments. After all, music is very much a part of Philippine culture, and no Philippine holiday will be complete without some form of live entertainment. Try your hand at playing some of these instruments and take part in a live jam that will leave you feeling reinvigorated, inspired, and wanting to play more. In the evenings, enjoy some good 'ol island entertainment in the form of fire dancers and live acoustic bands.
Take a slow and romantic sunset stroll on the beach
The main beach on Arreceffi Island's coastline faces the west, so while it isn't the best place to catch a truly glorious sunrise, it is the best place to enjoy a romantic and leisurely sunset stroll. Remember, no two sunsets are truly alike, so make the most of nature's marvels — and make sure your camera is on hand to catch the fiery and vibrant display of colors in the sky.
Create your own itinerary to have a memorable time that's truly "you"
Many of Honda Bay's tours and amenities are already packaged — some even coming with flights and accommodations, and most catering to the usual "touristy" preferences. While this option is often convenient for many tourists, it also means that those in search of more personalized experiences (or more time on a particular island during a day of island-hopping) will have to give way to the preferences of a larger group. To have a truly memorable vacation that speaks about your own interests and objectives, try to create your own itinerary and put together your own island-hopping schedule. This may mean more research and more preparation in the beginning, but the pleasure of enjoying a truly bespoke vacation — in Palawan, no less — will be priceless.
10 Ways to Enjoy Honda Bay Palawan