1oo MIFG: Anna De Leon – The Beauty is also a Beast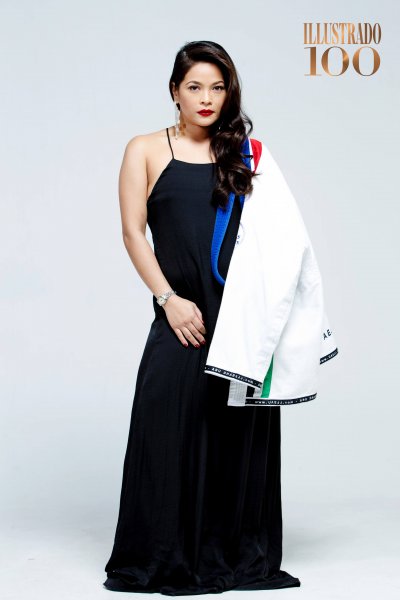 Anna De Leon is a trained makeup artist and renowned beauty advocate in the UAE. Since 2009, she has been teaching women about skincare and makeup through her workshops and classes: 'Faces by Anna De Leon.' She also has her own brand of affordable, high-quality makeup tools, 'Woman by Anna Makeup Brushes.'
2017 has been a pivotal year in which Anna transcended her beauty niche. She successfully earned her blue belt in Brazilian Jiujitsu, after having been in the field for almost three years.  Her hard work and rigorous training won her a spot in the World Masters Championship, where she competed in the USA. Her participation in the internationally renowned championship landed her a story (including a billboard inclusion) within Samsung's inspirational, #dobiggerthings campaign, lauding her as a source of inspiration and empowerment.
More than her achievements in sports and local pop culture, Anna's cachet lies in what she represents for women, that you can be a beauty, compete like a beast, and do anything you set your heart to, at any age.
"You are as old as you think and as young as how you feel," says Anna. And in a field dominated by mostly men, she takes gender out of the question, and the only feminine thing about her in sports are her colored nails.  She adds, "If I can carry a little person in my belly for nine months and continually raise her to be as fierce or even more than myself, then I can do anything."
Anna De defies the stereotypes of the modern woman, proving that, for women, there's more than meets the eye.  Fun, fearless and fabulous 40, Anna De Leon continues to be an inspirational figure for many, constantly expanding the definitions of the fierce contemporary woman.

Photography by: Alex Callueng
Illustrado 100 was made possible by sponsors: Giordano, Liali Jewellery, Mitsubishi UAE- Al Habtoor Motors, Michael Cinco Couture, Mapúa Institute of Technology, Centro – Amwaj Rotana Hotel , Max's Restaurant Middle East and GVER – Your Friendly MarketPlace for Sharing
Co-Sponsors: Herschel Supply Co., Rove Hotels, The Medical City – Dubai , Filipino Institute UAE, MPQ Tourism, JAMES Travel and Tours Dubai, Off the Hook Seafood Restaurant, The Original Barrio Fiesta Restaurant – Dubai and Tapa King UAE.
Read more Illustrado 100 on www.illustradolife.com