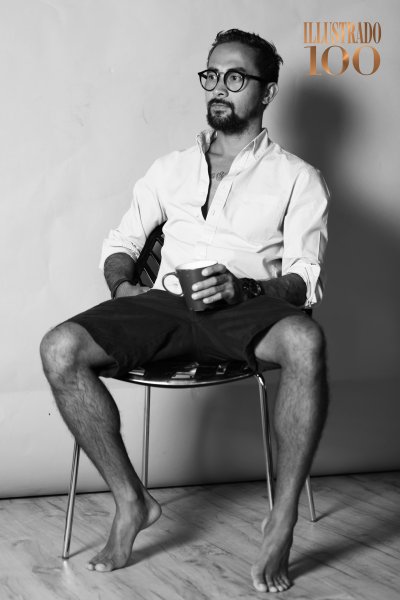 100 Most Influential Filipinos in the Gulf: Nathaniel Alapide – Painter/Sand Artist
He believes that there is always uniqueness in the arts because humanity as a whole wants to see "a new language of expression" and that humanity always wants to see something different.
"But, you have to remember too that whatever discipline you are in – whether a photographer, a writer, a musician, a painter, a dancer, a singer, a designer – that whatever you do if you have one thing that's unique, you can make good art.  It's okay to copy in the beginning because most of us only find our voices after we've sounded like other people," says Nathaniel Alapide. "But the one thing that you have that nobody else doesn't is YOU. So eventually if you continue doing your craft that's unique, YOU will always show your uniqueness from the work that you do."
And unique, he is.  Nathaniel is well-known for his ephemeral large scale murals created on the sands of Jumeirah beach, giving Dubai-watchers another thing to marvel about.  Last year, he also earned the honor of having his first one-man-show in his hometown of Antipolo.
On sand, his most memorable works are "La Gioconda" (Mona Lisa) and the mural of a "Tree" that he made in memory of his grandmother.  "The Mona Lisa because every person that sees it knows who she is and they are always in awe seeing it, maybe because it's something that they would not expect to see on the beach," he says. "The Tree because a lot of people can connect with the story of why I did it. I think that it's because everyone has a loving grandmother and we all want to remember and cherish the memories and love that they shared with us."
The barefoot artist dreams ever so constant, "I want to go around the world and create sand art in every country as much as possible. I want to share my art with the world and make our fellow Filipinos proud of who we are!" he says.
_______________________________________________________________________________________
Photography by: Mox Santos
Illustrado 100 was made possible by sponsors: Giordano, Liali Jewellery, Mitsubishi UAE- Al Habtoor Motors, Michael Cinco Couture, Mapúa Institute of Technology, Centro – Amwaj Rotana Hotel , Max's Restaurant Middle East and GVER – Your Friendly MarketPlace for Sharing
Co-Sponsors: Herschel Supply Co., Rove Hotels, The Medical City – Dubai , Filipino Institute UAE, MPQ Tourism, JAMES Travel and Tours Dubai, Off the Hook Seafood Restaurant, The Original Barrio Fiesta Restaurant – Dubai and Tapa King UAE.
Read more Illustrado 100 on www.illustradolife.com