100 MIFG: Pauline Moreno Craig – Dj and Aspiring Teacher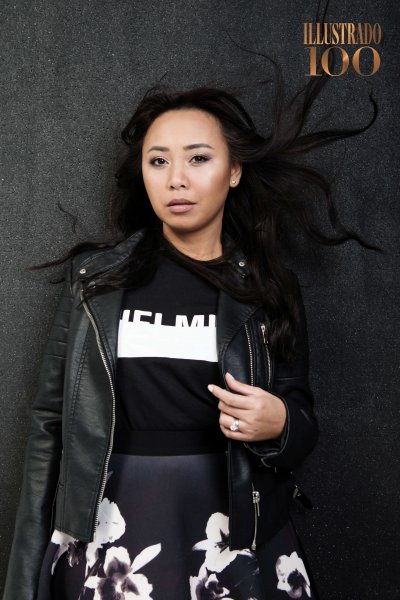 Pauline Moreno aka Dj Miss PM has been a strong fixture in Dubai's clubbing scene since 2009, directing the flow of the party around many of the emirate's prominent clubs and music festivals. But this lady's not just about pumping up the bass, Dubai's First Lady of Techno is actually growing up to be a teacher.
Pauline's versatility in music landed her a spot among Dubai's finest.  She's known for her selection of Disco, Nu Jazz, House, and even Drums and bass. Her most notable recent gigs include DJ-ing at the Creamfields dance music festival, opening for Nicole Moudaber (a renowned dance music industry figure), and playing at the DXBeach festival.
In a place with an increasingly rapid influx of contenders, Pauline notes that talent is essential for elevating one's game within the field. "You really need to be able to stand out and offer something unique to the market." She believes that a mixture of skill, passion, and hard work are the keys to longevity within the ultra competitive clubbing industry.
Behind all the clubbing and music, Pauline is also an aspiring teacher. Sidelining her music career for the season, Pauline is currently focusing her energy onto the world of academia, presently taking a masters degree and teaching at an international school. "I suppose when you love what you do, and you do things with the best intentions, it's worth all the effort and hard work."
Talent and hard work will not only determine your future, but will allow you to follow your bliss, and Pauline is the perfect example of that. Whether she's getting the party started or pursuing her love of teaching, this is one lady who knows how to march cooly to the beat of her own drum.
Photography by: Alex Callueng
Illustrado 100 was made possible by sponsors: Giordano, Liali Jewellery, Mitsubishi UAE- Al Habtoor Motors, Michael Cinco Couture, Mapúa Institute of Technology, Centro – Amwaj Rotana Hotel , Max's Restaurant Middle East and GVER – Your Friendly MarketPlace for Sharing
Co-Sponsors: Herschel Supply Co., Rove Hotels, The Medical City – Dubai , Filipino Institute UAE, MPQ Tourism, JAMES Travel and Tours Dubai, Off the Hook Seafood Restaurant, The Original Barrio Fiesta Restaurant – Dubai and Tapa King UAE.
Read more Illustrado 100 on www.illustradolife.com