100 Most Influential Filipinos in the Gulf: The Tuaños – Entrepreneurs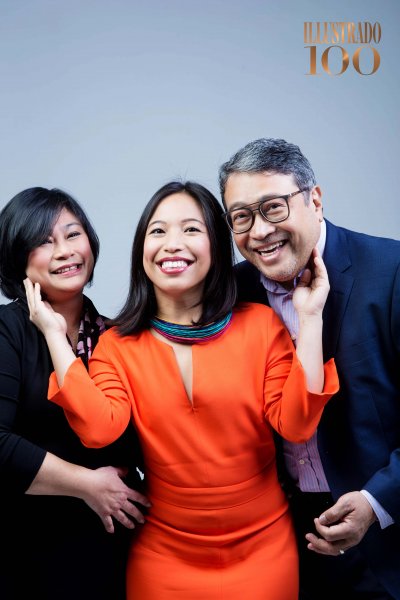 An entrepreneurial family with international backgrounds, and a methodical approach to work? To many people, they are the literal 'Super Family,' but for the Tuaňo's, it's just another family affair.
Ambitious, highly capable, and success driven, leading Filipino entrepreneur, food innovator, and business community leader Jovy Tuaňo is the head of the family. He is a CEO, Founder, Managing Director, even a Licensed Real Estate Broker among other things. Currently, he is the the Director of Trade, Investment, and Entrepreneurship at the PBC in Abu Dhabi.
The 'Real CEO' of the family, however, is soft spoken Power Filipina Janet Tuaňo, where all final the decisions must go through her. With 25 years of specialized experience in the banking industry, Janet works as a Certified Information Systems Auditor (CISA) at one of the UAE's leading banks. A benevolent figure in the Filipino community, she too serves as an unwavering  source of encouragement regarding future family endeavors.
Bubbly, outgoing, and a prodigy in her own right, Joan Tuaňo is an uber talented, amazingly articulate multi–cultural young woman. Her global education in Luxury Hospitality has given her the opportunity to work with some of the finest luxury companies in the world, such as the Ritz Carlton and Louis Vuitton. A real 'intrapreneur,' she is the Culinary Business Manager of the family premium meat business, La Carne.  Soon-to-expand, La Carne has become the butchery of choice for meat lovers, as well as hotels in the capital looking for the best quality meats. Her recent achievements include launching Japanese Wagyu beef in the UAE for the first time.
The youngest in the family, is Jose Mari Tuano.  He partakes in the family's rituals of food and jazz music, and is well-versed in the field of economics, earning his Bachelor's and Master's specializing in the field. He is now a Carbon Emissions Trader at ACT Financial Solutions (Amsterdam). Jose Mari's reputation as an active member of the student community at his alma mater, the Erasmus School of Economics, held him in high regard. In 2016, he earned third place for having one of the best theses in his program.
Maintaining a progressive and achievement-oriented family boils down to many factors, according to Jovy and Janet. The family's methodical approach to success starts off with a lot of communication. "Ideas are shot non-stop between family members, all-day every day. Therefore, one must be able to support the ideas but also know how and when to focus," Joan says.
Jovy and Janet also highly value character building to ensure that their children's individual talents are cultivated.  "Nurturing each's unique talent, profession, industry, and the gift of enterprise without comparing, stereotyping against others is important. Personal and professional growth is encouraged according to his/her God-given role and purpose in life. The exercise or practice of Entrepreneurship in the family is a school of thought over and above the business side of it."
For the Tuaňos, achievement lies within strong bonds and determination. Their entrepreneurial prowess, ability to make things happen, and what they have earned through talent and strong family ties demonstrates that a family that works well together certainly achieves together.
_________________________________________________________________________________________
Photography by: Alex Callueng
Illustrado 100 was made possible by sponsors: Giordano, Liali Jewellery, Mitsubishi UAE- Al Habtoor Motors, Michael Cinco Couture, Mapúa Institute of Technology, Centro – Amwaj Rotana Hotel , Max's Restaurant Middle East and GVER – Your Friendly MarketPlace for Sharing
Co-Sponsors: Herschel Supply Co., Rove Hotels, The Medical City – Dubai , Filipino Institute UAE, MPQ Tourism, JAMES Travel and Tours Dubai, Off the Hook Seafood Restaurant, The Original Barrio Fiesta Restaurant – Dubai and Tapa King UAE.
Read more Illustrado 100 on www.illustradolife.com