JOSEPHINE CUTHBERT
Vice President of Administration & Affairs
EMIRATES CULINARY GUILD
Dubai, UAE
My Job: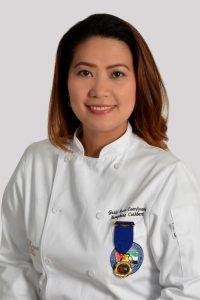 My role, which is pivotal to the success of the guild, is extremely diverse.  It's not only about communications and maintaining databases but also handling competitions, sponsorship agreements and recording.  I manage solely the entire registration process of over 1200 competitors for the guild's largest event – the Emirates Salon Culinaire.  I am also in-charge of managing schedules, the arrangements with judging panels, transport and finances, tabulating the winning results down to medal preparation and certificate printing. Where other culinary associations work with a dedicated events company, I handle this task single handedly.  As a non-profit organization, where corporate sponsorship is key, I also manage sponsorships, as well as provisions for clients at the monthly meetings where I am the Chief Scribe providing members updates and fielding questions about upcoming events. It's a robust job that is challenging, as I deal with various nationalities and management levels across the globe.
A day in my life:
Since I work from home, I start my days with breakfast whilst going through emails and checking urgent messages that need attention. I deal with a lot of these, so my mornings are usually filled by this task for the guild. One of the things that I enjoy the most in my job is meeting different people from around the globe when we have culinary events. Receiving congratulatory messages for me and my team from international judges is quite exhilarating, as well as always being invited onstage at the grand awards ceremonies to be recognized for a job well done.
Career advice:
In this competent world, always try to upgrade your knowledge, so you can enhance your skills at work. Always take with you, patience and tolerance, hard work, perseverance, purpose, and belief in yourself. Most of all, love your job and it will love you back.
NELSON EDWARD
Manager- System Networks and Communications Department,
System Solutions and Communications Division
PANASONIC MARKETING ME & AFRICA
Dubai, UAE
My Job: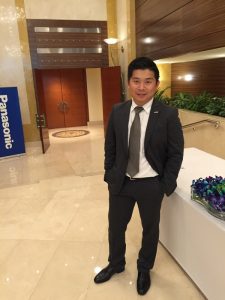 I wear many hats at work.  First of all, I make sure that my subordinates achieve their respective targets across Middle East and Africa.  As Marketing Manager I ensure that our line-ups are up to the current market requirement and demands, not only in price but also in features.  This includes promotions, strategic planning, analysis, and etc.  My job entails a lot of travelling – an average of 2.5 times a month, to visit markets for product presentations, trainings and meetings.  Taking regular travel as an opportunity, I also make sure I have fun, meet new friends, learn about different cultures, and of course, bring home some souvenirs from my trip.
I started in Panasonic as coordinator and one of the most remarkable things that happened to me is that I have been able to build trust with my team and top management, including HQ in Japan.
A day in my life:
My days are challenging and full of continuous learning and fun.  My team is very diverse (Filipino, Japanese, Chinese, Indian, Moroccan), so I have to be very tactful in my approach with each unique cultures.  Shouting is definitely not in the list of my things to do with my team, since I believe there is always a solution for every difficulty no matter the challenge.
Career advice:
Do not give up your dreams. We should be flexible in adapting to new challenges and changes.  Mistakes happen but we should convert them into "lessons learned."  We should make good reason to love our job, so that we do not need to work in our life.
Find more Money, Business and Law articles on Illustrado Life here.