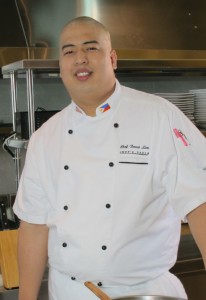 By Excel V. Dyquiangco, Photos Courtesy of Chef's Table
Proudly Pinoy, Asian Food Channel program 'Tablescapes' host and owner of Chef's Table, a freestyle cooking by-reservation-only restaurant in Fort Bonifacio, Chef Bruce Lim specializes in fine Filipino food, prepared using global culinary standards.
The good Chef, who doesn't call his food 'fusion' but 'Proudly Pinoy' says, "I am the anti-(celebrity) chef," Chef Bruce Lim candidly says. "I'm big and fat." Born in the United States of America, he carries with him a blue passport, but he is every bit a Pinoy. Graduating from the top notch culinary school Le Cordon Bleu in London, Chef Bruce managed to work his way inside some of the world's best French kitchens for more than 10 years. He even worked under the tutelage of fire-breathing celebrity chef Gordon Ramsay. "It was tough," he says of learning from the world-renowned chef. "But, hey, I couldn't learn these things from anybody else."
Because of such credentials, the challenge to constantly feed his culinary skills has always been a top priority. He also says his skills have been complimented by what he has gained from refining Filipino cuisine, and that the best teachers he ever had are the nameless manongs and manangs he has met on his travel-food show.
Known for turning ordinary Filipino food and ingredients into something extraordinary and with international appeal that could please both those with simple or sophisticated palates, Chef Bruce shares with Illustrado, some of his favorite recipes.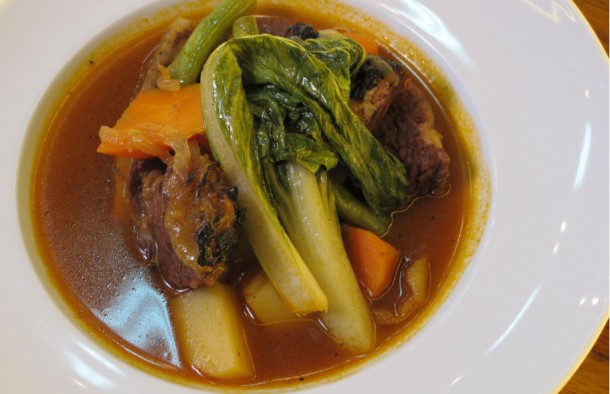 BEEF POCHERO
Beef short ribs marinated and grilled to perfection.  Sautéed with homegrown veggies and coupled with grilled banana, this beef pochero will surely make you want for more.
PROCEDURE:  Marinate beef ribs in Clara Ole tocino marinade for 1 hour. In a large pot, add bacon and render fat over low heat for 5 minutes. Once the fat is rendered, sauté garlic and onions. Turn up the heat. Add carrots and patis. Reduce patis to syrup. Add tomato sauce and beef stock. Bring to a boil. Remove beef from marinade and grill over medium high heat so you get good char marks. Grill for 2 minutes per side. Do the same for saba banana. Place into boiling stock, and bring back to boil. Once boiling turn down to simmer. Simmer for 30 minutes. Add potatoes and Baguio beans, simmer for 1 hour or until beef is soft. Adjust seasoning if needed. Serve hot.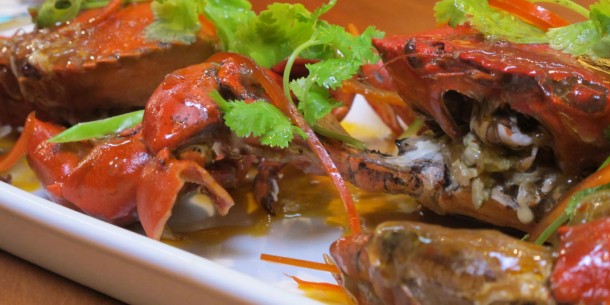 SPECIAL SEASIDE CRABS
Big red crabs flavored with classic oyster and chili garlic sauce, sautéed to bring out a unique Asian flavor, and complimented with a slurry serving of sweet gravy.
PROCEDURE: Clean crabs by removing top shell from body. Pull out the feather-like gills and wash under cold running potable water. Cut crabs in manageable sizes. Set aside. In a large pan, sauté garlic and onion leeks for 5 minutes. Add Lee KumKee Oyster sauce, Lee KumKee Chili Garlic sauce and unsalted butter. Mix well until sauce becomes gravy like. Add sugar and crabs. Simmer with a lid on for 15 minutes. Once crabs are cooked, thicken with cornstarch slurry. Once thick, serve straight away.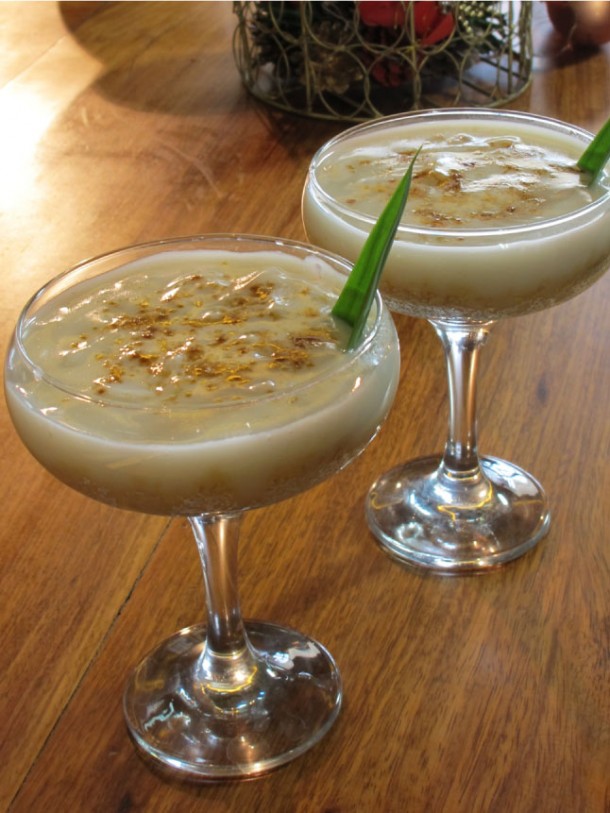 BUKO PIE MARTINI
Another culinary feat, Chef Bruce showcases a buko pie served in a martini glass. Sweet and creamy, this unconventional way will surely be loved by people of varying taste.
PROCEDURE: Cream butter and sugar until light and fluffy. Add in flour and form a soft dough. Pat dough on baking tray and prick the dough with a fork generously. Bake at 175◦C for 25-30minutes. Let cool completely and crush crust.