Agnes Pedrosa Marelid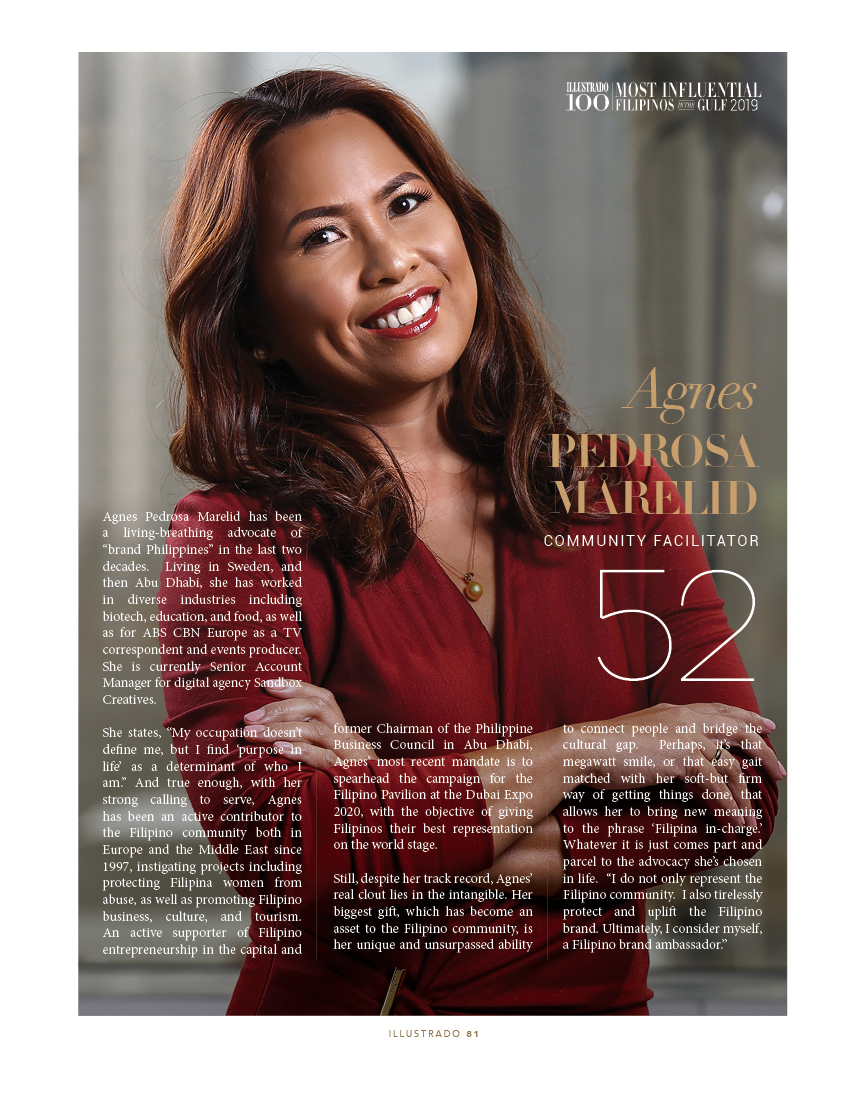 Agnes Pedrosa Marelid has been a living-breathing advocate of "brand Philippines" in the last two decades.  Living in Sweden, and then Abu Dhabi, she has worked in diverse industries including biotech, education, and food, as well as for ABS CBN Europe as a TV correspondent and events producer.  She is currently Senior Account Manager for digital agency Sandbox Creatives.
She states, "My occupation doesn't define me, but I find 'purpose in life' as a determinant of who I am." And true enough, with her strong calling to serve, Agnes has been an active contributor to the Filipino community both in Europe and the Middle East since 1997, instigating projects including protecting Filipina women from abuse, as well as promoting Filipino business, culture, and tourism.  An active supporter of Filipino entrepreneurship in the capital and former Chairman of the Philippine Business Council in Abu Dhabi, Agnes' most recent mandate is to spearhead the campaign for the Filipino Pavilion at the Dubai Expo 2020, with the objective of giving Filipinos their best representation on the world stage.
Still, despite her track record, Agnes' real clout lies in the intangible. Her biggest gift, which has become an asset to the Filipino community, is her unique and unsurpassed ability to connect people and bridge the cultural gap.  Perhaps, it's that megawatt smile, or that easy gait matched with her soft-but firm way of getting things done, that allows her to bring new meaning to the phrase 'Filipina in-charge.'  Whatever it is just comes part and parcel to the advocacy she's chosen in life.  "I do not only represent the Filipino community.  I also tirelessly protect and uplift the Filipino brand. Ultimately, I consider myself, a Filipino brand ambassador."
……………………….
Special thanks to our sponsors: Emirates Airline, Stars n Bars La Mer, Liali, Instax – Grandstores UAE, Dusit Thani Dubai, Gver – Your Friendly Marketplace for Sharing, Meeting Dancewear , MPQ, CMG, Filbrit, and our partners Rozen Antonio Photography,  Alex Callueng Photography, Jef Anog Photography, and Ethereal Photography.