By Alwee Villarosa
Okay, so you're the type who wants to be adventurous, be one with nature, experience the great outdoors, and you think that booking Airbnb instead of a generic hotel is the best way to experience local life?  We couldn't agree with you more. Go on and check these total IG-worthy spaces from around the world, that will surely make your trip a whole lot more special.
FRANCE: Little house in Paris, Loft, Canal by Segire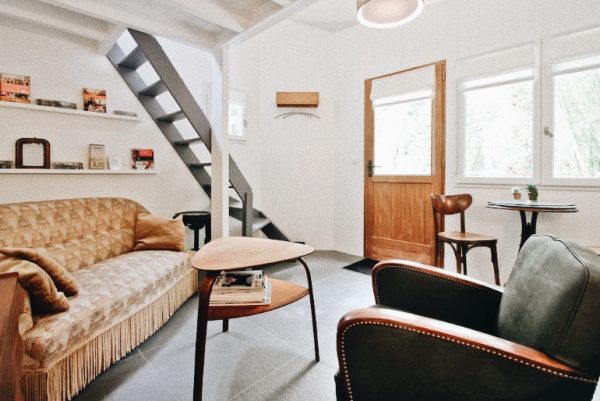 Only 150 feet from the trendy Canal Saint-Martin, at the heart of Paris, "Little House in Paris" is in a courtyard, hidden at the end of a private alley. Seated on the terrace, overlooking rose bushes, bamboo and orange trees, you'll feel peaceful and relax as you were vacationing in French countryside, although you're actually right in the center of the city!
What You'll Get:
*   Sleeps 2 people comfortably
*   Terrace, with a view of a private courtyard
*   Bathroom with Japanese style bath
*   Fully equipped kitchen, with washing machine
*   Trendy and safe neighborhood
*   4 doors (with 2 secured code) between street and you
*   Amazingly quiet though situated in a very central location
*   High-Speed Internet (optical to WiFi) connection
Price: AED 548 per night
HAWAII: Keolamauloa Homestead by Kaye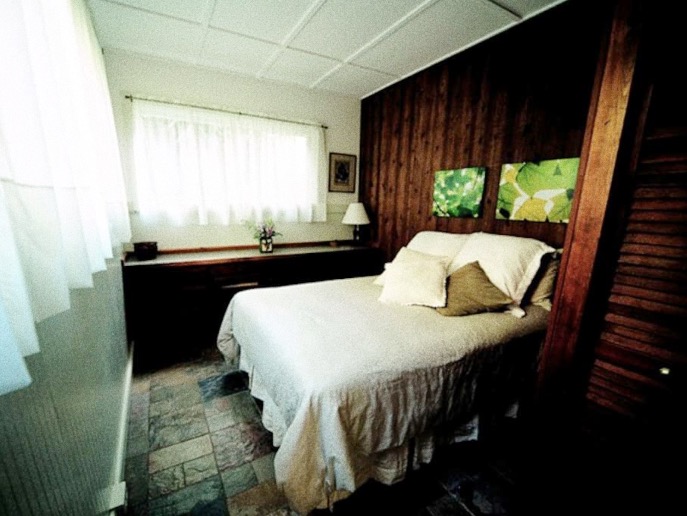 Keolamauloa provides an apartment in the main house for a homestead stay – as a vacation or short term rental. The restful accommodation features a private entrance, fully equipped kitchen, living room, bathroom and two bedrooms (each with a double bed). The farm is lush with native banana, koa, kukui, and ohia trees providing the shade for guests. On a stroll in the gardens and forest, you'll visit the chickens hard at work, the pet pig, eating and resting, and the ocean beyond. The forest is filled with the sound of birds and the frequent view of a circling I'o (the endangered, native Hawaiian Hawk).
More about the farm:  A work in progress… Laulima – "many hands" contribute to the restoration and care of Keolamauloa. Even the animals have their work and contribution.  The owner's investment in the future is the restoration of the native forest and wildlife habitat. When they arrived at Keolamauloa in 1983 they faced the daunting task of reclaiming a treasure that had been neglected for many years. Guinea grass and scrub guava dominated what had once long ago been a native Ohia forest. Fallen cyprus trees were buried in the head-high weeds.
Now 25+ years later they have cleared and planted over 300 native trees and plants. With the guidance and support of the Natural Resources Conservation Service (NRCS), we are restoring the native forest and creating wildlife habitat to preserve and protect our fragile ecosystem.
Price: AED 473 per night
MALTA: Valletta Vintage – GALLERY by Valleta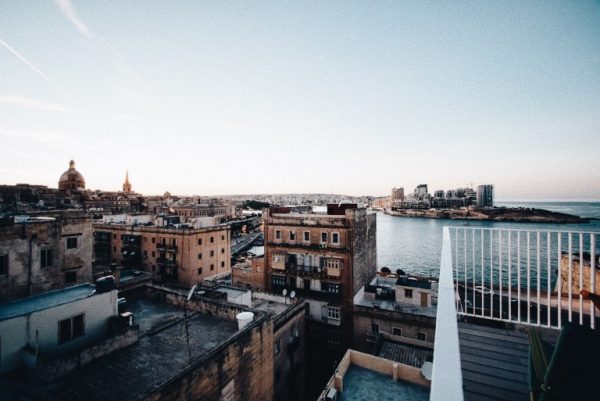 Built in the early 1700s and renovated in 2013, this studio penthouse is located on the third floor, and enjoys views of two harbors. Designed, furnished and finished to high standards by its owner-architect and photographer partner. Sun terrace, superb location, city-tips and exceptional views!
The Space:
* Highly finished, independent, in-room stocked minibar, ILLY coffee machine and tea making facilities.
* Located on the main shopping street of the capital.
* South-facing shared terraces ideal for sunbathing / evening chill-out.
*Accommodation includes: designer double-bed, VITRA furniture, FLOS lighting, lounge/TV area, desk, walk-in wardrobe, shower room.
* Contemporary finishes include: traditional patterned tiles, smooth cement plastering, black-out curtains and a number of art pieces curated by a local gallery.
* Free WIFI, cable TV, a good sound system with iPod dock, hairdryer, magazines, books, DVDs.
* Electric winch to haul up/down your luggage.
Price: AED 504 per night
PRAGUE: Bookseller's Sunny Flat by Roman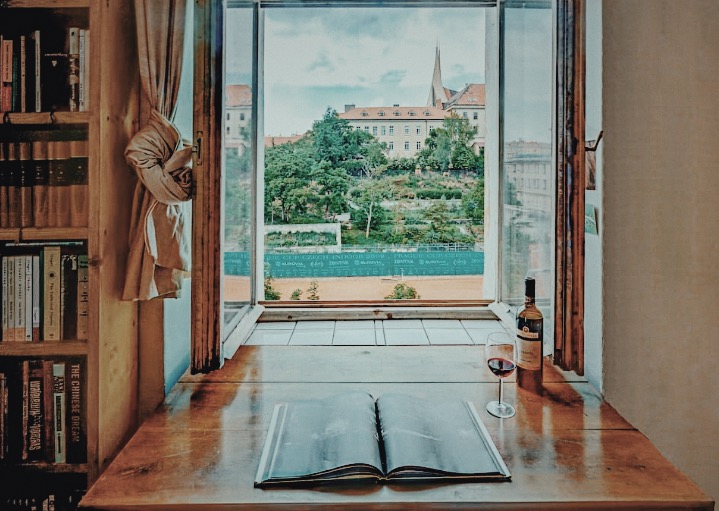 Charming and spacious old-fashioned corner flat in central Prague (Nove Mesto district). Overlooking a monastery garden, the flat is a block away from the Prague 2 Botanical Gardens and the Vltava River.
The flat has a fully equipped kitchen and a large bookcase-lined living/bedroom. The kitchen is fully stocked with plates, cups, pots and pans. The flat also includes a washing machine, record player, and wireless internet but no television. Located near Palackeho Namesti/Karlovo Namesti, you are conveniently located near 7 different tram lines as well as the B (yellow) Metro line. The flat is also an easy walk to Wenceslas Square, Mala Strana, and the National Theater. Down the street by the river is a huge farmer's market every Saturday perfect for picking up vegetables, cheeses, fruits, and homemade Czech breads, cakes, and pastries.
Price: AED 243 per night
Now check out these interesting properties and their equally fascinating hosts!
MALIBU: Romantic Beachfront Apartment in Malibu by Connie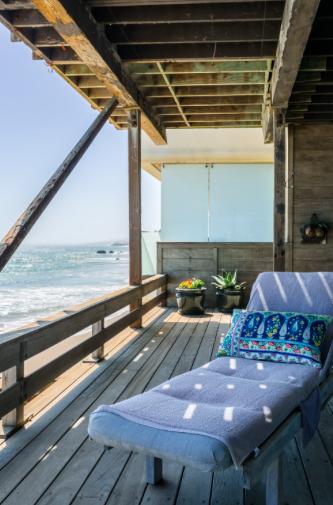 Fall asleep to the sound of waves in this charming beachfront apartment. The light, airy home features open-plan living and a wall of windows to maximize the amazing views. Enjoy drinks on the deck and a sunset over the water—it's pure bliss.
Situated directly above the sand and surf, the home is in a residential area along the Malibu coast, away from the tourist areas. Take in the stars at night while strolling along the beach, or eat at one of the nearby restaurants right on the water.
Take an afternoon nap lulled by the sound of ocean breezes or just soak up the incredible view.
Price: AED 1,419 per night
LOS ANGELES: Hilltop Airstream Retreat with Gorgeous Views by Todd & Kimberly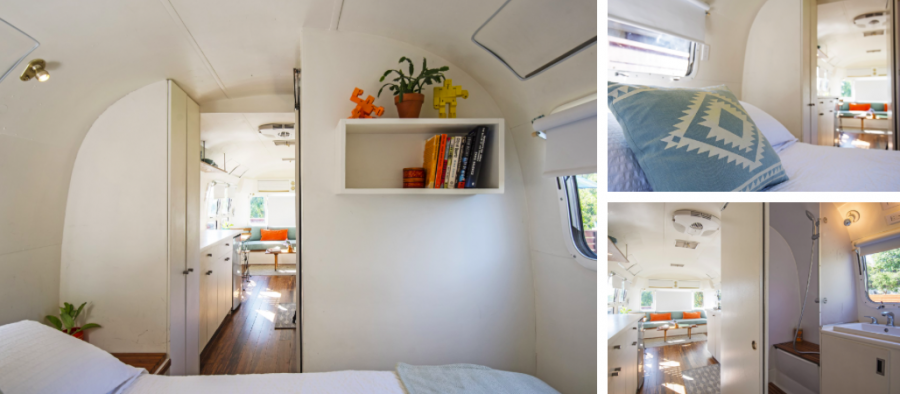 Enjoy the instant nostalgia that an Airstream evokes in this studio space while appreciating modern design as well. With a well-lit living area, gas stove, and outdoor space that includes a dining table and expansive views of LA, this trailer is an ideal urban escape.
Parked in central Echo Park, the Airstream is walking distance to a gorgeous lake with paddle boats, as well as many great restaurants, coffee shops, galleries, a book store or cafe, record shops, and Dodger Stadium. Street parking is available.
Your hosts:
Todd's a filmmaker and film professor. He loves to watch and talk about movies, ramble exotic locales, play his guitar, and do innumerable other activities. Kimberly's a psychotherapist. She loves to swim in the ocean, throw dinner parties, backpack, read long novels, collect heart rocks, and take photos of friends when they're not looking.
Enjoy the nostalgia of vacationing in an Airstream!
Price:  AED 416 per night
CAPE TOWN: Unwind in a Bright, Airy Space with Rustic Accents by Dale

Get cozy at this quiet and secure retreat in the center of Cape Town. Open the sliding doors to breathe in the ocean air after preparing a meal in the full kitchen. With unique fixtures and an effortless style, this is the ideal city retreat.  
The apartment is in the middle of Cape Town's action and energy, yet on a quiet street. The main street a few minutes' walk away is filled with restaurants and bars. The Stadium and the city's famous V&A Waterfront are also nearby.
Your host:
His passion is putting together beautiful & functional living spaces. He loves the beauty of natural materials and recycling old or antique items. Other than that cooking, eating and traveling all in a carefree manner is what puts a smile on his face.
Price: AED 148 per night
Explore Old Barcelona from a Loft-Style Studio by Raimundo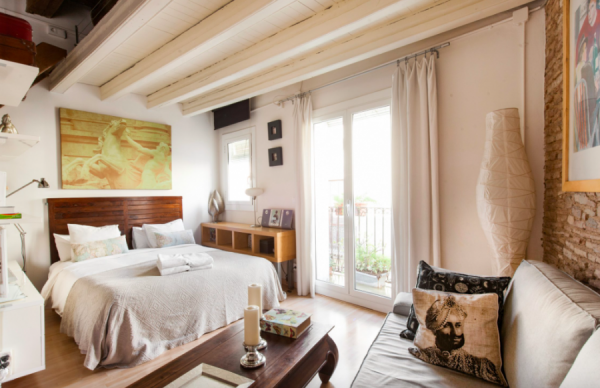 Unwind on the balcony of a 130-year-old building in the heart of the Barcelona's oldest district. Enjoy open-plan, loft-style living with neutral decor, open shelving, rustic exposed-beam ceilings. Apartment is on the 4th floor without elevator.
Restaurants, shops and the city's sights are within walking distance, along with organic food, vintage clothes, vinyl and vintage decor stores, and wineries. Nearby Parc de la Ciutadella is a great place for a walk, jog, or yoga session.
Your host:
He thinks he is cheerful and with a good character. He likes meeting people from all over the world and he always likes to collaborate to make your stay in Barcelona as complete as possible. He loves that! Most of all, he loves Barcelona, his city. His hobbies include visiting the markets for second hand items, antiques, books, music, vinyls and playmobil dolls.
Price: AED 794 per night
VENICE: Charming Craftsman with Outdoor Shower by Susan & Kevin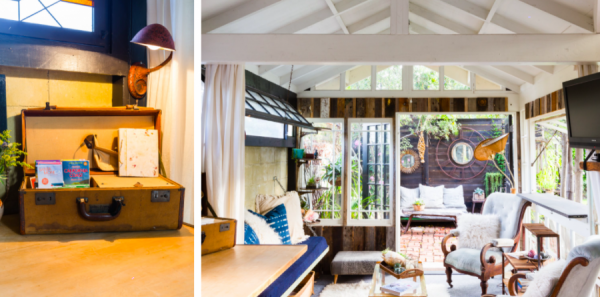 Live in a garden oasis in the middle of Venice Beach California. Featuring vine-covered interior walls, a brick patio with lounge chairs, and a delightful outdoor shower, this unique guest house is nestled in the sunny backyard of a larger Craftsman home.
This home is located in a quiet area with plenty of free parking. Abbott Kinney Blvd. and the world-famous Venice Beach are a short bike ride away (bikes available). Shopping, incredible eateries, and water sports for all ages are also nearby.
Your host:
Kevin is a contractor and Susan is a designer/antique dealer. Together they have created some amazing spaces. They lived in this cute guest house while they are remodeling their main house and they are now ready to share it with you. They love animals and have lots of them, but they are not intrusive and won't be in your space unless you want them too!
Price: AED 567 per night
Catalonia: Urban Oasis with Pool Apartment near Magic Fountain by Samuel & Slavko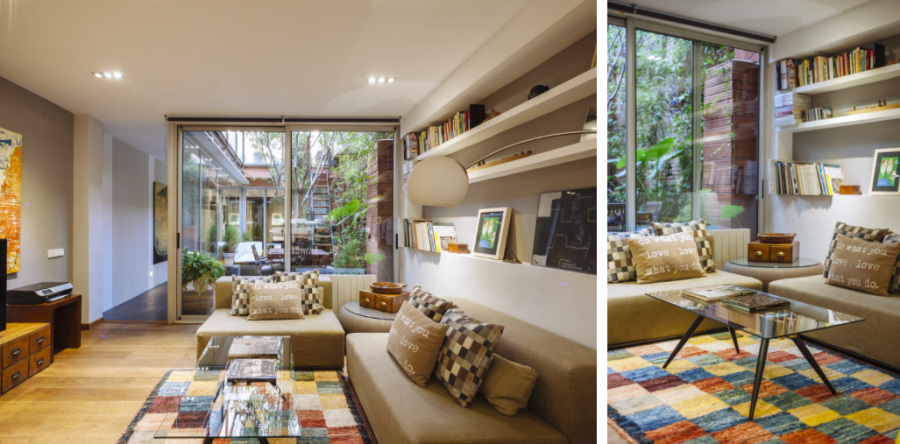 This contemporary apartment is both bold and comfortable, featuring a lush patio courtyard behind floor-to-ceiling windows. Enjoy an effortless business trip or an unforgettable family vacation.
Enjoy many nearby traditional restaurants featuring delicious paella. Visit Mercat de Sants, a market with fresh seafood, meat, and produce. Near main train station, Fira Barcelona, Camp Nou, plaça España, very fast and easy to get to the airport.
Your hosts:
They have been renting their apartment for few years now and consider themselves as very lucky hosts. They've met a lot of fantastic guests that now their friends. Guests normally rent their property for special occasions.  Some guests were even engaged and celebrate anniversaries each year in the apartment. It must be that all of this energy and joy, makes their space so pleasant.
Price: AED 1,980 per night
TORONTO: Stay in a Luxury Loft with Terrace by Chris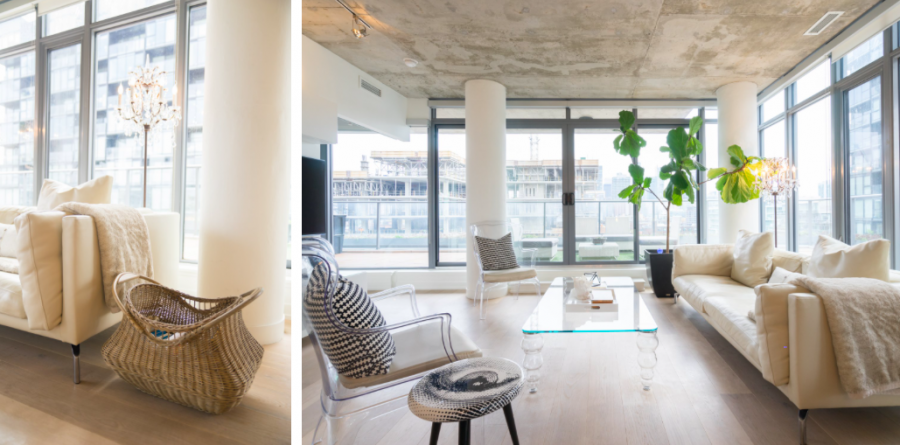 Admire views of the CN Tower from the spacious, wraparound terrace of this luxury split-floor loft. The industrial space spectacularly juxtaposes floor-to-ceiling glass with stained concrete ceilings, gleaming stainless steel, and warm, wooden floors.
The building is located within the King West Village fashion district. The area boasts top-notch cuisine options, from Susur Lee to Bier Market at King West and Portland. There's also easy access to nightlife destinations and local art galleries and studios.
Your host:
Chris is a Torontonian, a two-time entrepreneur, a Canadian national figure skating medalist, luxury property manager and top 1% of Airbnb hosts in Toronto. Whether you're coming for business, pleasure, or family vacation, you will enjoy Chris' curated design, warm-hearted nature, carefully hand-selected luxury suites and trendy, central neighborhoods in which they reside.
Price: AED 1,411 per night
Related articles: 
Top 10 under the radar travel destinations Filipinos should visit: Vienna, Berlin, NYC
Top 10 under the radar travel destinations Filipinos should visit: Cairo, Kuwait, Adelaide
Top 10 under the radar travel destinations Filipinos should visit: India, Sri Lanka, Bali, Manila