Alberto Opena – Ounce Oz
Mixologist and Entrepreneur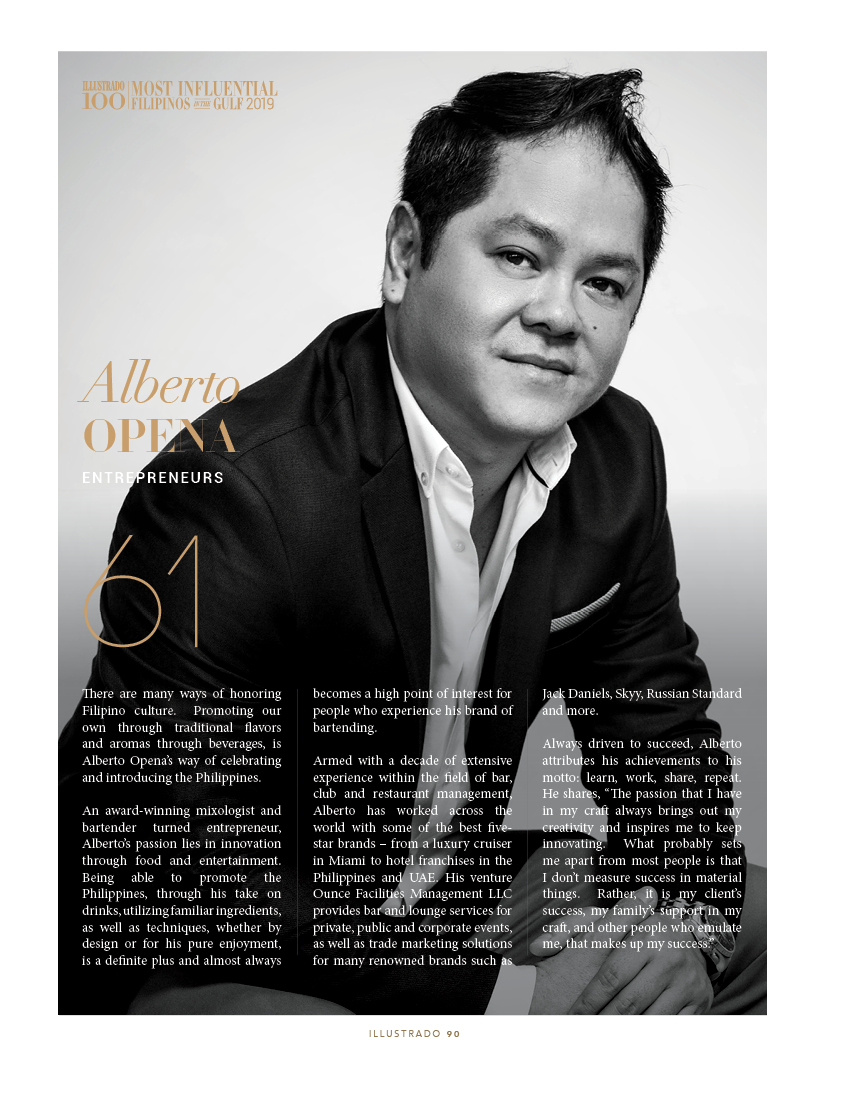 There are many ways of honoring Filipino culture.  Promoting our own through traditional flavors and aromas through beverages, is Alberto Opena's way of celebrating and introducing the Philippines.
An award-winning mixologist and bartender turned entrepreneur, Alberto's passion lies in innovation through food and entertainment.  Being able to promote the Philippines, through his take on drinks, utilizing familiar ingredients, as well as techniques, whether by design or for his pure enjoyment, is a definite plus and almost always becomes a high point of interest for people who experience his brand of bartending.
Armed with a decade of extensive experience within the field of bar, club and restaurant management, Alberto has worked across the world with some of the best five-star brands – from a luxury cruiser in Miami to hotel franchises in the Philippines and UAE. His venture Ounce Facilities Management LLC provides bar and lounge services for private, public and corporate events, as well as trade marketing solutions for many renowned brands such as Jack Daniels, Skyy, Russian Standard and more.
Always driven to succeed, Alberto attributes his achievements to his motto: learn, work, share, repeat.   He shares, "The passion that I have in my craft always brings out my creativity and inspires me to keep innovating.  What probably sets me apart from most people is that I don't measure success in material things.  Rather, it is my client's success, my family's support in my craft, and other people who emulate me, that makes up my success."
……………………….
Special thanks to our sponsors: Emirates Airline, Stars n Bars La Mer, Liali, Instax – Grandstores UAE, Dusit Thani Dubai, Gver – Your Friendly Marketplace for Sharing, Meeting Dancewear , MPQ, CMG, Filbrit, and our partners Rozen Antonio Photography,  Alex Callueng Photography, Jef Anog Photography, and Ethereal Photography.