Andronico Del Rosario Jr.
Creative Entrepreneur and Artist
Top Gear, Star Trek, Mission Impossible. These are just a few of the projects master production designer, art director and artist Andronico Del Rosario Jr. has to his credit.  Starting as a props man in Dubai Andronico is the veritable self-made man. With no capital to his name, a resourceful artist who used to pick scraps from the road to turn into props, he has evolved into one of Dubai's most gutsy production veterans.  He started For Art Sake in the emirates in 1996, now the leading supplier of custom props, set design, and construction, and established Artfx Canada in 2005.  Now he runs both operations and shuttles between Dubai and Toronto managing both local and international projects.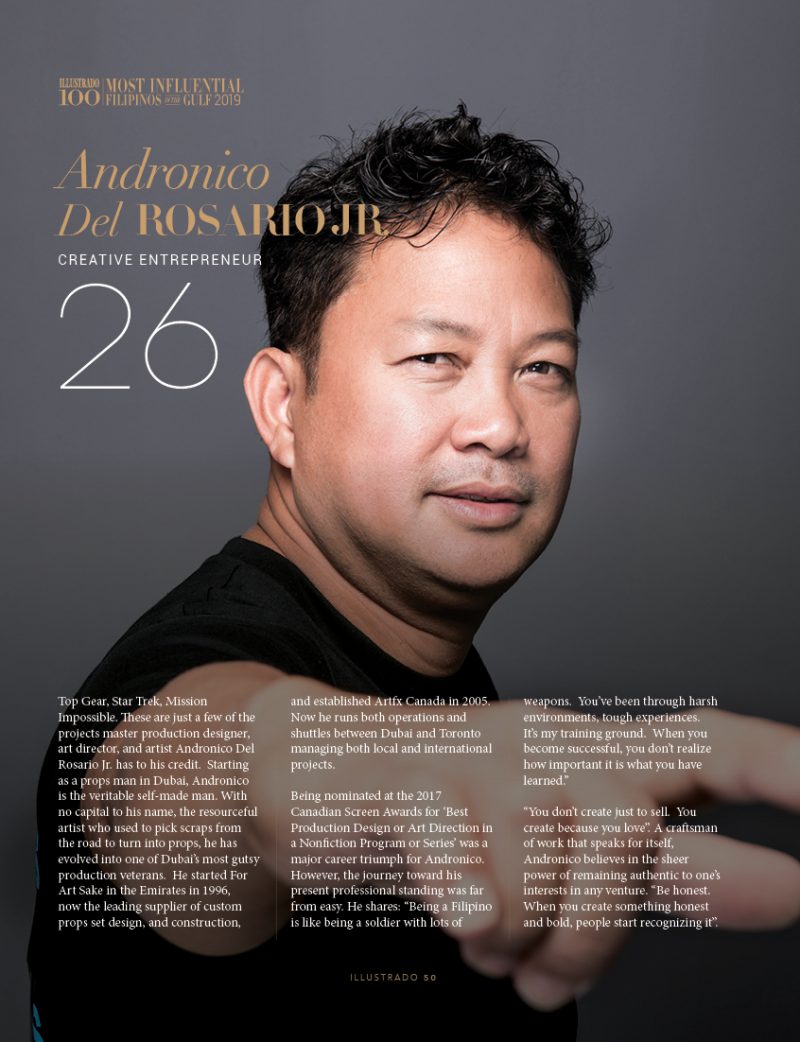 Being nominated at the 2017 Canadian Screen Awards for 'Best Production Design or Art Direction in a Nonfiction Program or Series' was a major career triumph for Andronico. However, the journey toward his present professional standing was far from easy. He shares: "Being a Filipino is like being a soldier with lots of weapons.  You've been through harsh environments, tough experiences.  It's my training ground.  When you become successful, you don't realize how important it is what you have learned."
"You don't create just to sell.  You create because you love". A craftsman of work that speaks for itself, Andronico believes in the sheer power of remaining authentic to one's interests in any venture. "Be honest. When you create something honest and bold, people start recognizing it".
……………………….
Special thanks to our sponsors: Emirates Airline, Stars n Bars La Mer, Liali, Instax – Grandstores UAE, Dusit Thani Dubai, Gver – Your Friendly Marketplace for Sharing, Meeting Dancewear , MPQ, CMG, Filbrit, and our partners Rozen Antonio Photography,  Alex Callueng Photography, Jef Anog Photography, and Ethereal Photography.