Tastemaker: Anthony 'Makavely' Noche
Hiphop Artist & Community Champion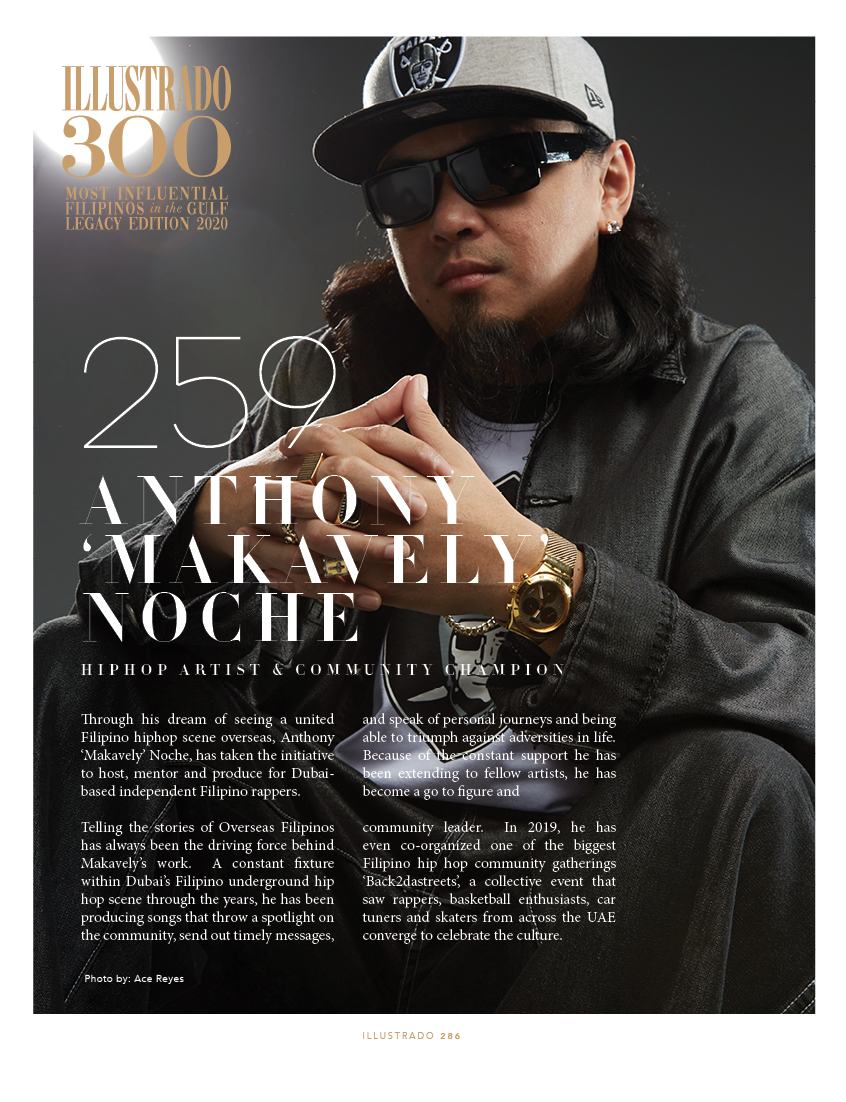 Through his dream of seeing a united Filipino hiphop scene overseas, Anthony 'Makavely' Noche, has taken the initiative to host, mentor and produce for Dubai-based independent Filipino rappers.
Telling the stories of Overseas Filipinos has always been the driving force behind Makavely's work.  A constant fixture within Dubai's Filipino underground hip hop scene through the years, he has been producing songs that throw a spotlight on the community, send out timely messages, and speak of personal journeys and being able to triumph against adversities in life. Because of the constant support he has been extending to fellow artists, he has become a go to figure and community leader.  In 2019, he has even co-organized one of the biggest Filipino hip hop community gatherings 'Back2dastreets', a collective event that saw rappers, basketball enthusiasts, car tuners and skaters from across the UAE converge to celebrate the culture.
Illustrado 300 Most Influential Filipinos in the Gulf is Supported by: Kaya Skin Clinic,  Emirates Airline, and Unilever.
Special Thanks to Michael Cinco, Ezra Couture , Giordano, Darcey Flowers, IKON Solutions, Victors Freight, MPQ Tourism, Asia Gulf Companies –La Carne & Filfood, WOL Water
Get a copy of Illustrado 300 Most Influential Filipinos in the Gulf Legacy Edition