Aurelio "Lito" German
Business Leader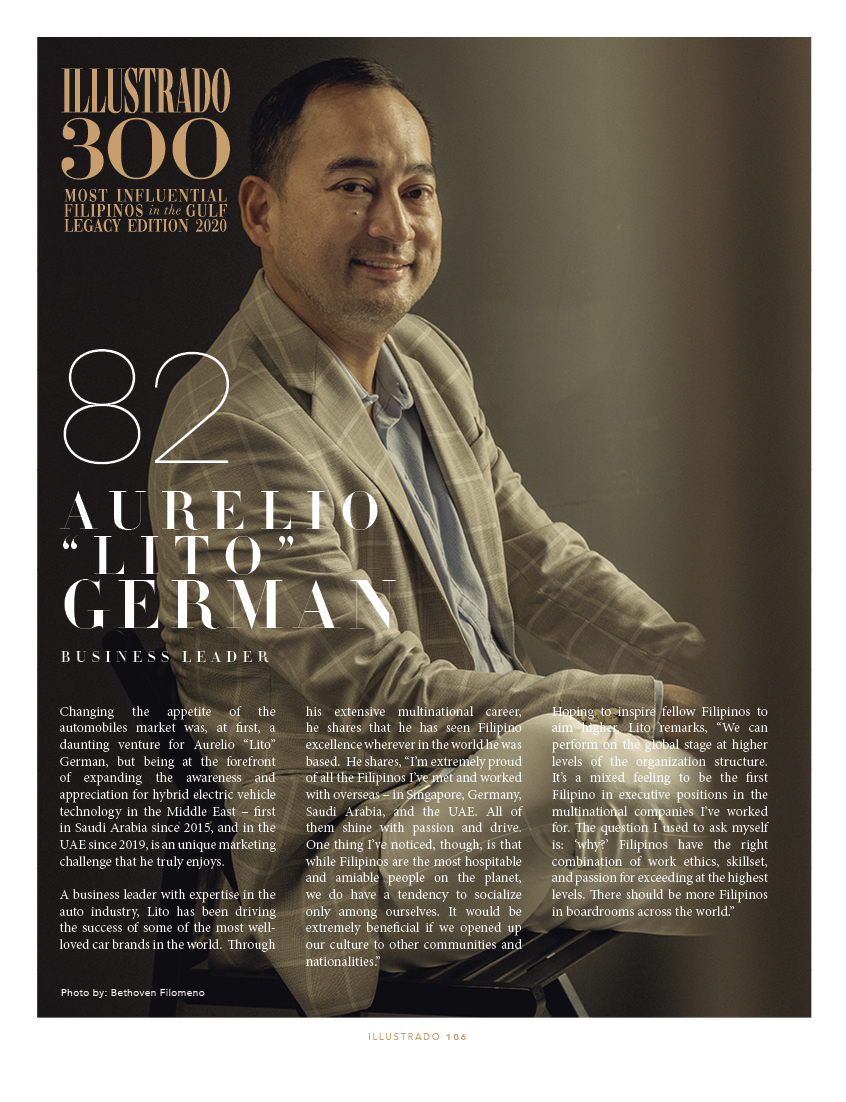 Changing the appetite of the automobiles market was, at first, a daunting venture for Aurelio "Lito" German, but being at the forefront of expanding the awareness and appreciation for hybrid electric vehicle technology in the Middle East – first in Saudi Arabia since 2015, and in the UAE since 2019, is an unique marketing challenge that he truly enjoys.
A business leader with expertise in the auto industry, Lito has been driving the success of some of the most well-loved car brands in the world.  Through his extensive multinational career, he shares that he has seen Filipino excellence wherever in the world he was based.  He shares, "I'm extremely proud of all the Filipinos I've met and worked with overseas – in Singapore, Germany, Saudi Arabia, and the UAE. All of them shine with passion and drive. One thing I've noticed, though, is that while Filipinos are the most hospitable and amiable people on the planet, we do have a tendency to socialize only among ourselves. It would be extremely beneficial if we opened up our culture to other communities and nationalities."
Hoping to inspire fellow Filipinos to aim higher, Lito remarks, "We can perform on the global stage at higher levels of the organization structure. It's a mixed feeling to be the first Filipino in executive positions in the multinational companies I've worked for. The question I used to ask myself is: 'why?' Filipinos have the right combination of work ethics, skillset, and passion for exceeding at the highest levels. There should be more Filipinos in boardrooms across the world."
Illustrado 300 Most Influential Filipinos in the Gulf is Supported by: Kaya Skin Clinic,  Emirates Airline, and Unilever.
Special Thanks to Michael Cinco, Ezra Couture , Giordano, Darcey Flowers, IKON Solutions, Victors Freight, MPQ Tourism, Asia Gulf Companies –La Carne & Filfood, WOL Water
Get a copy of Illustrado 300 Most Influential Filipinos in the Gulf Legacy Edition