Commercial Attaché Charmaine Mignon S. Yalong
Charmaine Mignon S. Yalong serves an instrumental role in the advancement of the Philippines' economic interests in the region, as the Commercial Attaché for the Middle East and Africa. Representing the Department of Trade and Industry, her work entails the promotion of investment, commercial intelligence, and trade policy negotiations. Keen and future-minded, she is a strong advocate for entrepreneurship in the Filipino community.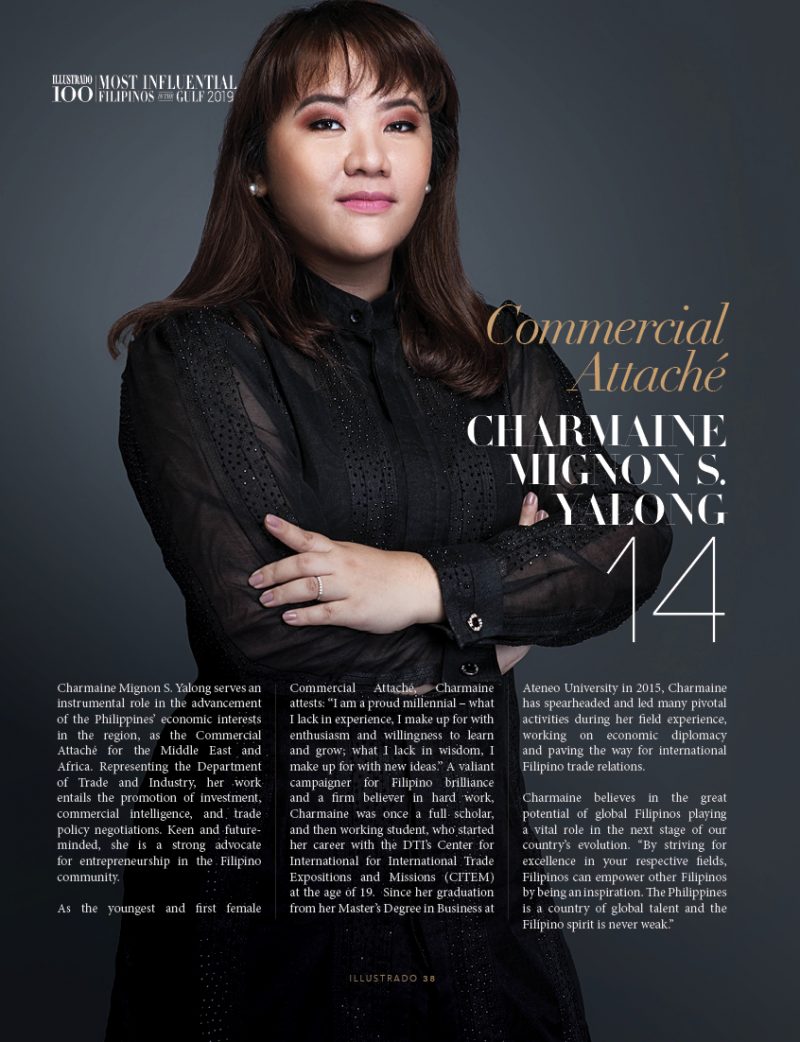 As the youngest and first female Commercial Attaché, Charmaine attests: "I am a proud millennial – what I lack in experience, I make up for with enthusiasm and willingness to learn and grow; what I lack in wisdom, I make up for with new ideas." A valiant campaigner for Filipino brilliance and a firm believer in hard work, Charmaine was once a full scholar, and then working student, who started her career with the DTI's Center for International for International Trade Expositions and Missions (CITEM) at the age of 19.  Since her graduation from her Master's Degree in Business at Ateneo University in 2015, Charmaine has spearheaded and led many pivotal activities during her field experience, working on economic diplomacy and paving the way for international Filipino trade relations.
Charmaine believes in the great potential of global Filipinos playing a vital role in the next stage of our country's evolution. "By striving for excellence in your respective fields, Filipinos can empower other Filipinos by being an inspiration. The Philippines is a country of global talent and the Filipino spirit is never weak."
……………………….
Special thanks to our sponsors: Emirates Airline, Stars n Bars La Mer, Liali, Instax – Grandstores UAE, Dusit Thani Dubai, Gver – Your Friendly Marketplace for Sharing, Meeting Dancewear , MPQ, CMG, Filbrit, and our partners Rozen Antonio Photography,  Alex Callueng Photography, Jef Anog Photography, and Ethereal Photography.