Cristina Magallon
Writer, Publisher
Go-getter Cristina Magallon runs UAE DNA, an authority in chronicling business stories from around the UAE. With a strong online presence on platforms like Linkedin and Twitter, UAE DNA has become an epicenter that purveys valuable information to aspiring entrepreneurs and facilitates cross-cultural idea sharing among its followers across the GCC and beyond.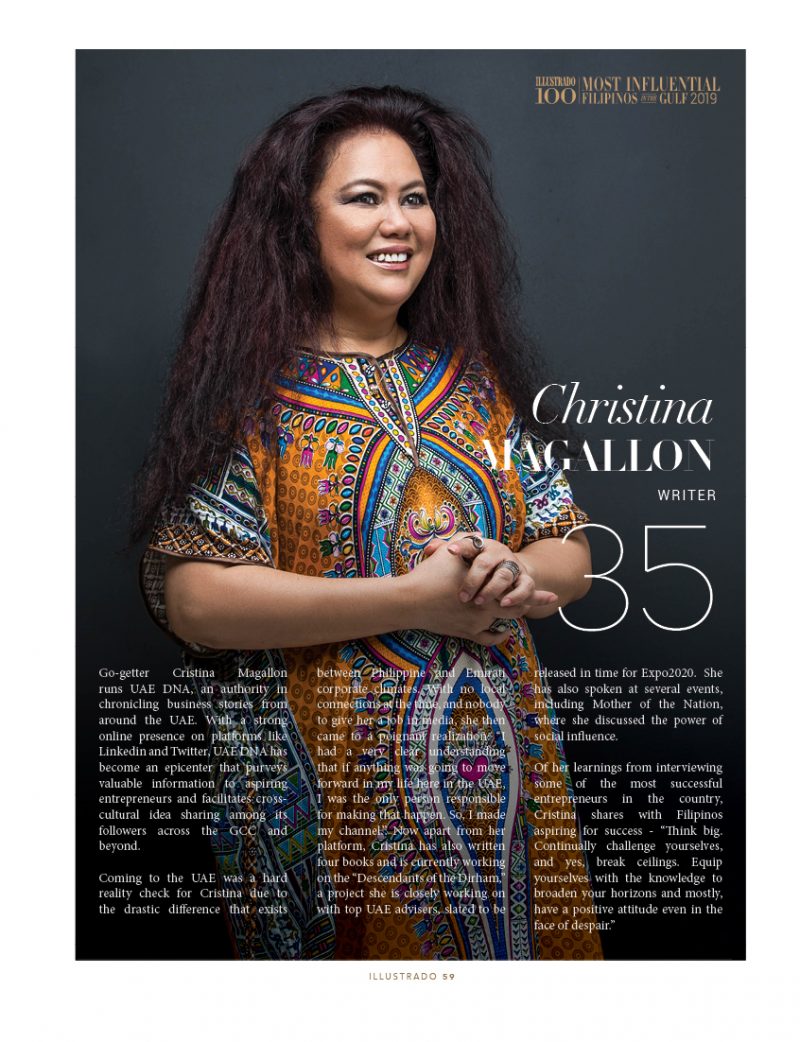 Coming to the UAE was a hard reality check for Cristina due to the drastic difference that exists between Philippine and Emirati corporate climates. With no local connections at the time, and nobody to give her a job in media, she then came to a poignant realization: "I had a very clear understanding that if anything was going to move forward in my life here in the UAE, I was the only person responsible for making that happen. So, I made my channel.". Now apart from her platform, Cristina has also written four books and is currently working on the "Descendants of the Dirham," a project she is closely working on with top UAE advisers, slated to be released in time for Expo2020.  She has also spoken at several events, including Mother of the Nation, where she discussed the power of social influence.
Of her learnings from interviewing some of the most successful entrepreneurs in the country, Cristina shares with Filipinos aspiring for success.
"Think big. Continually challenge yourselves, and yes, break ceilings. Equip yourselves with the knowledge to broaden your horizons and mostly, have a positive attitude even in the face of despair."
……………………….
Special thanks to our sponsors: Emirates Airline, Stars n Bars La Mer, Liali, Instax – Grandstores UAE, Dusit Thani Dubai, Gver – Your Friendly Marketplace for Sharing, Meeting Dancewear , MPQ, CMG, Filbrit, and our partners Rozen Antonio Photography,  Alex Callueng Photography, Jef Anog Photography, and Ethereal Photography.