Thoughtleader – Cleo Eleazar
PR & Events Professional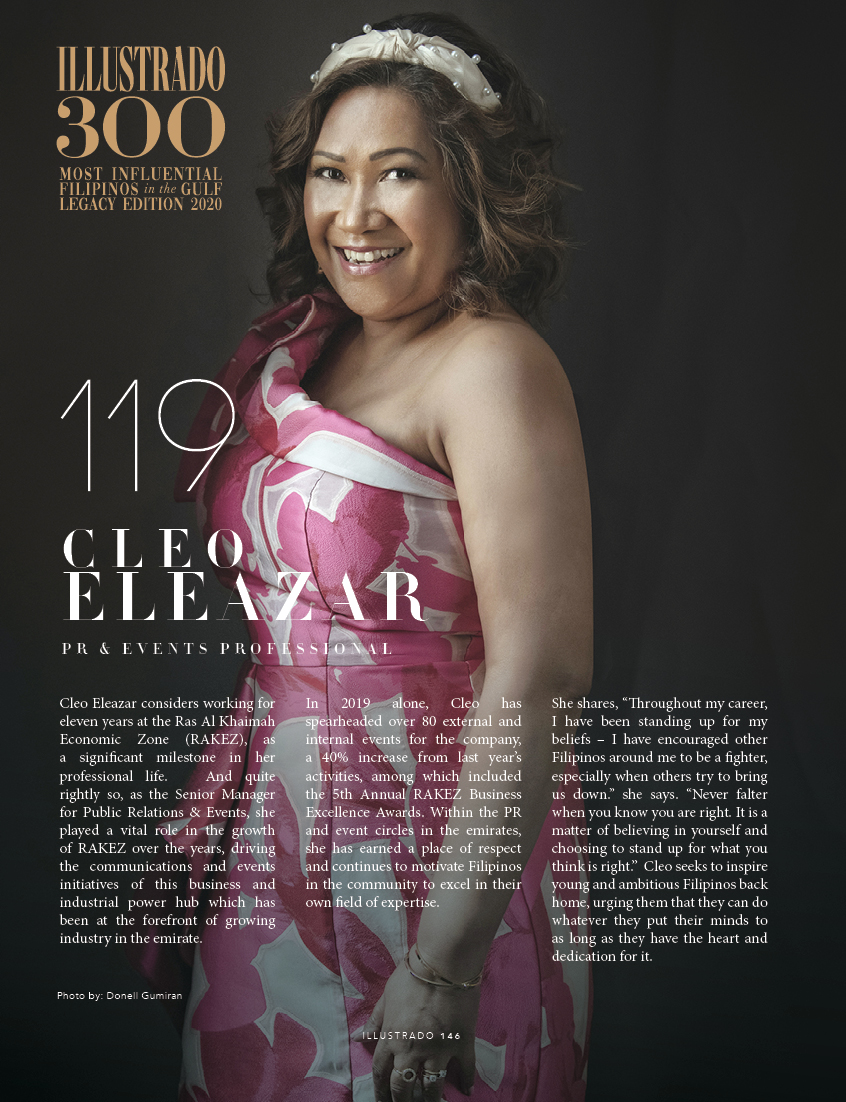 Cleo Eleazar considers working for eleven years at the Ras Al Khaimah Economic Zone (RAKEZ), as a significant milestone in her professional life.   And quite rightly so, as the Senior Manager for Public Relations & Events, she played a vital role in the growth of RAKEZ over the years, driving the communications and events initiatives of this business and industrial power hub which has been at the forefront of growing industry in the emirate.
In 2019 alone, Cleo has spearheaded over 80 external and internal events for the company, a 40% increase from last year's activities, among which included the 5th Annual RAKEZ Business Excellence Awards. Within the PR and event circles in the emirates, she has earned a place of respect and continues to motivate Filipinos in the community to excel in their own field of expertise.
She shares, "Throughout my career, I have been standing up for my beliefs – I have encouraged other Filipinos around me to be a fighter, especially when others try to bring us down." she says. "Never falter when you know you are right. It is a matter of believing in yourself and choosing to stand up for what you think is right."  Cleo seeks to inspire young and ambitious Filipinos back home, urging them that they can do whatever they put their minds to as long as they have the heart and dedication for it.
Illustrado 300 Most Influential Filipinos in the Gulf is Supported by: Kaya Skin Clinic,  Emirates Airline, and Unilever.
Special Thanks to Michael Cinco, Ezra Couture , Giordano, Darcey Flowers, IKON Solutions, Victors Freight, MPQ Tourism, Asia Gulf Companies –La Carne & Filfood, WOL Water
Get a copy of Illustrado 300 Most Influential Filipinos in the Gulf Legacy Edition