Donell Gumiran
Photographer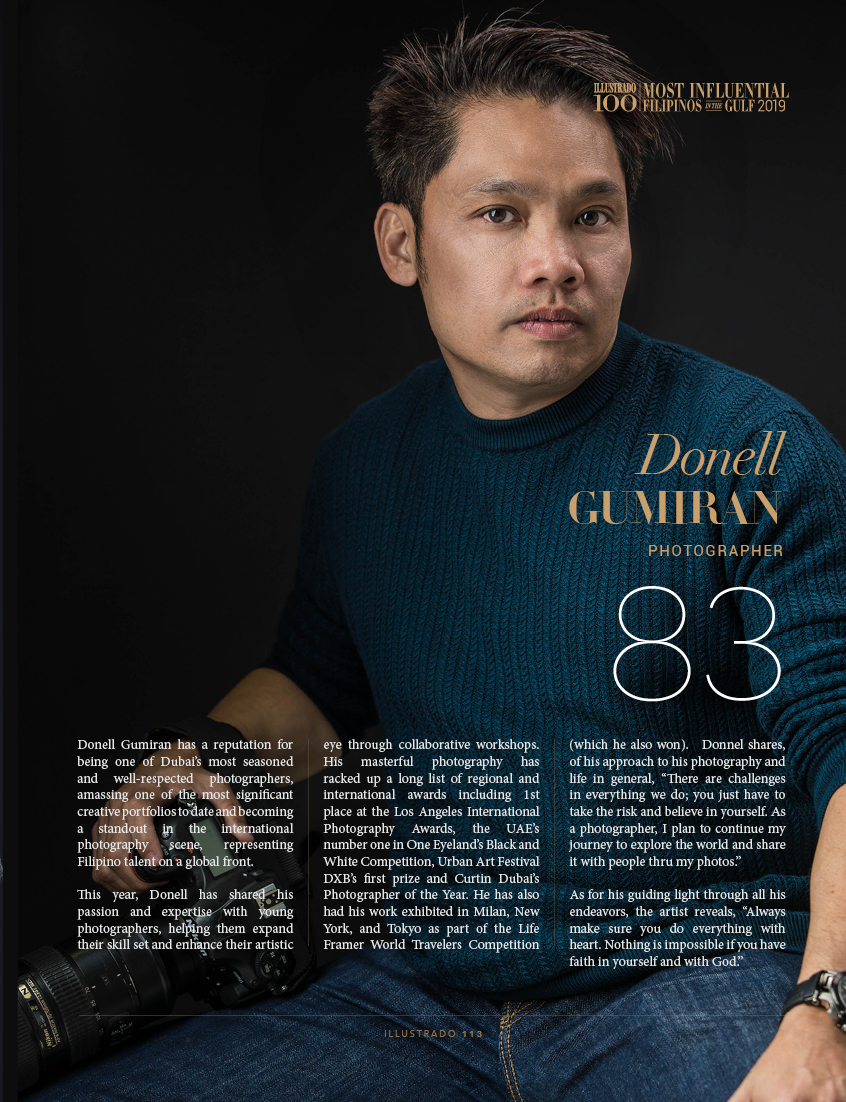 Donell Gumiran has a reputation for being one of Dubai's most seasoned and well-respected photographers, amassing one of the most significant creative portfolios to date and becoming a standout in the international photography scene, representing Filipino talent on a global front.
This year, Donell has shared his passion and expertise with young photographers, helping them expand their skill set and enhance their artistic eye through collaborative workshops. His masterful photography has racked up a long list of regional and international awards including 1st place at the Los Angeles International Photography Awards, the UAE's number one in One Eyeland's Black and White Competition, Urban Art Festival DXB's first prize and Curtin Dubai's Photographer of the Year. He has also had his work exhibited in Milan, New York, and Tokyo as part of the Life Framer World Travelers Competition (which he also won).   Donnel shares, of his approach to his photography and life in general, "There are challenges in everything we do; you just have to take the risk and believe in yourself. As a photographer, I plan to continue my journey to explore the world and share it with people thru my photos."
As for his guiding light through all his endeavors, the artist reveals, "Always make sure you do everything with heart. Nothing is impossible if you have faith in yourself and with God."
……………………….
Special thanks to our sponsors: Emirates Airline, Stars n Bars La Mer, Liali, Instax – Grandstores UAE, Dusit Thani Dubai, Gver – Your Friendly Marketplace for Sharing, Meeting Dancewear , MPQ, CMG, Filbrit, and our partners Rozen Antonio Photography,  Alex Callueng Photography, Jef Anog Photography, and Ethereal Photography.