Chef Earl Roland Puse
Born in Paris to Bulakenyo parents, and raised mostly in London, Chef Earl Roland Puse has leveraged his international background, as well as his dedication, to become one of the Emirates' culinary elite. His skills were honed at Conran (now Plateau Restaurant – Canary Wharf) and La Petite Maison in Mayfair, London.  He then moved to La Petite Maison in Dubai in 2010, after that he opened two Coya outlets in the emirates.  Currently Head Chef in Abu Dhabi, his leadership has brought much success to his brands; the most recent wins being awards for Best New Comer, Best French/Latin American and Restaurant of the Year from Time Out and What's On for Coya.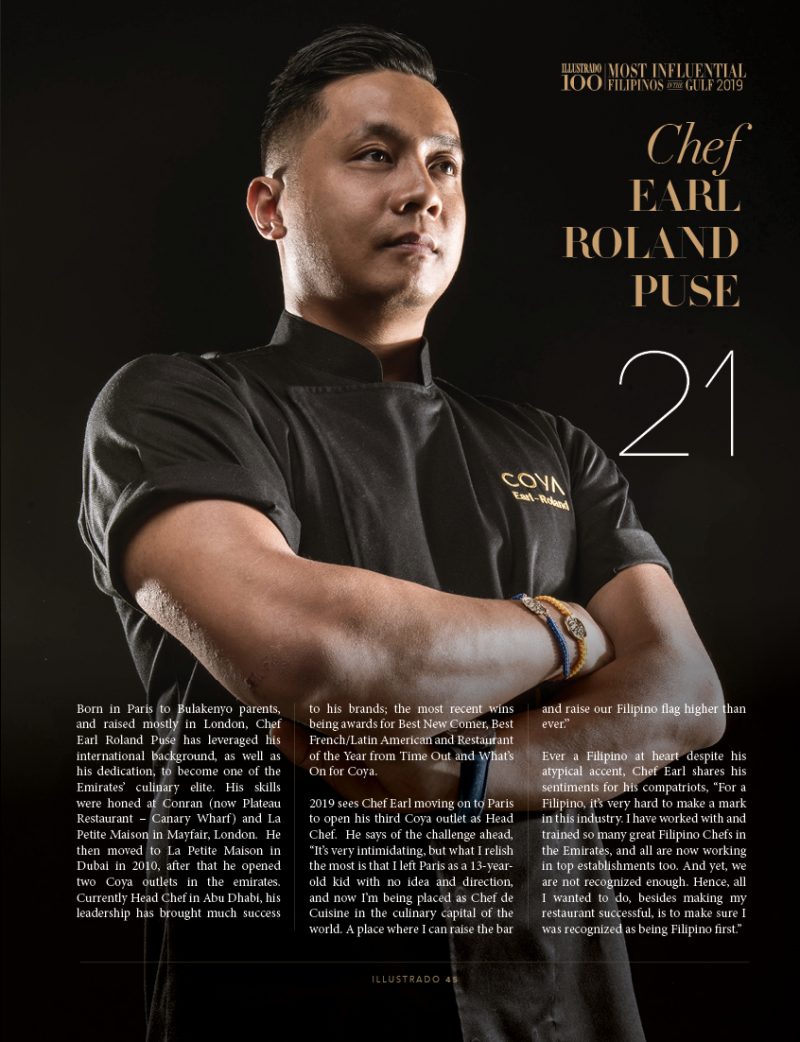 2019 sees Chef Earl moving on to Paris to open his third Coya outlet as Head Chef.  He says of the challenge ahead, "It's very intimidating, but what I relish the most is that I left Paris as a 13-year-old kid with no idea and direction, and now I'm being placed as Chef de Cuisine in the culinary capital of the world. A place where I can raise the bar and raise our Filipino flag higher than ever."
Ever a Filipino at heart despite his atypical accent, Chef Earl shares his sentiments for his compatriots, "For a Filipino, it's very hard to make a mark in this industry. I have worked with and trained so many great Filipino Chefs in the Emirates, and all are now working in top establishments too. And yet, we are not recognized enough. Hence, all I wanted to do, besides making my restaurant successful, is to make sure I was recognized as being Filipino first."
……………………….
Special thanks to our sponsors: Emirates Airline, Stars n Bars La Mer, Liali, Instax – Grandstores UAE, Dusit Thani Dubai, Gver – Your Friendly Marketplace for Sharing, Meeting Dancewear , MPQ, CMG, Filbrit, and our partners Rozen Antonio Photography,  Alex Callueng Photography, Jef Anog Photography, and Ethereal Photography.