Thoughtleader – Enrique Yamzon
Real Estate Expert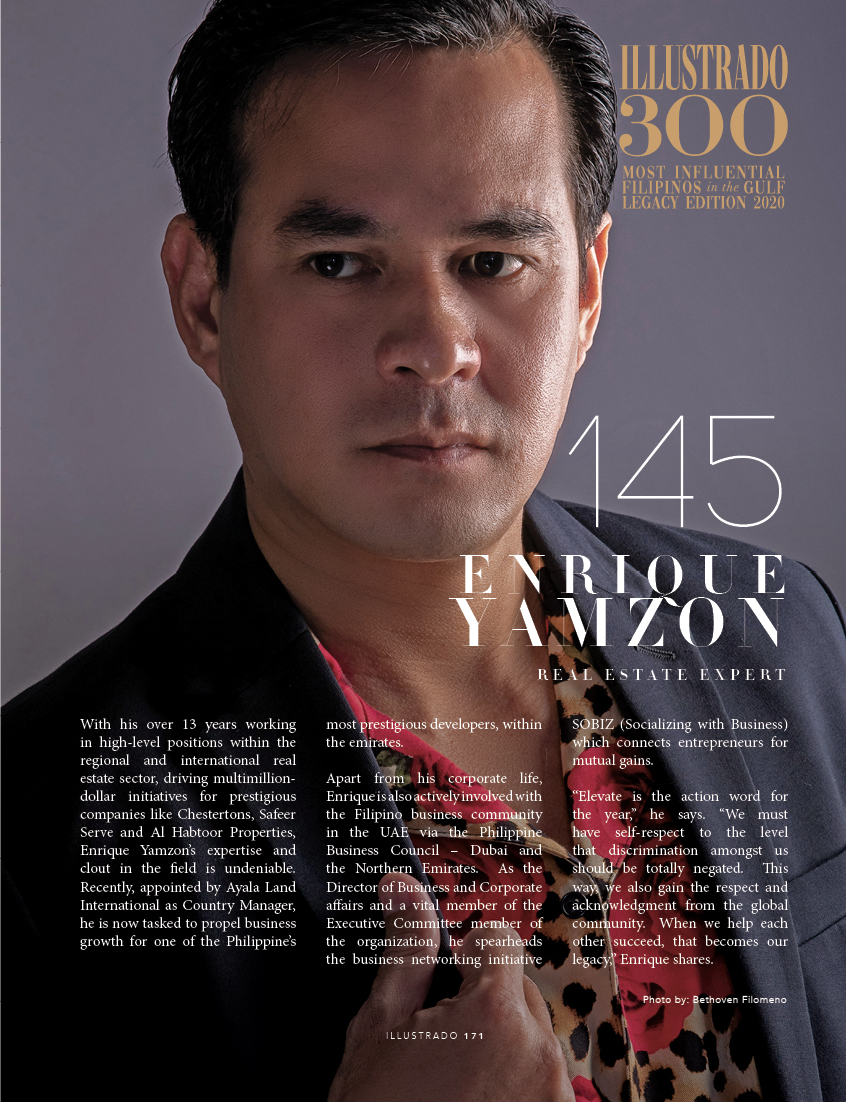 With his over 13 years working in high-level positions within the regional and international real estate sector, driving multimillion-dollar initiatives for prestigious companies like Chestertons, Safeer Serve and Al Habtoor Properties, Enrique Yamzon's expertise and clout in the field is undeniable.  Recently, appointed by Ayala Land International as Country Manager, he is now tasked to propel business growth for one of the Philippine's most prestigious developers, within the emirates.
Apart from his corporate life, Enrique is also actively involved with the Filipino business community in the UAE via the Philippine Business Council – Dubai and the Northern Emirates.  As the Director of Business and Corporate affairs and a vital member of the Executive Committee member of the organization, he spearheads the business networking initiative SOBIZ (Socializing with Business) which connects entrepreneurs for mutual gains.
"Elevate is the action word for the year," he says. "We must have self-respect to the level that discrimination amongst us should be totally negated.  This way, we also gain the respect and acknowledgment from the global community.  When we help each other succeed, that becomes our legacy," Enrique shares.
Illustrado 300 Most Influential Filipinos in the Gulf is Supported by: Kaya Skin Clinic,  Emirates Airline, and Unilever.
Special Thanks to Michael Cinco, Ezra Couture , Giordano, Darcey Flowers, IKON Solutions, Victors Freight, MPQ Tourism, Asia Gulf Companies –La Carne & Filfood, WOL Water
Get a copy of Illustrado 300 Most Influential Filipinos in the Gulf Legacy Edition