EON GROUP
Communications Experts 
Philippine company EON Group, a leader in the Asian communications landscape, recently established roots in the UAE in 2018. Armed with comprehensive experience in public relations, research, corporate communication services, digital marketing, as well as events, the esteemed communications consultancy has been delivering data-inspired and human-centered solutions that impact businesses – and the way they function, since 1998. Operating within the region in a mere span of two years, EON has created ripples, delivering eye-opening insights on the growing clout and importance of the local Filipino demographic segment.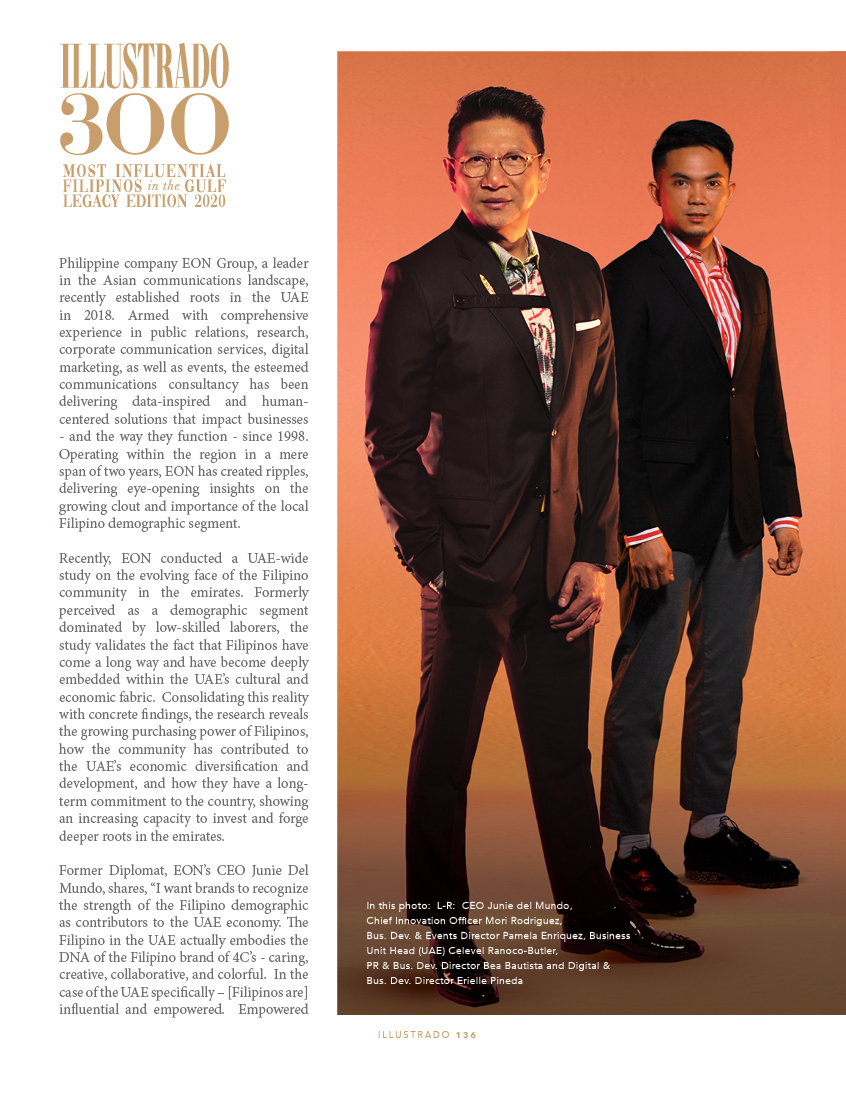 Recently, EON conducted a UAE-wide study on the evolving face of the Filipino community in the emirates. Formerly perceived as a demographic segment dominated by low-skilled laborers, the study validates the fact that Filipinos have come a long way and have become deeply embedded within the UAE's cultural and economic fabric.  Consolidating this reality with concrete findings, the research reveals the growing purchasing power of Filipinos, how the community had contributed to the UAE's economic diversification and development, and how they have a long-term commitment to the country, showing an increasing capacity to invest and forge deeper roots in the emirates.
Former Diplomat, EON's CEO Junie Del Mundo, shares, "I want brands to recognize the strength of the Filipino demographic as contributors to the UAE economy. The Filipino in the UAE actually embodies the DNA of the Filipino brand of 4C's – caring, creative, collaborative, and colorful.  In the case of the UAE specifically – [Filipinos are influential and empowered.  Empowered because of the enabling environment and economic potential they are given to unleash the very best that they can offer."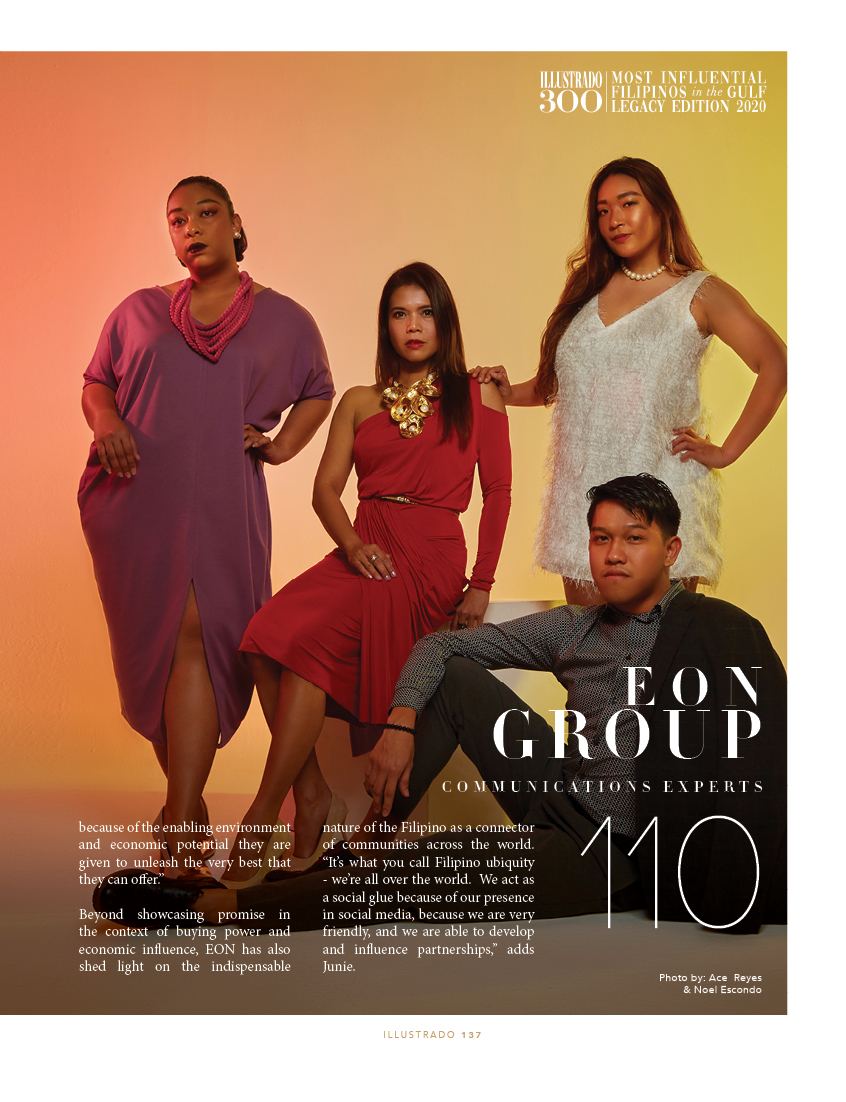 Beyond showcasing promise in the context of buying power and economic influence, EON has also shed light on the indispensable nature of the Filipino as a connector of communities across the world. "It's what you call Filipino ubiquity – we're all over the world.  We act as a social glue because of our presence in social media, because we are very friendly, and we are able to develop and influence partnerships," adds Junie.
Illustrado 300 Most Influential Filipinos in the Gulf is Supported by: Kaya Skin Clinic,  Emirates Airline, and Unilever.
Special Thanks to Michael Cinco, Ezra Couture , Giordano, Darcey Flowers, IKON Solutions, Victors Freight, MPQ Tourism, Asia Gulf Companies –La Carne & Filfood, WOL Water
Get a copy of Illustrado 300 Most Influential Filipinos in the Gulf Legacy Edition