Filipino Designers: Architectural Avant Garde
Photography: Eros Goze; Post Processing: Tom Bolivar; Hair and Make-Up: Jojo Padua and Frankie Melendez; Models: Kylene Ganigan and Darya Kovalenko shot at the Manarat Al Saadiyat, Saadiyat Island, Abu Dhabi
Distinctive architectural details find new perspectives in these three-dimensional avant garde ensembles inspired by some of the world's most intriguing contemporary structures.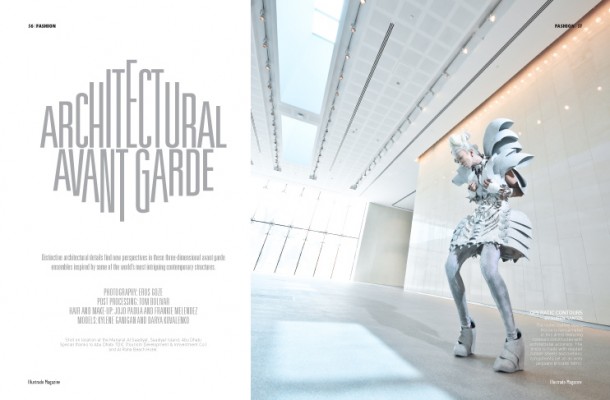 Operatic Contours
By Ruben Santos 
The iconic Sydney Opera House is reincarnated in this dress featuring contours constructed with architectural accuracy.  The dress is made with molded rubber sheets and metallic components set on an ivory jacquard brocade fabric.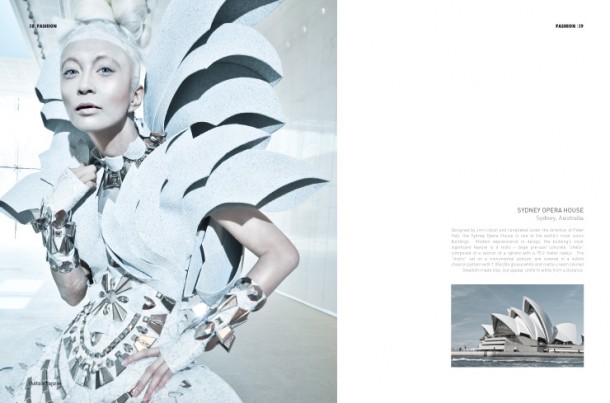 Sydyney Opera House 
Sydney, Australia
Designed by Jorn Utzon and completed under the direction of Peter Hall, the Sydney Opera House is one of the world's most iconic buildings.  Modern expressionist in design, the building's most significant feature is it roofs – large pre-cast concrete "shells" composed of a section of a sphere with a 75.2 meter radius.  The "shells" set on a monumental podium, are covered in a subtle chevron pattern with 1,056,006 glossy white and matte-cream colored Swedish-made tiles, but appear uniform white from a distance.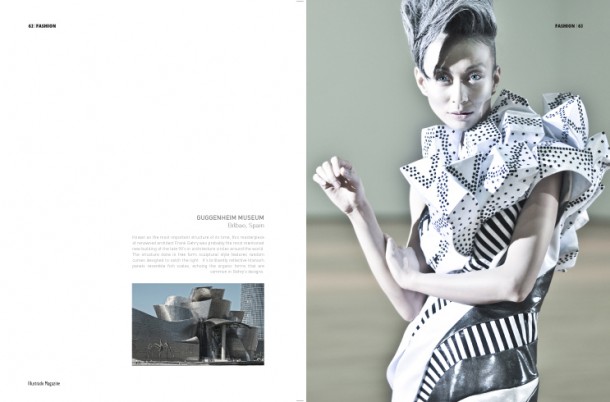 Sculptural Freeform
By Ralph Ramirez
From the hem to the bodice, this piece inspired by the Guggenheim Museum in Bilbao, Spain is a continuous swirling and rising journey from darkness to light. Interpreted in monochromatic tones of black, grey and white, the dress features an asymmetric neckline topped on one shoulder with pure and organic structural form that crown the museum.
Guggenheim Museum 
Bilbao, Spain
Known as the most important structure of its time, this masterpiece of renowned architect Frank Gehry was probably the most mentioned new building of the late 90's in architecture circles around the world.  The structure done in free form sculptural style features random curves designed to catch the light.  It's brilliantly reflective titanium panels resemble fish scales, echoing the organic forms that are common in Gehry's designs.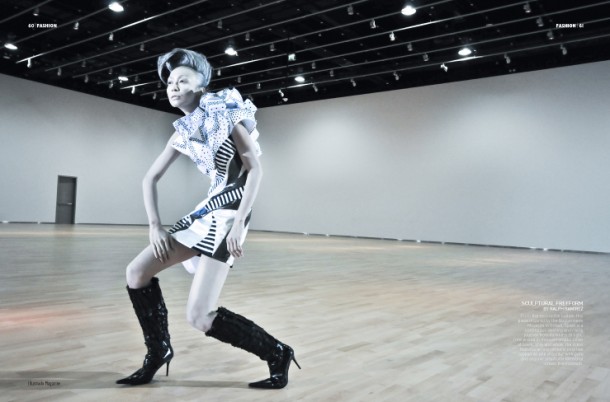 Curvilinear Fabrications
By Angelo Estera
Combining different fabrications with both soft and tough textures is this dress based on the Yas Hotel.  Calling to mind the building's distinctive domes.
Yas Hotel 
Abu Dhabi, UAE
A landmark in the UAE, the Yas Hotel and the accompanying Formula 1 circuit is one of the main attractions of the ambitious developments at Yas Island.  The building, designed by Hani Rashid and Lise Anne Couture, principals of New York based Asymptote Architecture, meant to embody speed and movement juxtaposed with the artistry of and geometries of Islamic arts and details, has as its focal point a 217 meter expanse of curvilinear forms made up of steel and 5,800 pivoting diamond shaped glass panels known as the "Grid Shell."  The "Grid Shell" which has the effect of an atmospheric-like veil features an amazing lighting system which incorporates video feeds, visible from miles away.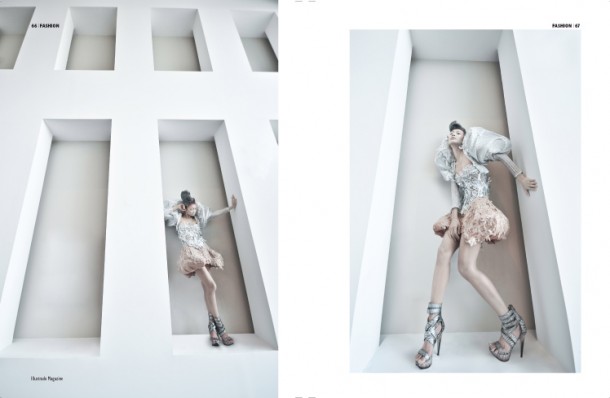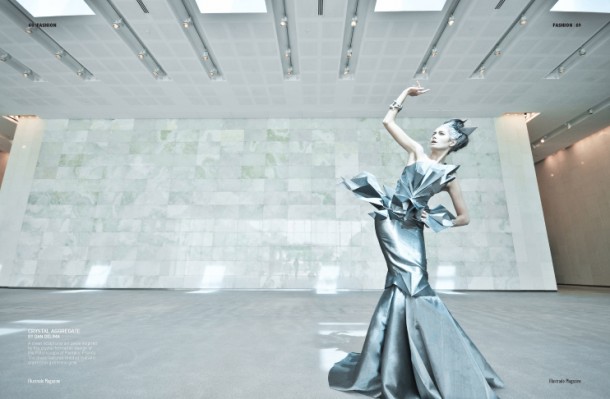 Crystal Aggregate
By Dan Delima
A clean sculptural art piece inspired by the crystal formation design of the Futuroscope of Poitiers, France. The dress features molded metallic organza in gunmetal gray.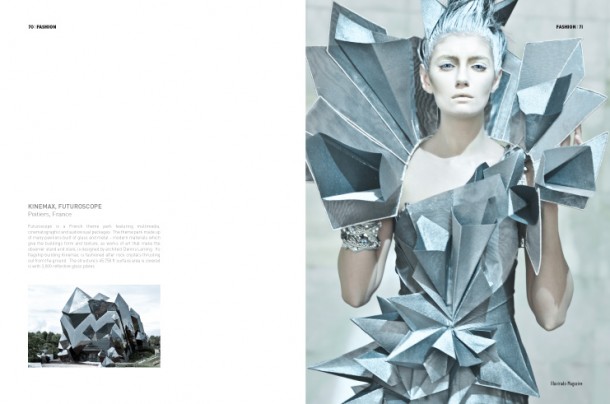 Kinemax Futurescope
Poitiers, France
Futuroscope is a French theme park featuring multimedia, cinematographic and audiovisual packages.  The theme park made up of many pavilions built of glass and metal – modern materials which give the buildings form and texture, as works of art that make the observer stand and stare, is designed by architect Dennis Laming.  Its flagship building Kinemax, is fashioned after rock crystals thrusting out from the ground.  The structure's 45,750 ft surface area is covered is with 3,000 reflective glass plates.
 Urban Organic
By Aldwin Ornopia Guardiana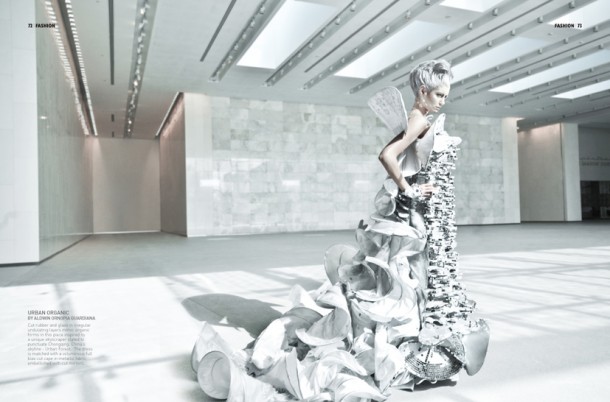 Cut rubber and glass in irregular undulating layers mimic organic forms in this piece inspired by a unique skyscraper slated to punctuate Chongqing, China's skyline – Urban Forest.  The dress is matched with a voluminous full bias cut cape in metallic fabric embellished with cut mirrors.
Urban Forest
Chongqing, China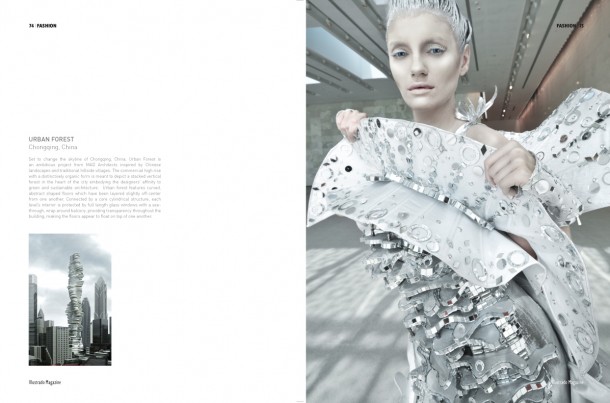 Set to change the skyline of Chongqing, China, Urban Forest is an ambitious project from MAD Architects inspired by Chinese landscapes and traditional hillside villages. The commercial high rise with a distinctively organic form is meant to depict a stacked vertical forest in the heart of the city embodying the designers' affinity to green and sustainable architecture.  Urban forest features curved, abstract shaped floors which have been layered slightly off-center from one another. Connected by a core cylindrical structure, each level's interior is protected by full length glass windows with a see-through, wrap around balcony, providing transparency throughout the building, making the floors appear to float on top of one another.
Mesh Construct
By Tim Tejares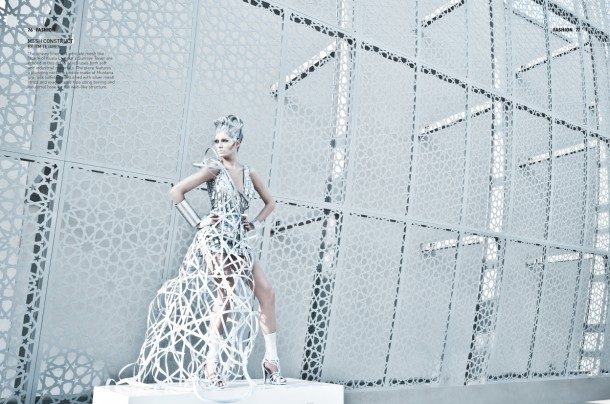 The sinewy lines and intricate mesh like façade of Kuala Lumpur's Sunrise Tower are echoed in this dress which uses both soft and industrial materials. The piece features a plunging neckline bodice made of Montana gray silk taffeta embellished with silver mesh strips and exaggerated hips using boning and industrial hose for the web-like structure.
Sunrise Tower
Kuala Lumpur, Malaysia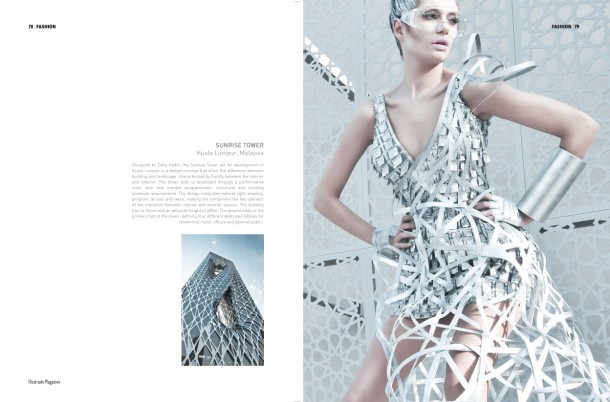 Designed by Zaha Hadid, the Sunrise Tower set for development in Kuala Lumpur is a design concept that blurs the difference between building and landscape, characterized by fluidity between the interior and exterior. The tower body is developed through a performative outer skin that merges programmatic, structural and building envelope requirements. The design integrates natural light, shading, program, access and views, making the component the key operator of the transition between interior and exterior spaces. The building has 66 floors and an absolute height of 280m. The ground lobby is the primary hub of the tower, defining four different dedicated lobbies for residential, hotel, offices and general public.
Distinctive architectural details find new perspectives in these three-dimensional avant garde ensembles inspired by some of the world's most intriguing contemporary structures.
Body Canopy
By Ushi Sato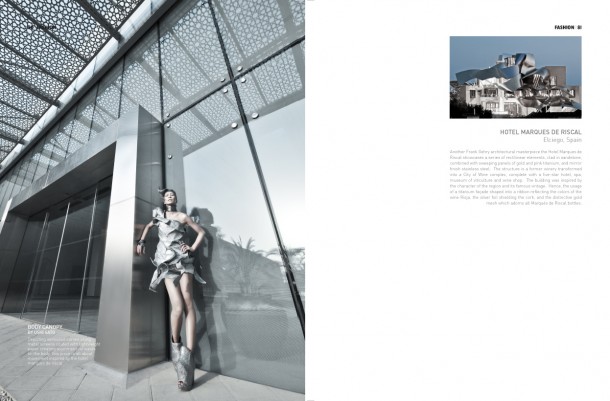 Depicting sensuous curves using metal screens coated with lightweight paper creating asymmetrical waves on the body, this piece is all about movement inspired by The Hotel Marques de Riscal.
Hotel Marques de Riscal
Elciego, Spain
Another Frank Gehry architectural masterpiece the Hotel Marques de Riscal showcases a series of rectilinear elements, clad in sandstone, combined with sweeping panels of gold and pink titanium, and mirror finish stainless steel.  The structure is a former winery transformed into a City of Wine complex, complete with a five-star hotel, spa, museum of viticulture and wine shop.  The building was inspired by the character of the region and its famous vintage.  Hence, the usage of a titanium façade shaped into a ribbon reflecting the colors of the wine Rioja, the silver foil shielding the cork, and the distinctive gold mesh which adorns all Marqués de Riscal bottles.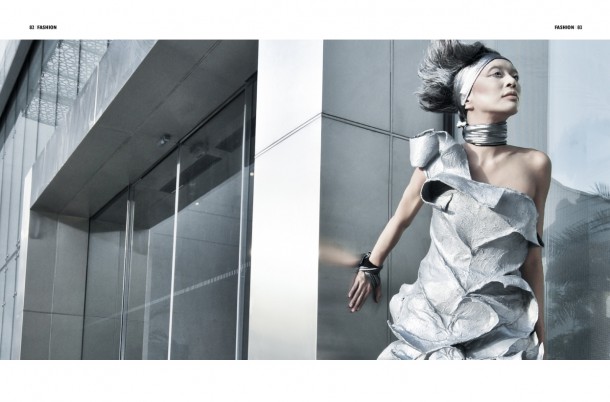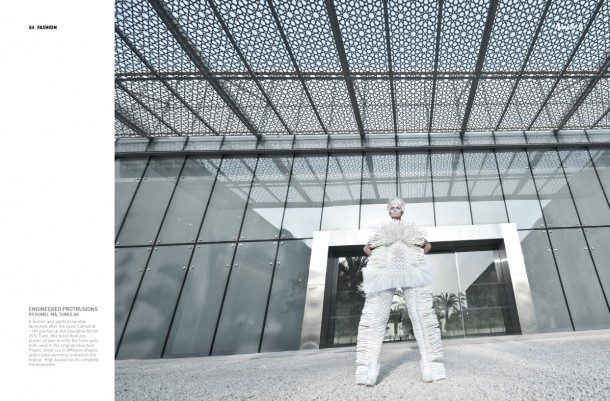 Engineered Protrusions
By Romel Ma. Tumulak
A bustier and pants ensemble fashioned after the Seed Cathedral – UK Pavilion at the Shanghai World 2010 expo, this piece features plastic straws to echo the fibre optic rods used in the original structure. Plastic sheet cut in different shapes and crystal elements embellish the bodice.  High heeled boots complete the ensemble.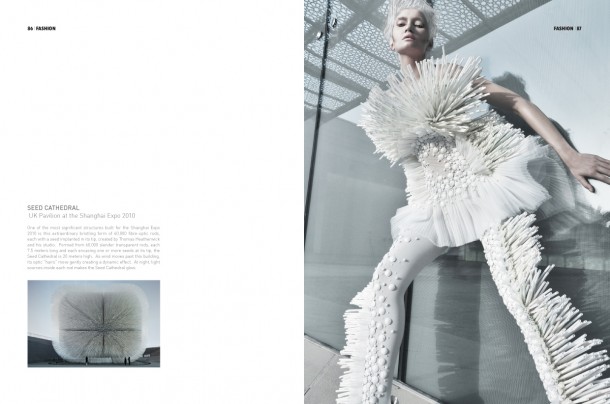 Seed Cathedral
UK Pavilion at the Shanghai Expo 2010
One of the most significant structures built for the Shanghai Expo 2010 is this extraordinary bristling form of 60,000 fibre-optic rods, each with a seed implanted in its tip, created by Thomas Heatherwick and his studio.  Formed from 60,000 slender transparent rods, each 7.5 meters long and each encasing one or more seeds at its tip, the Seed Cathedral is 20 meters high.  As wind moves past this building, its optic "hairs" move gently creating a dynamic effect.  At night, light sources inside each rod makes the Seed Cathedral glow.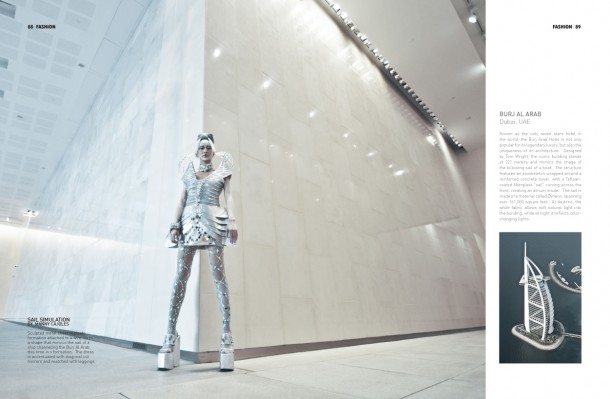 Sail Simulation
By Manny Cajoles 
Sculpted metal sheet in pleats formation attached to a wire, form a shape that mimics the sail of a ship channeling the Burj Al Arab, this time in V formation.  The dress is accentuated with diagonal cut mirrors and matched with leggings.
Burj Al Arab
Dubai, UAE
Known as the only seven stars hotel in the world, the Burj Arab Hotel is not only known for its legendary luxury, but also the uniqueness of its architecture.  Designed by Tom Wright, the iconic building stands at 321 meters and mimics the image of the billowing sail of a boat.  The structure features an exoskeleton wrapped around a reinforced concrete tower, with a Tefloan-coated fiberglass "sail" curving across the front, creating an atrium inside.   The sail is made of a material called Dyneon, spanning over 161,000 square feet.  At daytime, the white fabric allows soft natural light into the building, while at night it reflects color-changing lights.
________________________________________________________________________________
More Fashion and style on Illustrado Life. 
Related Articles:
Filipino Designers: Black Magic 
Filipino Designers: The Dream Weavers 
Save
Save
Save