Labor Attaché Felicitas Q. Bay
Felicitas Q. Bay is a lawyer and dedicated public servant. In 1990, she joined the Philippine Overseas Employment Administration (POEA) and served as Chief, Prosecution Division, Director, Anti-Illegal Recruitment Branch, and Director, Licensing Branch for 15 years.  After that, with postings in Qatar and Seoul, she has become a pivotal figure in maintaining positive relations between the Philippines and foreign governments through her duties.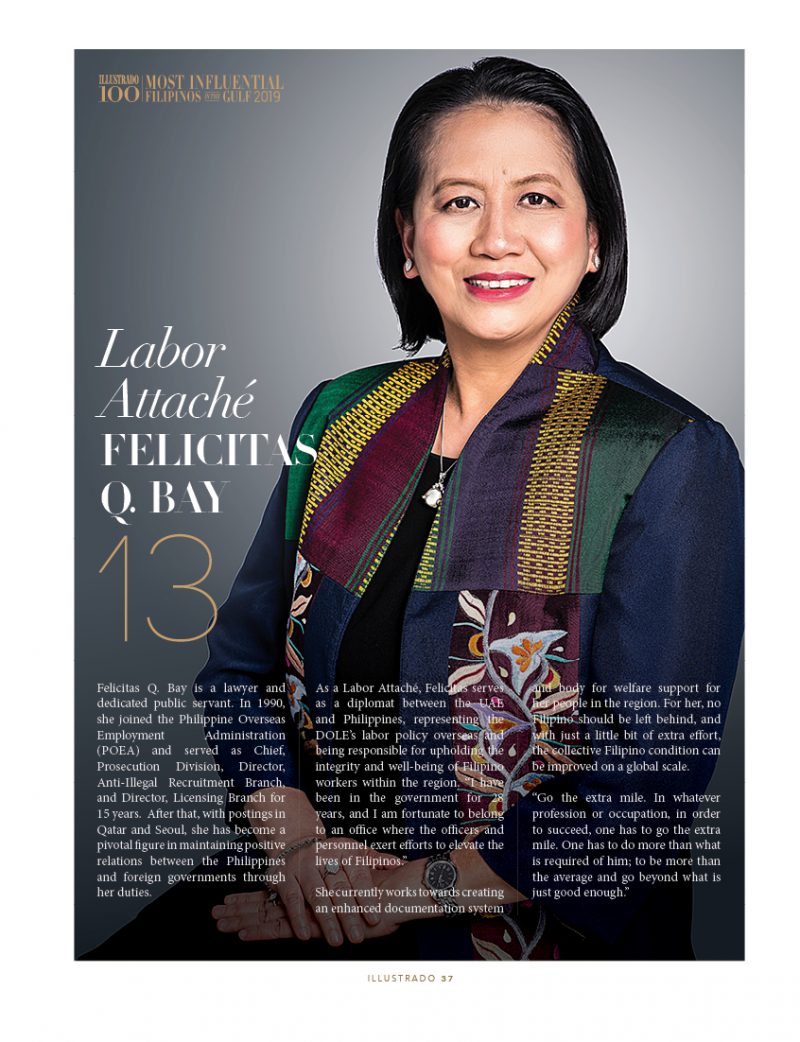 As a Labor Attaché, Felicitas serves as a diplomat between the UAE and Philippines, representing the DOLE's labor policy overseas and being responsible for upholding the integrity and well-being of Filipino workers within the region. "I have been in the government for 28 years, and I am fortunate to belong to an office where the officers and personnel exert efforts to elevate the lives of Filipinos."
She currently works towards creating an enhanced documentation system and body for welfare support for her people in the region. For her, no Filipino should be left behind, and with just a little bit of extra effort, the collective Filipino condition can be improved on a global scale.
"Go the extra mile. In whatever profession or occupation, in order to succeed, one has to go the extra mile. One has to do more than what is required of him; to be more than the average and go beyond what is just good enough."
……………………….
Special thanks to our sponsors: Emirates Airline, Stars n Bars La Mer, Liali, Instax – Grandstores UAE, Dusit Thani Dubai, Gver – Your Friendly Marketplace for Sharing, Meeting Dancewear , MPQ, CMG, Filbrit, and our partners Rozen Antonio Photography,  Alex Callueng Photography, Jef Anog Photography, and Ethereal Photography.