Felino Jun Palafox Jr.
Architect, Urban Planner, Humanitarian
Photo by Andre Son
"Plan and design a garden city out of the desert.  A pacesetter city that will lead, and not be led." In 1977 architect and urban planner Felino 'Jun' Palafox, Jr. and his team were given that mandate by the late Sheikh Rashid bin Saeed Al Maktoum of this flourishing city by the creek.  Over forty years on, Dubai, the place that he helped built stands proud as one of most illustrious and progressive places in the world.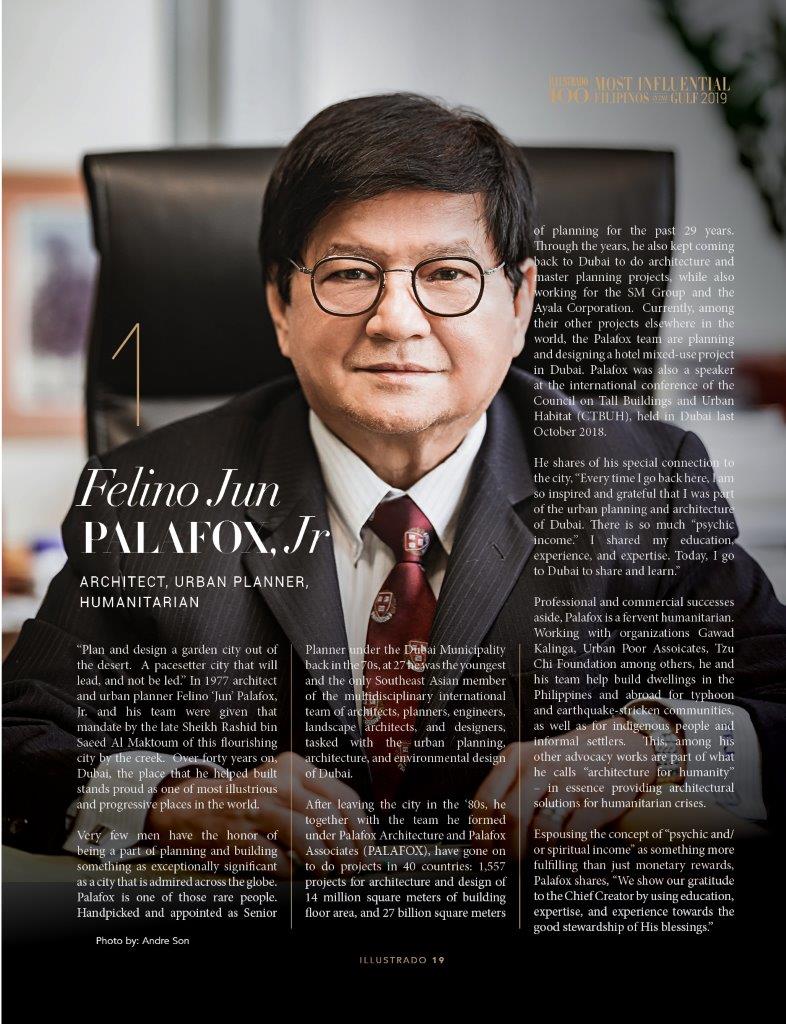 Very few men have the honor of being a part of planning and building something as exceptionally significant as a city that is admired across the globe. Palafox is one of those rare people.  Handpicked and appointed as Senior Planner under the Dubai Municipality back in the 70s, at 27 he was the youngest and the only Southeast Asian member of the multidisciplinary international team of architects, planners, engineers, landscape architects, and designers, tasked with the urban planning, architecture, and environmental design of Dubai.
After leaving the city in the '80s, he together with the team he formed under Palafox Architecture and Palafox Associates (PALAFOX), have gone on to do projects in 40 countries: 1,557 projects for architecture and design of 14 million square meters of building floor area, and 27 billion square meters of planning for the past 29 years.   Through the years, he also kept coming back to Dubai to do architecture and master planning projects, while also working for the SM Group and the Ayala Corporation.  Currently, among their other projects elsewhere in the world, the Palafox team are planning and designing a hotel mixed-use project in Dubai. Palafox was also a speaker at the international conference of the Council on Tall Buildings and Urban Habitat (CTBUH), held in Dubai last October 2018.
He shares of his special connection to the city, "Every time I go back here, I am so inspired and grateful that I was part of the urban planning and architecture of Dubai. There is so much "psychic income." I shared my education, experience, and expertise. Today, I go to Dubai to share and learn."
Professional and commercial successes aside, Palafox is a fervent humanitarian. Working with organizations Gawad Kalinga, Urban Poor Assoicates, Tzu Chi Foundation among others, he and his team help build dwellings in the Philippines and abroad for typhoon and earthquake-stricken communities, as well as for indigenous people and informal settlers.  This, among his other advocacy works are part of what he calls "architecture for humanity" – in essence providing architectural solutions for humanitarian crises.
Espousing the concept of "psychic and/or spiritual income" as something more fulfilling than just monetary rewards, Palafox shares, "We show our gratitude to the Chief Creator by using education, expertise, and experience towards the good stewardship of His blessings."
……………………….
Special thanks to our sponsors: Emirates Airline, Stars n Bars La Mer, Liali, Instax – Grandstores UAE, Dusit Thani Dubai, Gver – Your Friendly Marketplace for Sharing, Meeting Dancewear , MPQ, CMG, Filbrit, and our partners Rozen Antonio Photography,  Alex Callueng Photography, Jef Anog Photography, and Ethereal Photography.