Filipino Dubai: The First Terno Ball in the UAE
Photos by Eros Goze
Filipino Culture showcased at prestigious Terno Ball in Dubai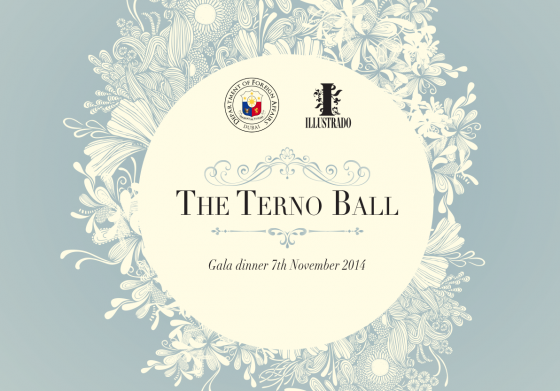 Illustrado, under the patronage of the Diplomatic Ladies of the Philippine Consulate General together with the Ladies of the Filipino Community in the UAE hosted a unique and prestigious showcase of Filipino culture in the United Arab Emirates for a select group of VIPs.
The Terno Ball, attended by some 300 diplomatic dignitaries, as well as leading community figures, was held on the 7th of November at The Atlantis Hotel – The Palm Jumeirah.  A highlight of the event is the "Rigodon de Honor" – a traditional Filipino-Spanish quadrille folk dance, performed by select Philippine Consulate General staff members.  Dancers from the United International Private School and the Filipino Dancesport Social Club performed folk dances "Sayaw sa Bangko" and "Tinikling."  Filipino fashion designers, including Michael Cinco, Ezra Santos, Jimi Buenconsejo, Bandoix Flores, Carla Fuentes, Alberr Fontanilla, Bambi Alcantara and Nelson Buhain, also showcased one-of-a-kind Filipiniana-inspired couture gowns.
According to Mrs. Lucila Cimafranca, wife of Philippine Consul General Frank Cimafranca and main patron of the event, "It is our hope that through this event, we will able to share and champion the magnificent beauty of the Filipino culture on the world stage. Many Filipinos have experienced great triumph in the UAE. This momentous gathering is an opportunity to pay tribute to these trailblazing kabayans, and also a chance for us to show our gratitude to the country and community that has been a truly gracious and generous host to the Filipino people."
The event is sponsored by BMW, Ghena Tourism, Ayala Land International, Al Saif Group of Companies, The Farm at San Benito, Ariel Weddings and Rotana Hotel.
Special thanks to: MODELS:  Ann Llagas, Glacy Marano, Benedickte Namia-Gamelgaard and FLC Models and Events; HAIR & MAKE-UP TEAM:  Jhoana Nelissen, Yhence Sioting, Maricel and Bobby Caparas.