My Pinoy Life in Edmonton, Canada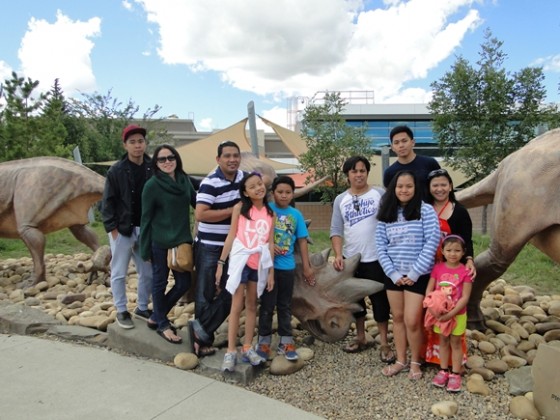 Edmonton has been our home since August 2013. The move has been planned taking into consideration, free and good quality education for our children, a stable economy, great employment opportunities and permanent residency with a chance to be a citizen of Canada. We chose to live and settle in Edmonton, Alberta first, because we have a family here and second, because the city has so much to offer.
Our city
Edmonton is the capital city of the Canadian province of Alberta. It is the second largest city of Alberta (next to Calgary) and the fifth largest municipality of Canada. It is home to 877, 926 people (Edmonton's official population as of April 1, 2014 census) from different ethnic and cultural backgrounds. A resident of Edmonton is known as an Edmontonian.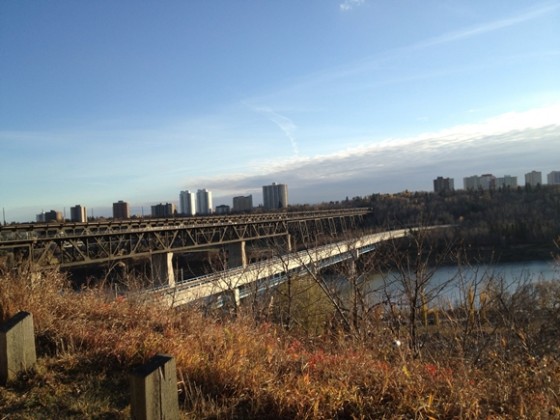 English is the official language but different native languages are widely spoken too like French, Tagalog, Cantonese, Punjabi, Mandarin, Spanish, Arabic, Ukrainian, German and others.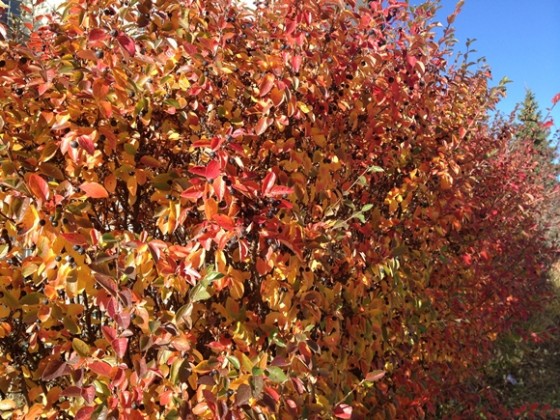 Edmonton enjoys more than 2,000 hours of sunshine each year and four distinct seasons: Spring, Summer (June to September with an average temperature of 15° C to 23° C or 60° F to 73° F), Autumn (Fall) and Winter (December to March or April with an average temperature of 8° C to -25° C or 18° F to -13° F).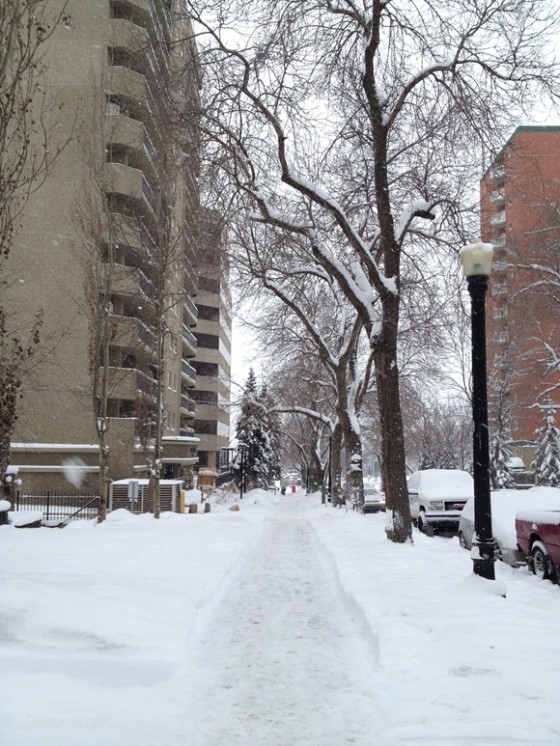 Edmonton has been called the City of Champions. It was so named for the city's response to the tornado of July 31, 1987 and also for sporting success during the 1980s because of its professional ice hockey team – the Edmonton Oilers. Like other Canadians, Edmontonians love ice hockey.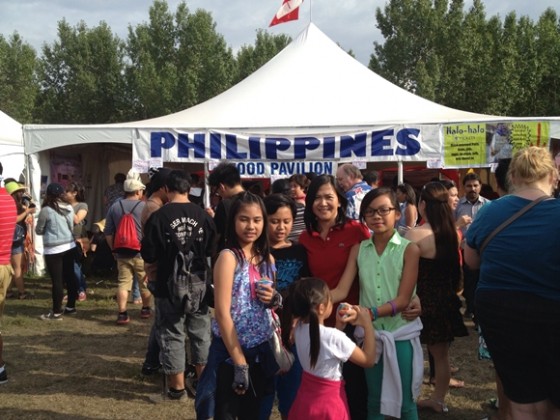 There are many unique festivals and special events throughout the year in Edmonton. Some of them are celebrations of food and culture from around the world: Taste of Edmonton (food and restaurants), Canadian Finals Rodeo, K-Days (rides, music and other entertainment), Edmonton International Fringe Festival (exhibition of alternative theatre), Edmonton Heritage Festival (an ethno cultural food and heritage festival) Cariwest (Caribbean Festival) Edmonton Poetry Festival, Edmonton Pride Festival and many others.
The city also hosts exciting sports events like the upcoming FIFA Women's World Cup Canada 2015 from June 6 – July 5, 2015. It is also home to different music and film festivals and has been a venue for concerts of different and famous international artists like, Justin Timberlake, Taylor Swift, Westlife, my daughter's favorites, One Direction and Five Seconds of Summer will also be performing in July 2015. Even local Filipino shows and artists frequently perform in Edmonton; the most recent is ShowTime Live in Edmonton.
Edmonton City as part of Alberta province has lower taxes compared to other provinces of Canada. Its industries, such as oil and gas, keep its economy strong and steady.
Life in Edmonton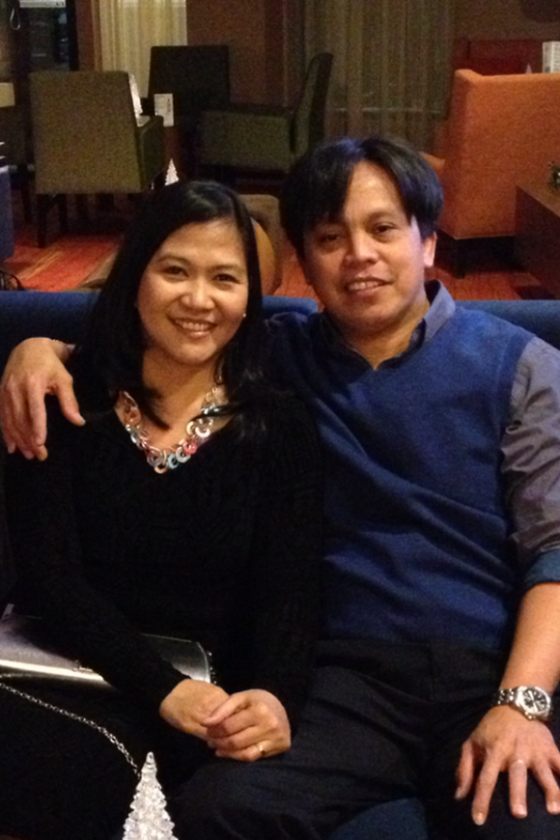 We moved here from Abu Dhabi, UAE where we lived for thirteen years, and came under the Federal Skilled Program of the Canadian Government. It was a huge adjustment for my husband, three children and me – adapting to a new country, its culture, climate and way of life. Our first few months were not easy but we were lucky to have my husband's brother and his family to support us.
Although there are a lot of jobs available in Edmonton finding a suitable one took time. Many professional immigrants with high education or skill level start with survival jobs. Some opt for underemployment or to study further for a couple of months to upgrade. My husband and I also started with survival jobs in a supermarket as deli clerks. But with perseverance and God's grace, my husband has a regular job now related to his education and past experience, and I am celebrating this month my first anniversary as government employee.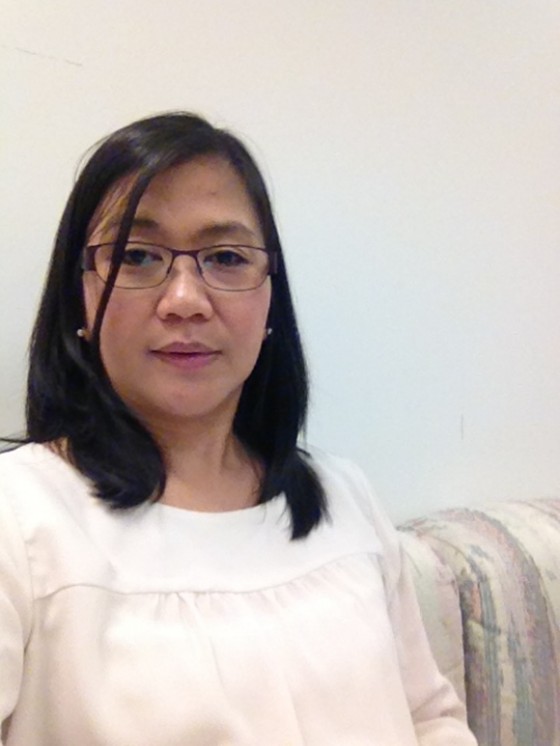 I work as Director's Secretary under the Student Learning Standards Division of Alberta Education (Ministry of Education). I am responsible for leading and coordinating the daily operations of the Director's office; maintaining consistent, efficient and effective correspondence and information flow, arrangement of appointments and meetings and travel coordination. As Director's Secretary, I perform a variety of administrative and secretarial services for the Branch, liaise on behalf of the Director's office and maintain close communication links with branch and sector staff, the Executive Director's and Associate Deputy Minister's offices and external partners and stakeholders. I am the only Filipino in our sector and I am proud that I have gained the respect of my Canadian supervisors and colleagues.
As many Filipinos do, we still kept the job at the supermarket on a part time basis.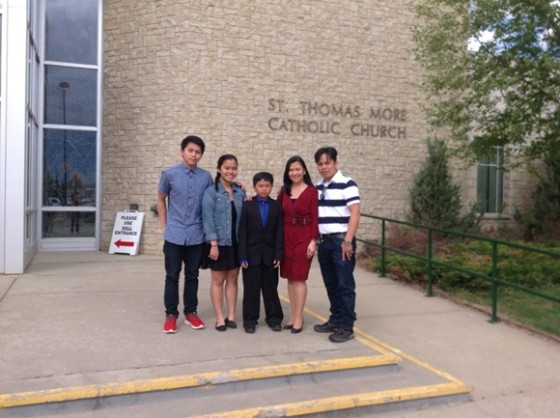 My children adjusted well and quickly to life in Canada. They are on their second year of study under the Catholic school system and they are active in school. My eldest is a varsity basketball player and my other two children are involved in other extracurricular activities in school. Their education is provided free by the Government until they finish Grade 12 (minimal miscellaneous fees are paid by us to school). This is what we like living here in Canada. Even when we pay income tax and government sales tax (GST) we know and see that those taxes are used by the government to provide free education, health care and other basic services to its people. Apart from these, there are other benefits the government provides to support the family.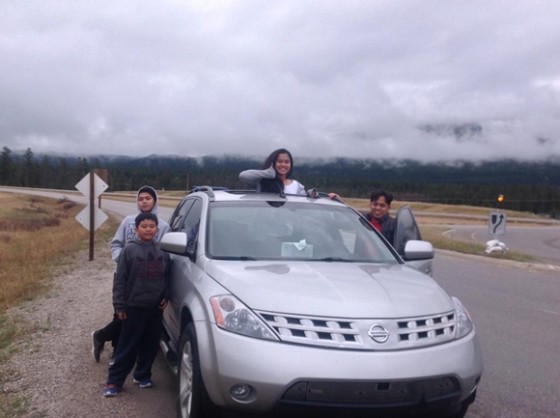 I work from Monday to Friday. At home, I try to fulfill my role as a wife and mother of three. During free time, I am into social media to connect with relatives and friends. I join book clubs, do works for Canadian Breast Cancer Foundation as volunteer, and offer services at the church as reader and join bible study groups.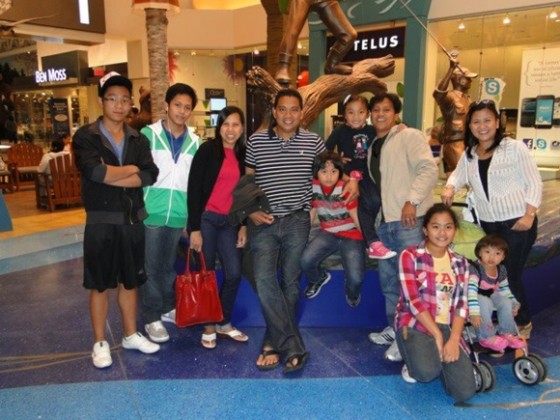 As a family, we enjoy dining out and malling. During winter, we go to West Edmonton Mall (the largest shopping mall in North America) or watch movie at the theater every once in a while. Skiing is a bit expensive but we hope to go some time to experience it. In summer and when there are long weekends, we go out with friends for camping or long drive to explore the vast land of Alberta.
Just like home
As of 2013, there are more than 39,000 Filipinos in Edmonton. Filipinos are respected in Canada as we are hardworking, reliable and sincere people. Many came here as care givers, nannies or temporary foreign workers. They work and live here until they meet the requirements to get permanent residency (this takes a couple of years) and bring their family members here. Some Filipinos like my family, came here as immigrants under different programs of the Canadian government.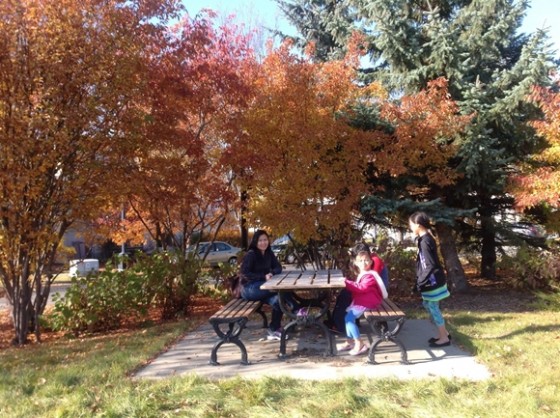 There are more than 30 Filipino community groups or clubs in Edmonton. These groups are either regional/provincial related, alumni associations, church affiliations, cultural groups, professional associations, fraternities, or even a group of Filipinos working in one sector like the Government of Alberta (GOA) Kababayan where I am a new member. These groups support its members; they meet regularly, get together on special occasions and Filipino Holidays (Independence Day, Christmas, etc.). They also get together and work together especially during Edmonton Heritage Festival, a three-day showcase of Canada's vibrant multicultural heritage held every summer. Filipino groups join to build the Philippines Pavilion showcasing our culture and heritage through cultural performances, offering traditional Filipino food, which Canadians have learned to enjoy, as well clothing, handicrafts, and other things which can be found only in the Philippines.
The spirit of 'bayanihan' is always here. In fact, many fund raising projects have been held in Edmonton to help the victims of typhoon Haiyan.   Even when they belong to different groups, Filipinos always join hand in hand to help our less fortunate 'kababayans' back home in times of calamities.
Going Canadian; staying Filipino
Canadians are fair people, everyone is treated equal. You can call your boss or even higher executives in the company by firsts name only; no need to address formally by the last name. Canadians are also known for always apologizing and using adorable terms like "loonie" (one-dollar coin), "toonie" (two-dollar coin) and "eh" (an interjection meaning "please repeat that" or "huh?"; it is also commonly used as a question tag). This reminds me of our 'ala eh' term in Batangas.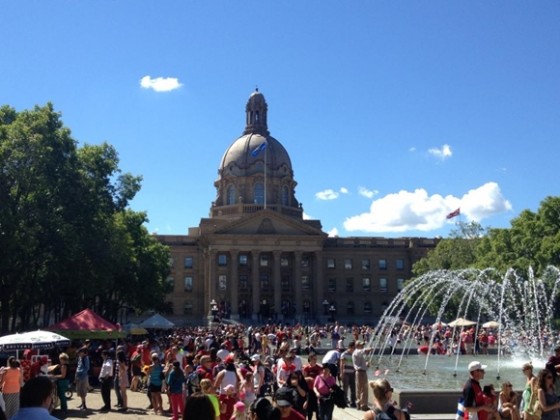 Even when we now live in a different city and country, we still keep Filipino values and traditions. We go to church every Sunday and pray together as a family. I still remind my children to kiss the hands of Filipino elders we meet (pagmamano) and to not to forget saying 'po' and 'opo' when talking to them. We also speak Tagalog at home for them not to forget the language. We cook and eat Filipino food, have reunions with the whole family and have Noche Buena and Media Noche together.
Kababayan greetings
Wherever you are, be proud to be a Filipino. Persevere, be fair and be patient. Believe in yourself and always trust God. Always pray and lift up all your plans, successes and even trials. Everything will come and will happen in God's perfect time.
Edmonton city hall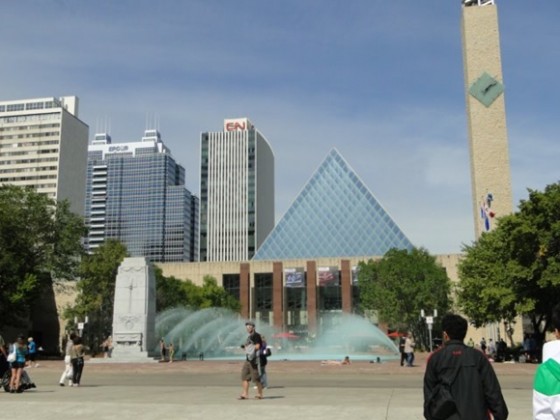 Edmonton hall

Alberta Legislature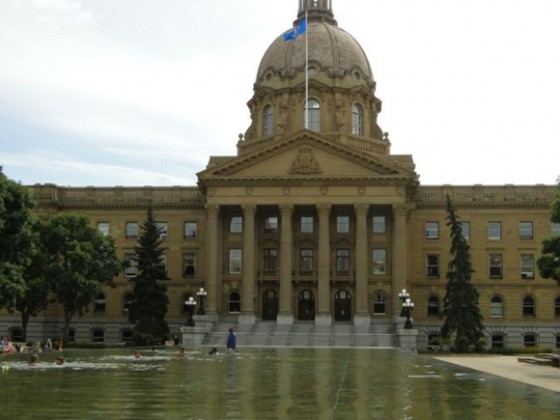 The Art Gallery of Alberta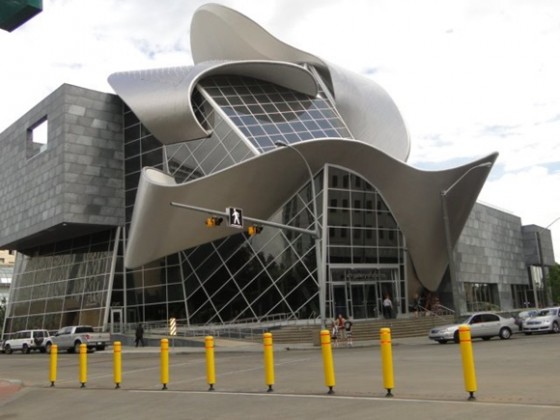 Filipino in Canada: My Pinoy Life in Edmonton, Canada