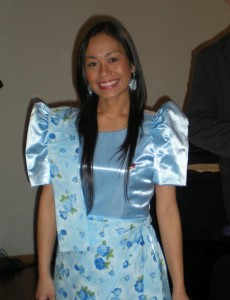 Filipino Slovenia: My Pinoy Life in Izola
GIA RAMA
Since when have you been staying there?  Can you recount briefly why you moved there?
I am Gia Rama, a mother of one and the wife of a Slovenian engineer.  I remember meeting my husband in Cebu, Philippines. He was there on a project working as a commissioning engineer for one of the TransCo substations in Mandaue City where I was previously working as a secretary to the District 2 Department. That's where it all started – the meeting of two hearts, and of two different worlds.
My husband won my heart in so many ways. But moving with him after we got married, to a country which I never heard about was not an easy thing to do. I heard about ex-Yugoslavia and the neighboring countries but Slovenia? I never knew it existed.
Tell us something about your host country and your life there.
Slovenia is famous for their limestone caves, rivers, castles, and they have the biggest ski jump in the world. Other than this, the country is also famous for their wine. They make homemade wine which I enjoy so much.  Wine is always present in every house and in every celebration. The locals love get-together parties. Even sharing a cup of coffee with the family is important to them. They have close family ties like we do. Well, that's what I see with my husband's family. They love being together. Slovenians, however, don't show their emotions too much. They themselves admit that they are quite cold. Some of them give you a certain reaction or look that makes you feel bad and small. But then again, it's cultural and it's just a matter of getting used to.
As for me, I have somehow accepted their ways, and now I love it here.  Although first, it was very hard. I arrived at the worst season – winter! For a tropical girl like me, arriving in winter was terrible. It was gloomy and cold. The worst thing was, I was home sick. I wanted to go back to the airport and get the first flight back to the Philippines.  But of course, I did not. I took a risk and gave it a try. The first few months were not easy. People were looking at me strangely. I did not have friends, no work and no social life – nothing! I remember crying because I felt so alienated. I met some Filipinas after a while and it got a bit better. But then I still felt sad. My husband was not around so much. He was travelling and working around the world – something I had to accept.
But it was not all tears for us. It was interesting for me too. Winter meant snow! Yes! Snow! The first time I saw and felt snow, I was so amazed how it came down slowly from up there and it seemed like the world was so silent. But then again, this silence just made me lonely again. I was missing my family in the Philippines so much. I still do. So ok, the seasons changed and with the season, my feelings and emotions changed too. As I slowly felt the warmth of summer, I felt lighter. I started to go out and meet more people.
What do you there do for a living and how do you keep busy?
In May 2008 I got employed as a secretary in an engineering firm called CCE, d.o.o.  From that time, my life got busier, and of course, I was very happy about the fact that I was also earning. In the same year my son Grant, started elementary school. So I had to do double time working in the office, taking care of the house and helping my child with his studies. I am also into dancing lessons, and had the opportunity to perform for an audience.  I was also in a multi-cultural fashion show which was held in Izola. It was composed of women and children of different races. We had to present our national costumes and displayed our dishes which were open for free tasting. I also joined the 10 kilometer marathon just last year.  I am quite sure that I am not the only Filipina enjoying these opportunities.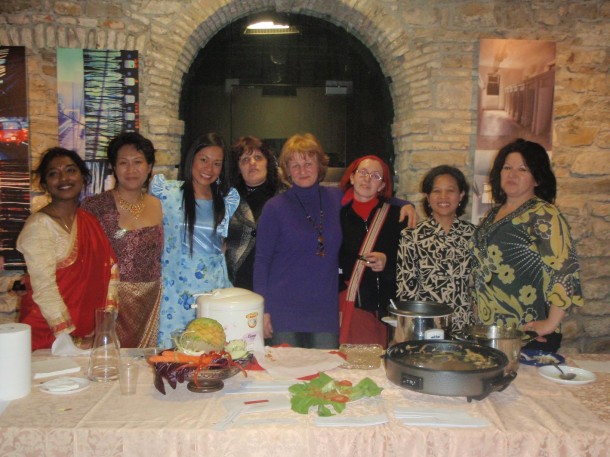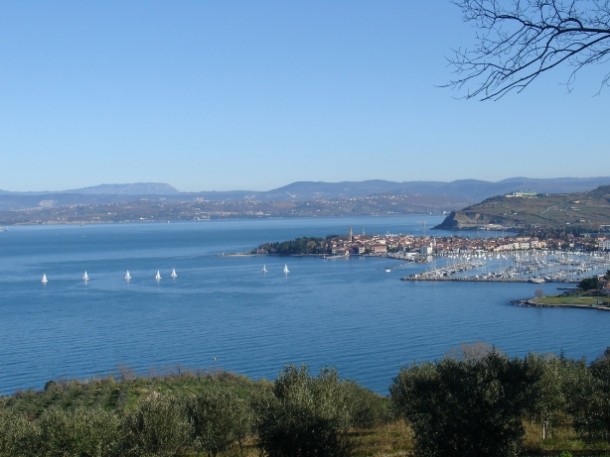 Is there a Filipino community there?
This year, I was elected as President of the Filipino community here in Slovenia, another responsibility which I gladly accepted. There are about 80 Filipinos here. We gather once or twice a year for the Independence Day celebration and Christmas party. We have no major projects yet, but I feel that we will get there someday. Last year, our community here has done our part in helping the victims of the typhoon Ondoy. We have sent used items or clothing. Unfortunately, acknowledgement never reached us. I do not mean to make it sound like we lack attention or we need the world to know that we have helped. But my aim was for Slovenia, especially the Filipino community here, to be made known to the whole world. Slovenia exists… we exist here.
Filipinos are far more vibrant and warm than the people here. Naturally, we are the open and friendly ones. People like us here. But of course, racism can't ever be denied. But then again, generally, we are well-accepted and respected.  Most of all, they love our beauty; they love the tropical and exotic look that we have, our color. This is the very reason why I like getting a tan even if I am already dark.  In the summer, we go out and take advantage of the sun. We go to the beach almost every weekend. There are even times when we make use of the little time we have after work. But Slovenia is not famous for their beaches. We cross the border and go to Croatia to enjoy clean and clear waters.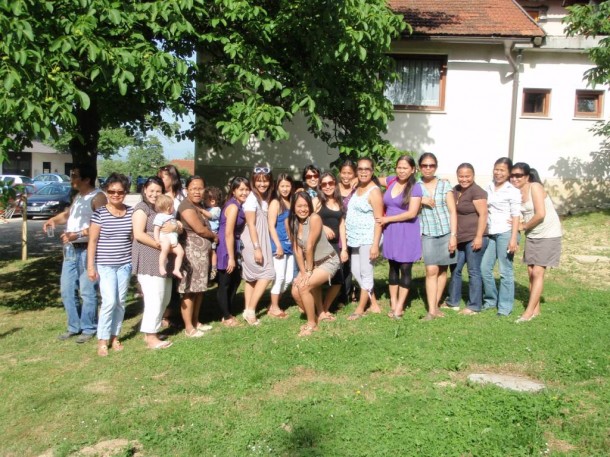 Your message/greeting to Filipinos across the globe
Greetings to all Filipinos all over the world! Here's wishing you good health and happines with your loved ones. Like all others, the Filipinos here are also working to make their lives better and, of course, with the intention to help those they have left back home. Let us all work together and make this happen without stepping on someone else's rights. Let us respect each other, no matter the differences of jobs that we have. We are all brothers and sisters in the eyes of God. Let us act this way.