Filipino Uganda: My Pinoy Life in Kampala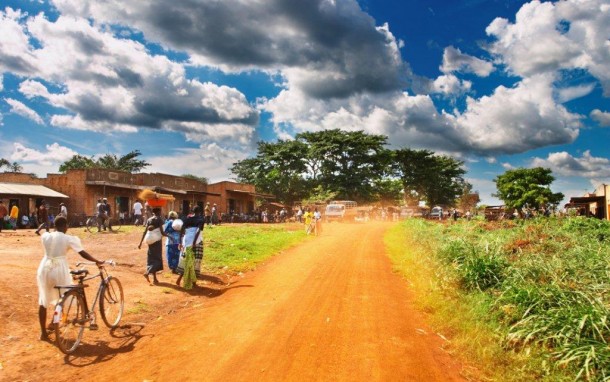 Raised by missionary parents in India and Thailand, the values of altruism and volunteerism were ingrained in NYX MARTINEZ at an early age. It comes as no surprise that Nyx grew up and pursued a similar path.
The 29-year old Filipina reflects on the three years she spent in Kampala, Uganda as a full time volunteer and the lessons of love and brotherhood that continue to influence her until today.
Since when have you been staying there?  Can you recount briefly why you moved there?
I lived in Uganda from 2002-2005 as a full time volunteer. I worked with Radioactive Productions, a recording studio that produced inspirational radio programs for listeners around East Africa Another objective of the program was to highlight good local talent by giving them a platform.
We also organized aid distribution to IDP (Internally Displaced Persons) and refugee camps, orphanages and hospitals. As project coordinator, I helped organize a few projects that got artists (or anyone willing) involved with humanitarian and outreach programs on the ground level.
Tell us something about your host city and country?
Uganda is very special. The weather is perfect! It's hot enough to dry your laundry in the morning, and cool enough at night to need a wrap or scarf when you go out. It's not humid or extra dry like in Kenya. Uganda is also the source of the Nile River; this means the land is very fertile, and extremely lush. However, the degree of poverty is also overwhelming. And there are still tribal wars and disputes in some regions.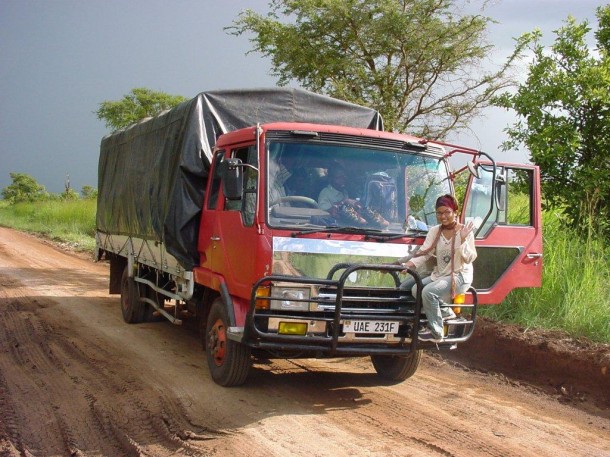 You've probably heard about Idi Amin in the late 70's, the president of Uganda who seized power in a military coup in 1971. Known as the "Butcher of Uganda", hundreds of thousands of his opponents were either killed or imprisoned during his 8 year dictatorship. Everyone seems to associate Uganda with him. But the Ugandan people, in general, are some of the kindest, sincerest, and humblest I have ever met. They are also lots of fun, and on the whole, they are not overly materialistic or judgmental.
One time, I came home from a short vacation in South Africa, and our cook looked at me and beamed, "Nyx! You have gotten fat!" I was stunned at her reaction, and a little embarrassed. Then she continued: 'And you will get fatter, and fatter, and fatter!" The smile on her face told me that was a good thing. I later learned that she really was giving me a genuine compliment! In this part of the world, the rule is: the bigger the better! That's an example of a different kind of culture there.
What do you there do for a living?
My work as a volunteer was full-time, but I also dabbled in writing and painting. I held one solo and two joint art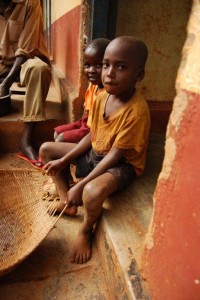 exhibits, all to raise awareness about the plight of the people I was trying to help at the time — like forgotten tribes and child soldiers. To earn extra cash, I did face painting at kids' parties, sold portraits, and taught art at the International School of Kampala during the summer break.
Is there a Filipino community there?
Back then, the Filipino community was relatively small. During one of our Christmas parties, we were about 50, including kids. You didn't see many of them around, but the Filipinos I did know were either with NGO's, charity groups, or were exchange students. It was strange being one of the only Asians in the entire country. You stuck out like a coconut tree!
I had a housemate at the time who was Japanese; she jogged every day around the city. People couldn't tell the difference between us two Asians.
Ugandans are so welcoming — they were all very interested in what it was like in Asia, and in my home-country, the Philippines. Little children would often touch my straight hair, amazed, and ask; "Were you born this way?"
Tell us about your life there.
I lived together with other volunteers with global backgrounds, so it was easy to adjust. From the first day I landed at the airport, I found that it was no problem settling in and making friends. We often had no electricity, so people spent more time eating and drinking together in the evenings, just hanging out.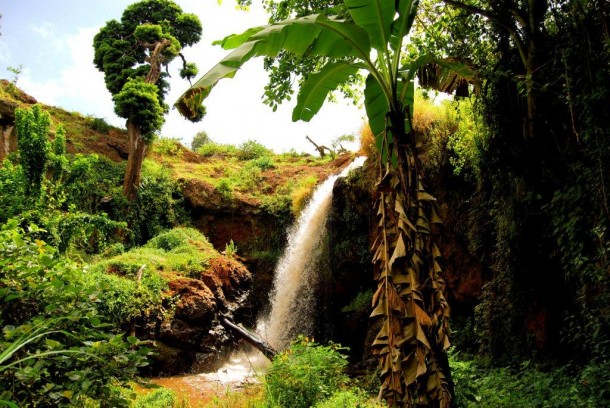 Nights were quieter; no huge clubs. But one popular place was the Karaoke joint at the only mall in town, whose Karaoke system was a 'Magic-Sing' microphone from the Philippines (complete with all the popular Pinoy Karaoke favorites!). Every week, that place would be packed, and the usual few Pinoys would be rocking the microphone! Ugandans love music and dancing just as much as we do!
On the weekends, we would often hang out by the lake, or go camping by the white water rapids. The braver ones would bungee or ride the rafts. I really loved that Uganda was a place where you could do a lot of outdoor activities. You had this feeling that you were right in the middle of the wilderness, but it was incredibly calm as well. We didn't have many luxuries, especially when it came to transporation. We got around by hitch-hiking or car pooling.
Oh, let me tell you about transportation! The taxi's are called boda-bodas, and they are little motorbikes, driven all over – everywhere! At the time, the roads were full of potholes, and these things would go zooming by. When riding them, I would pray so hard! We had a lot of adventures in Uganda; a lot of crazy fun.  I once went on a safari, we pitched a tent down by the river, and you could hear the warthogs and hippos just footsteps outside your tent. And you knew there were lions out there, too. That was wild!
Your message/greeting to Filipinos across the globe
No matter where in the world you find yourself, you can contribute positive things. You can be in the poorest country, or the richest villa — it doesn't matter. Surround yourself with good, dependable friends, network well, keep in touch with people, and build deep, lasting relationships.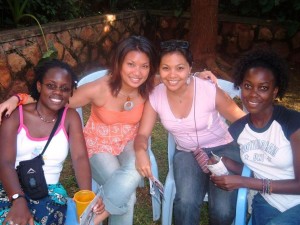 If you're feeling a little homesick where you are, try to reach out to someone who isn't as well off as you, or perhaps other foreigners or expats who may be missing their homeland, too. Try to attend social gatherings and events so you can get to know your neighborhood, as you need a good support system when you are living in a faraway country. Be a friend and family to others. You'll be surprised at what you receive when you give of yourself, and give from your heart. You'll expand the borders of your own home and see your life start to flourish in amazing ways.
Any other information you would like to share with other Pinoys around the world?
The three years I spent as a volunteer in Uganda weren't easy, and being away from my family for so long became taxing at times. But what I experienced there—both the heartaches and the happiness—are treasures I wouldn't trade.
Living in that country taught me to appreciate life and the blessings that were given me to share. It taught me that there was more to life, and more to this world we live in. I learned that it was often the little things that matter.
I met some amazing people there who were giving so much of themselves. Like one girl, Mandy, who was a German artist—she lived and worked in a home for mentally handicapped children, on the outskirts of the city; she had committed her life to being there.
She's still there doing wonderful work. You could see and feel that it was a special love that drew her to country and made her stay, and her love for the kids surpassed the need to have any luxuries. From people like her, I learned that when you focus your energy and efforts outwards to those around you, your life takes on a new meaning, and you can survive even the hardest of situations, or the loneliest of places, because of the passion that keeps you there.
Sometimes we get so caught up in ourselves and our personal problems, we forget that happiness and joy can come from simple things. We need to cherish our life and the love that we are capable of giving.  When we start being grateful for the small things, that's when we realize that we indeed have a lot to be thankful for.
In 2005, Nyx moved back to the Philippines, where she hosted Travel TV Shows with Living Asia Channel for 3 years. She started the FunDayTion, a project to help terminally-ill kids. (www.ourlifefoundation.wordpress.com). In 2009, she relocated to Europe, where she got married in Denmark, lived in Italy and gave birth in Germany. Nyx is now Features Editor of Mabuhay, the Inflight Travel + Lifestyle magazine of Philippine Airlines. Visit her at www.nyxmartinez.com