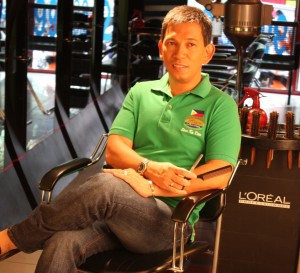 By Bernadette Reyes
Celestino "Les" Reyes had waited tables, filled up gas tanks, peddled vegetables and sold water filters, insurance and real estate.  Today, Les who used to be a gasoline boy, waiter and peddler is still in the business of selling, only this time, he is selling the Reyes Haircutters brand, mentoring successful entrepreneurs and providing livelihood to Filipinos.
Les Reyes is the man behind the successful Reyes Haircutters chain of salons in the Philippines. His first exposure to the salon business was through his Mama Ada's Ada Beauty Salon in the 1960s. In 2000 Les decided to open his own salon. He hired 20 people, and with only PHP10,000 managed to put up Xristian Reyes Salon. Its concept was to establish a "Filipino Family Salon" which aims to provide quality salon services to each member of the household at the most affordable price. In January 2001, Les renamed the salon to Reyes Haircutters which reinforced the concept of a "Filipino Family Salon." The business turned out to be a huge success that shortly after a few years of successful operations he decided to open Reyes Haircutters for franchise.
Why franchise
Franchising is defined as the practice of replicating the successful business model of an existing business. The franchisor shares his expertise in running the business including marketing, advertising, management and accounting and even reveals trade secrets that are not readily accessible to start-up companies. "The errors are minimized because we already know how to address them. A salon business which started from scratch often closes shop after six months because they lack the necessary skills and experience in running the business," says Les, Chairman and CEO of Reyes Hair Company International, Inc.
A franchise business has higher chances of success if the business that is being franchised has a solid track record of profitability and runs on a model that is easy to duplicate such as salon business. "This is not a fad business rather it is a need business. Everybody gets a haircut once in a while regardless of age, sex or social status that is why this has the potential to become a good business," says Les.
Depending on how well the franchisee adopts the existing business model of the franchisor and his ability to run the business, investment may be recovered in one to two years. "If you put PHP1 million in the bank that will only earn around five percent per year but if you invest that amount in a salon, you can earn up to as much as half of that investment every month," says Les.
How to franchise
A Reyes Haircutters Salon franchise will require an investment of PHP1.5 to PHP2 million depending on the size of operation and location of the business. This amount covers the expenses for site construction, equipment and fixtures, one month of supplies and already includes the franchise fee good for five years.
The franchise fee entitles the franchisee to use the brand, access to tried-and-tested system of operations including salon management and customer service, use of salon design and free staff training and re-training for five years at the Reyes International School of Cosmetology. RHC Supply Center will provide all the equipment and supplies to facilitate procurement.
Interested franchisees must submit a letter of intent to RHC Office. It should mention the address and contact details of the applicant together with a vicinity map of the proposed location for the salon.
Testament to its success is how Reyes Haircutters from a single salon a decade ago has expanded to 200 branches nationwide. RHC is also open to franchise Reyes Haircutters overseas. Today Reyes Haircutters has presence in London and will soon to open in Doha Qatar and the United States.
Why choose this particular franchise
Reyes Haircutters has been in the business for more than a decade. It has become an establish brand name in the country which has created a solid followings owing to its quality services and high value for money. A Reyes Haircutters branch in Tomas Morato, Quezon City for example is located in a vicinity where 20 other salons operate within a 500 meter radius yet it thrives not just because a salon is a lucrative business, but also because of its high-end quality service at very affordable prices which bring customers at its doorsteps. "Where else can you get a haircut for PHP49.99 while enjoying all the amenities as you would in a high-end salon?" says Les.
Reyes Haircutters is a business that takes care not only of its customers but looks after its staff as well. RHC houses it own training center, Reyes International School of Cosmetology (RISC) which provides the highest possible quality education to hairdressers and beauticians through local and international training. "At RHC, we ask our staff to undergo quarterly training. Some are even sent abroad to attend seminars. You need to invest in training your people because at the end of the day the money you spend will come back ten-folds because they learn new skills and techniques which they bring back to the salon," says Les.  As a way of giving back to his devoted staff, Les treats them to dinners and organize monthly raffles.
Les openly shares his poignant childhood – abandoned by his father at four, destitute, he had to stop attending school – yet he managed to rise to the top.  Even at the zenith of success, he never forgets to pay forward whatever grace he has received. "If you know of anyone who is destitute and jobless yet driven to earn a decent living, they can come to us, train under RISC and upon completion of the training they automatically get a job," he says.
While the salon business may be as ubiquitous as the balot is in the Philippines, there will always be a perfect new location for another salon and a lot of job opportunities waiting to be filled. "There are more than 90 million Filipinos. That's a lot of hair to be cut," says Les.