Herman Adiova & Higher Level DXB
Professional Entertainers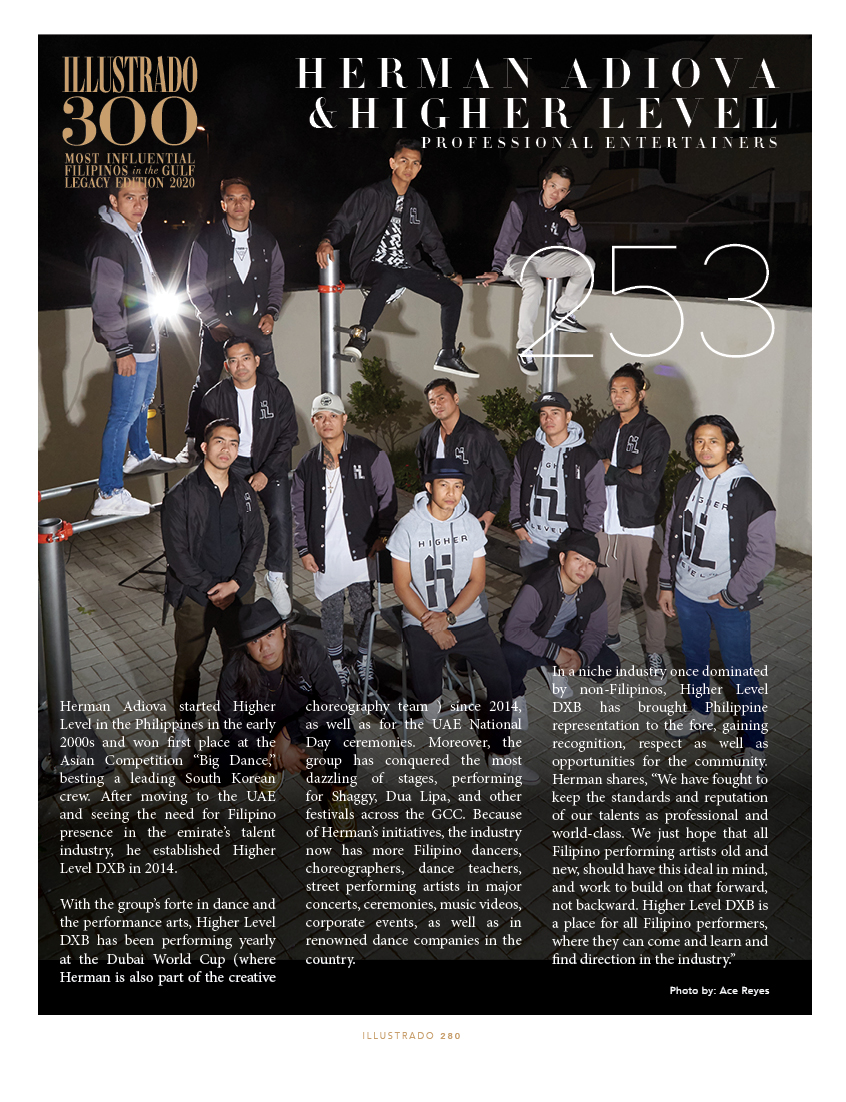 Herman Adiova started Higher Level in the Philippines in the early 2000s and won first place at the Asian Competition "Big Dance," besting a leading South Korean crew. After moving to the UAE and seeing the need for Filipino presence in the emirate's talent industry, he established Higher Level DXB in 2014.
With the group's forte in dance and the performance arts, Higher Level DXB has been performing yearly at the Dubai World Cup (where Herman is also part of the creative choreography team ) since 2014, as well as for the UAE National Day ceremonies. Moreover, the group has conquered the most dazzling of stages, performing for Shaggy, Dua Lipa, and other festivals across the GCC. Because of Herman's initiatives, the industry now has more Filipino dancers, choreographers, dance teachers, street performing artists in major concerts, ceremonies, music videos, corporate events, as well as in renowned dance companies in the country.
In a niche industry once dominated by non-Filipinos, Higher Level DXB has brought Philippine representation to the fore, gaining recognition, respect as well as opportunities for the community.  Herman shares, "We have fought to keep the standards and reputation of our talents as professional and world-class. We just hope that all Filipino performing artists old and new, should have this ideal in mind, and work to build on that forward, not backward. Higher Level DXB is a place for all Filipino performers, where they can come and learn and find direction in the industry."
Illustrado 300 Most Influential Filipinos in the Gulf is Supported by: Kaya Skin Clinic,  Emirates Airline, and Unilever.
Special Thanks to Michael Cinco, Ezra Couture , Giordano, Darcey Flowers, IKON Solutions, Victors Freight, MPQ Tourism, Asia Gulf Companies –La Carne & Filfood, WOL Water
Get a copy of Illustrado 300 Most Influential Filipinos in the Gulf Legacy Edition