Thoughtleaders – Homeschool Global Middle East 
Educators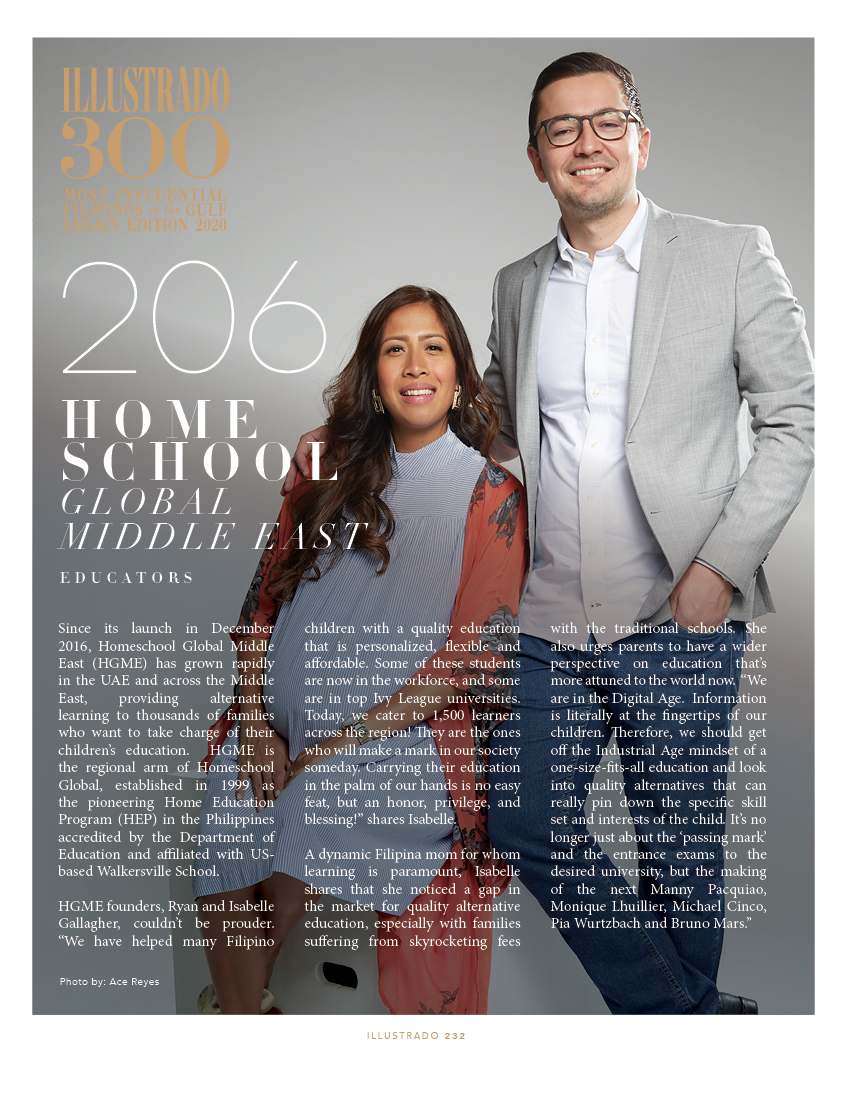 Since its launch in December 2016, Homeschool Global Middle East (HGME) has grown rapidly in the UAE and across the Middle East, providing alternative learning to thousands of families who want to take charge of their children's education.  HGME is the regional arm of Homeschool Global, established in 1999 as the pioneering Home Education Program (HEP) in the Philippines accredited by the Department of Education and affiliated with US-based Walkersville School.
HGME founders, Ryan and Isabelle Gallagher, couldn't be prouder.   "We have helped many Filipino children with a quality education that is personalized, flexible and affordable. Some of these students are now in the workforce, and some are in top Ivy League universities. Today, we cater to 1,500 learners across the region! They are the ones who will make a mark in our society someday. Carrying their education in the palm of our hands is no easy feat, but an honor, privilege, and blessing!" shares Isabelle.
A dynamic Filipina mom for whom learning is paramount, Isabelle shares that she noticed a gap in the market for quality alternative education, especially with families suffering from skyrocketing fees with the traditional schools. She also urges parents to have a wider perspective on education that's more attuned to the world now.  "We are in the Digital Age.  Information is literally at the fingertips of our children. Therefore, we should get off the Industrial Age mindset of a one-size-fits-all education and look into quality alternatives that can really pin down the specific skill set and interests of the child. It's no longer just about the 'passing mark' and the entrance exams to the desired university, but the making of the next Manny Pacquiao, Monique Lhuillier, Michael Cinco, Pia Wurtzbach and Bruno Mars."
Illustrado 300 Most Influential Filipinos in the Gulf is Supported by: Kaya Skin Clinic,  Emirates Airline, and Unilever.
Special Thanks to Michael Cinco, Ezra Couture , Giordano, Darcey Flowers, IKON Solutions, Victors Freight, MPQ Tourism, Asia Gulf Companies –La Carne & Filfood, WOL Water
Get a copy of Illustrado 300 Most Influential Filipinos in the Gulf Legacy Edition