By Aby Yap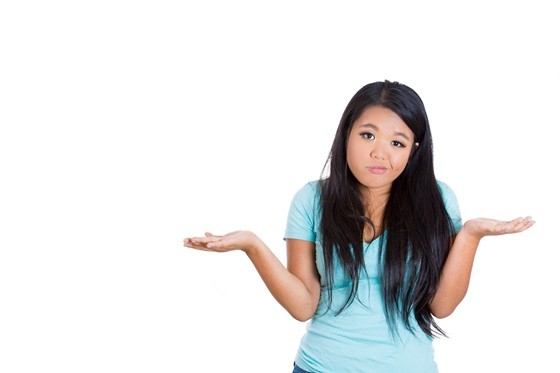 Friends, families, countrymen, we find ourselves yet again in the midst of trying times. We had been too busy cracking the jargon of the defunct Jejemons powhz that we had failed to notice the rise of the Pabebes. Their exasperating pa-cute overload has long invaded our Facebook newsfeeds, which means that this tribe has now become a part (albeit uninvited) of our daily existence. And the terrifying truth is you could be one of them—without you even knowing it!
So, brace yourselves and take this quiz to find out if you have the makings of a Pabebe. No cheating, phleeeeese.
1. You're alone in a mall. What do you do?
a.) Buy a mamon and video myself while eating it, remarking every now and then that I'm starving, sad, and alone.
b.) I'll never be alone anywhere. I'm a member of an elite group and there's no stopping us from doing what we want.
c.) Look around and catch the eye of a cutie. It could be the start of something special.
d.) Cry in a corner. I'm starving, sad, and alone.
2. How do you usually communicate with people?
a.) Like a toddler. Example: Mamon is so sherappp!
b.) Always like I'm in a fighting mode. Because walang makapipigil sa 'min.
c.) With a sweet smile. And/or a flirty giggle.
d.) I coo like a baby.
3. What's your favorite word?
a.) Sherappp! (Actual usage: masarap. Translation: delicious)
b.) Bidyo (Actual usage: video)
c.) Bae (Meaning: 'Before Anything Else' AKA your boyfriend/girlfriend)
d.) Bababa or dadada (Meaning: ask babies in the nursery.)
4. What's your signature selfie pose?
a.) A sad pout, of course. =(
b.) An intimidating look. Preferably with very, very light eyebrows. Para Intense.

c.) Definitely a couple selfie!
d.) Sad pout, sexy pout, duckface, tongue out, kagat-labi, nakapangalumbaba, sleeping, shot from the top, etc. Anything that distorts my face should make me look cute!
5. On a typical day, you post on Facebook, Twitter, or Instagram…
a.) One selfie a day keeps my sadness away.
b.) YouTube is our medium, at wala kayong pake!
c.) A photo collage of myself and mehlabsssss.
d.) An album of me, myself and I featuring my portraits and landscapes in my many moods in different angles.
6. If you were asked to do a video that would benefit humanity, what would it be about?
a.) A comprehensive demonstration comparing how the affluent, the impoverished, and the Pabebe eat mamon, proving that the mamon is the great equalizer among our polarized society.
b.) One that empowers everyone to advance the cause they're fighting for—despite the lack of eyebrows or the capability to articulate the message. Because it's how you deliver it that matters.
c.) How to form a love team in ten kilig ways in a week. After all, what the world needs now is love, sweet love. The kind that would have ants crawling over you.
d.) A video of me, myself and I featuring my portraits and landscapes in my many moods in different angles.
7. What's your most trending hashtag?
a.) #OOTD (when I'm not sad)
b.) #hatersgonnahate (But you still can't stop us. Period.)
c.) #relationshipgoals (More BAEcation!)
d.) #nofilter (Believe it or not, this is beauty au naturel)
8. Your life philosophy is predominantly influenced by:
a.) Manic Mondays. Here's my Facebook post on every first day of the week: Hellooo, Monday! Please be good to me! =(
b.) Nothing's gonna stop us now.
c.) Agnes and Xander. May
d.) Memes
9. The best way to grab everyone's attention is to…
a.) Post an unedited 5-minute video of myself eating mamon.
b.) Threaten ordinary citizens then claim that my mom is Senyora Santibañez—on video!
c.) Show how to win a bae in 7 weeks on national TV.
d.) Overshare on social media—my face, angst, PDA (Public Display of Affection/Away) with ze boyfie/girlfie, etc.
10. What's the ultimate Pabebe gesture?
a.) Look sad and cute at the same time, and say po even to my age group.
b.) Embrace the Pabebe persona and defend it at any cost.
c.) Be clingy as if you're Siamese twins.
d.) Act like a baby, what else?
Here are the results. Don't hate us.
Mostly A's: You're a Harmless Pabebe. Some may find you annoying and you can't blame them (try watching videos of yourself). But no need to stress yourself out, wondering how you must explain to everyone why you're the way you are. You're a softie on the outside and on the inside, too—pusong mamon that's what you have. People will learn to live with it one day. A few may even admire you for being soft-hearted. Adorbsss!
Mostly B's: You're a Pabebe Warrior, toughie. You got us scared for a minute there and it's not even Halloween yet, ha! Oops, that was a joke; didn't mean to start a war—peace! Two thumbs up for fiercely sticking to your Pabebe lifestyle despite what the world thinks of it. Just a friendly advice: keep calm. Most of us honestly don't care what you do. We also have non-Pabebe lives to attend to.
Mostly C's: You're a Pa-PBB Teens Wannabe. Like a true Shakespeare fan, you believe that "All the world's a stage, And all the men and women merely players," so you star in your own "Teleserye ng Totoong Buhay" in search of your Romeo/Juliet. Take it easy, though. Not everyone's excited to see your PDA with bae. You may want to change "Public" to "Private" and use that nifty app called Messenger, and we're totally good!
Mostly D's: You're kinda Pathetic. Please take time to review your life and grow up.
No answers at all: You're perfectly normal like the rest of us. Congratulations!