Hugot : 14 Most Annoying Things Pinoy Couples Do
By Aby Yap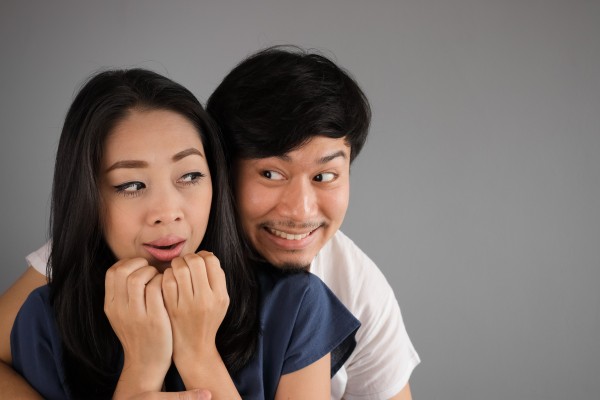 Just to set the record straight, we're neither bitter ampalayas nor pag-ibig haters. We actually wish that you end up together and live happily ever after munching on a PHP7million worth 12-foot wedding cake (because we don't want you getting diabetic finishing all of it in one sitting—we're sweet like that). But please, dear Pinoy lovers, could you do everyone a big favor and NOT put us through any of these tormenting instances? Don't give love a bad name.
We are the World
#ehdikayona. Yes, we already know. You don't have to rub it in our face (literally) when we pass each other in the narrowest of corridors and neither of you budges because you're too busy HHWWPSSP (Holding Hands While Walking Pa-Sway-Sway Pa). Can you do that in Luneta, please?
You and Me against the World
Wanting to wake up, eat, hang out, breathe etc. together for the rest of your lives—we understand that. What we don't is when you suddenly shut us out of your world as if we're invisible/aliens. Reply to our messages. Friends don't deserve to be seen-zoned.
We
The world has recognized you as <insert your name here> and <insert your partner's name here>; no need to baptize yourselves as "We/Us/Our." We're pretty sure that you have different thoughts on different matters anyway, aminin! Remember: identity, individuality, and independence start with "I." Forget that Spice Girls' song "2 Become 1."
Kambal Tuko
Don't take "other half" or "better half" (then who's the worse half?) literally. It doesn't necessarily mean that should we invite one of you then the other must come as well, supposing that ½ + ½ = 1. Unless you're conjoined twins, please wait for a +1 invite.
Conjugal Property
Here's a refresher: nowhere does it say in Philippine laws that cellphones, tablets, laptops, personal computers, email and social media accounts etc. are conjugal properties. Stop checking each other's messages (secretly or forcibly) and you won't have to be jealous over his/her ex's birthday greeting with a smiley emoticon.
All About My Lover
We're fine with knowing your boyfriend/girlfriend and getting updates on how your relationship is going. But don't make this an all day/night about-him/her-and-our-love-affair storytelling marathon. We also have our lives to attend to. Plus, we don't really care if they're getting all their warts removed next weekend.
What's in a Name
Calling each other "Bebe Ko" in public could probably work if you were the Pop Star Princess or if you were as adorable as Lloydie. We're rooting for your fairy tale, though we can't say the same for your cutesy terms of endearment. Please keep these things private.
Baby Talk
"Kumain ka na poh, Dada?" Guys, not everyone finds this kind of cuppycake pumpy-umpy-umpkin snoogums boogums talk among grownups sexy or even respectable, okay. If you must coo over how "awww galeeeng-galeeeng naman ni honeybunch" has been like he/she's a toddler, make sure you're alone in a sound-proof room.
Public Display of Affection
Think: if your love story was a movie, how would MTRCB classify it? There are kids around and you don't want to appeal them in any way. Sharing a French fry will earn you a PG (parents may have to address questions about food hygiene) while French kissing, definitely an R-18.
Facebook Display of Affection
So, you're in a relationship with <insert partner's name here>. Congratulations! Your official couple photo looks nice, too. But take it easy. We don't find it inspiring to see your intimate bedroom photos or your declaration of eternal love with matching #kingandqueenofhearts every time we check our news feed.
Public Display of Away
Both of you are fuming mad over some #$@&%*! issue—spare us the drama, please. We don't want to witness a shouting/slapping scene as we already get our daily dose of it from telenovelas. In case you forget, MTRCB is also on the lookout for offensive language and violence.
Facebook Display of Away
Enough of Wall Wars! Posting hate messages and sarcastic comments to each other's Wall won't bring you any peace—we'll even unfollow or unfriend you. Because, seriously, we don't need to know whenever you break/make up based on your Relationship Status' from "In a relationship" to "Single" updates.
Love Gurus
We're really happy that you found each other in this lifetime. But that doesn't turn you into today's leading experts on wagas na pag-ibig and/or soul mate search. So, quit playing Cupid (they say he's stupid, right?) or Papa Jack (especially if you're not even a bit funny).
Couple's Keeper
While we'd like to see you in a happy and healthy relationship, bear in mind that only the two of you can make it last. Count us out. We can't always be an accomplice in your monthsary surprises or a mediator in your weekly LQs (lovers' quarrels). We have our own hearts to take care of, too.