Hyku Desesto
Two thousand eighteen has been a monumental year for photographer turned entrepreneur Hyku Desesto. She has brought some collaborations to life, executing creative direction for luxury and fashion brands and delivering a new level of Filipino presence to international marketing campaigns in the region.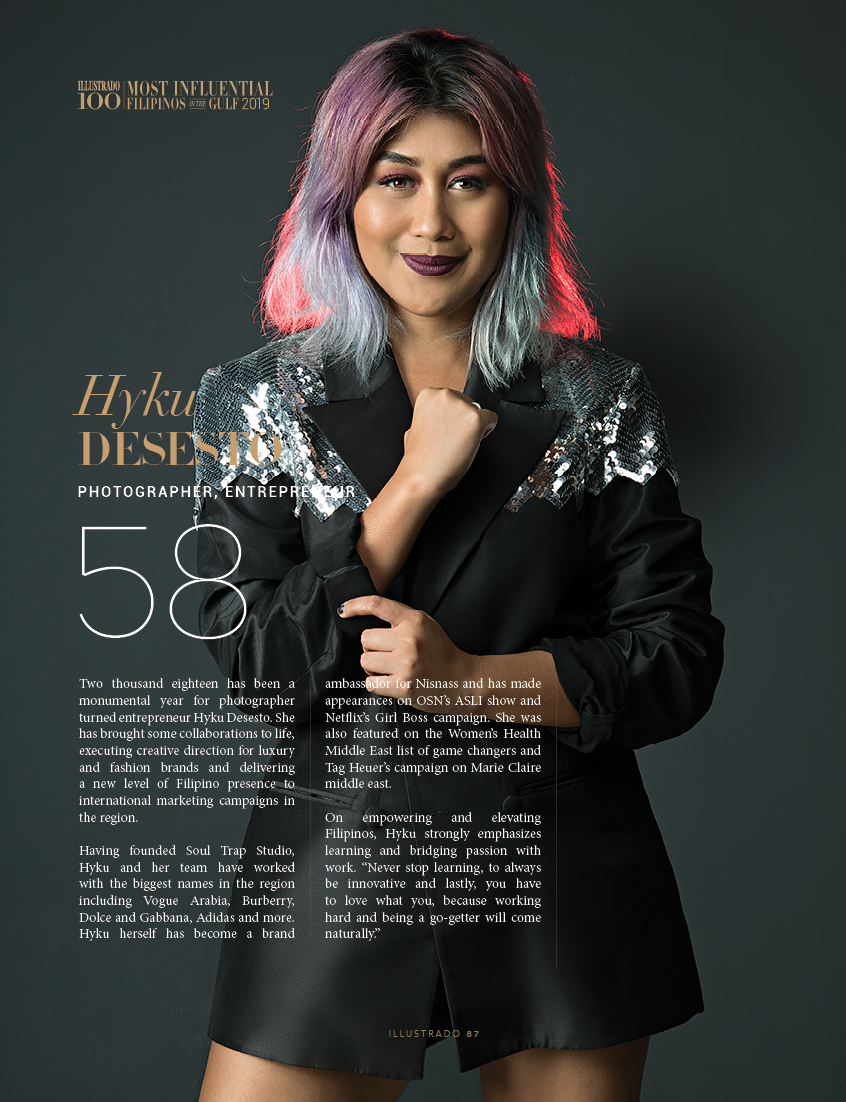 Having founded Soul Trap Studio, Hyku and her team have worked with the biggest names in the region including Vogue Arabia, Burberry, Dolce and Gabbana, Adidas and more. Hyku herself has become a brand ambassador for Nisnass and has made appearances on OSN's ASLI show and Netflix's Girl Boss campaign. She was also featured on the Women's Health Middle East list of game changers and Tag Heuer's campaign on Marie Claire middle east.
On empowering and elevating Filipinos, Hyku strongly emphasizes learning and bridging passion with work. "Never stop learning, to always be innovative and lastly, you have to love what you, because working hard and being a go-getter will come naturally."
……………………….
Special thanks to our sponsors: Emirates Airline, Stars n Bars La Mer, Liali, Instax – Grandstores UAE, Dusit Thani Dubai, Gver – Your Friendly Marketplace for Sharing, Meeting Dancewear , MPQ, CMG, Filbrit, and our partners Rozen Antonio Photography,  Alex Callueng Photography, Jef Anog Photography, and Ethereal Photography.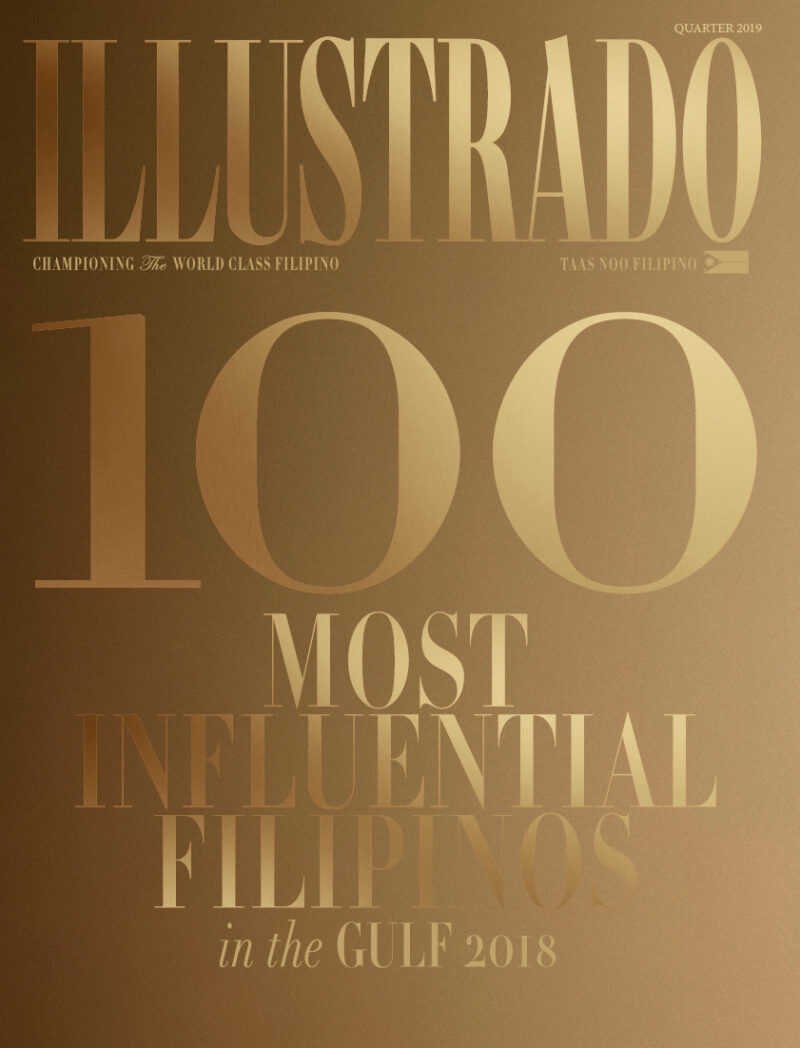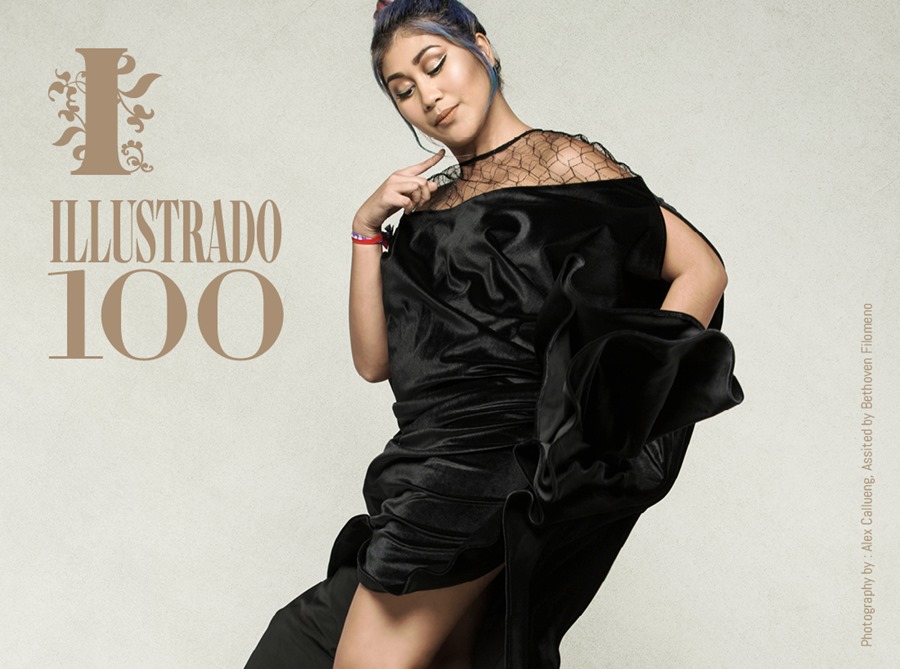 Hyku Desesto
Photographer, Entrepreneur
Hyku arrived in Dubai with practically zero connections in the photography industry. She started of what has turned out to be a remarkable career by working in a portrait studio. Eventually, she decided to pursue freelance photography, armed with just one camera body, a flash and two lenses. And by virtue of her hard work, sleepless nights, and ability to market her work, she was able to nurture her career and launch her own company: Hyku D Photography.
With a strong track record of success that spans 4 years, Hyku decided to expand her business in 2016 by setting up an office and hiring full time employees, with the objective of attracting larger, more multinational clients.  As a result of this expansion, Hyku's company was chosen as the official photographer of the recent Tommy Hilfiger ad campaign, featuring a-list model Gigi Hadid. Additionally, Hyku was also elected as the brand ambassador for companies Huawei and Timberland.
Of her struggles and hustles as a photographer, Hyku elaborates: "The biggest lesson that I learned is no one else can make it happen for you but yourself. Be a go getter. Do whatever it takes and never settle. Be ambitious without stepping on other people's toes. And always give back."
Photo by Alex Callueng; Photography Assistant – Bethoven Filomeno Special thanks to – Giordano, Nikon, Liali Jewellery, Lulu, Mitsubishi and Western Union.