Indulgence and Obsession: Single Malt Whisky from Scotland



By Krip Yuson
If I am asked what I indulge in these days, I'll say that it's still single malt whisky from Scotland. Oh, you can toss in Japan as provenance, too.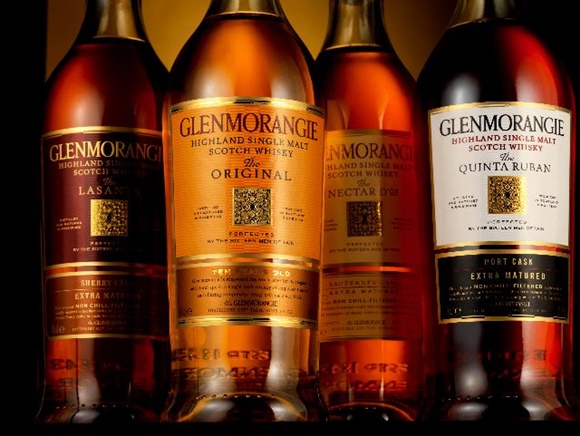 The last holiday season naturally turned into a wonderful opportunity to stack up on those precious bottles of quality booze. Balikbayan buddies were warned that the only way they could avoid a hold-departure order was to pay a sort of tribute to this trusty friend upon their arrival. And so they came with those large Duty Free plastic bags with a sealed transparent display of a boxed Glenlivet, Macallan, or Bowmore — among the staples of discernment found in airport liquor shops.
It pays to advertise one's desiderata. I've been doing it for years, in fact nearly a couple of decades now, since literary fellowships allowed me to visit the British Isles and introduced me to the top of the line among Scotch whisky offerings. I do not tire telling everyone about the special virtues of single malt whisky other than their enchanting names.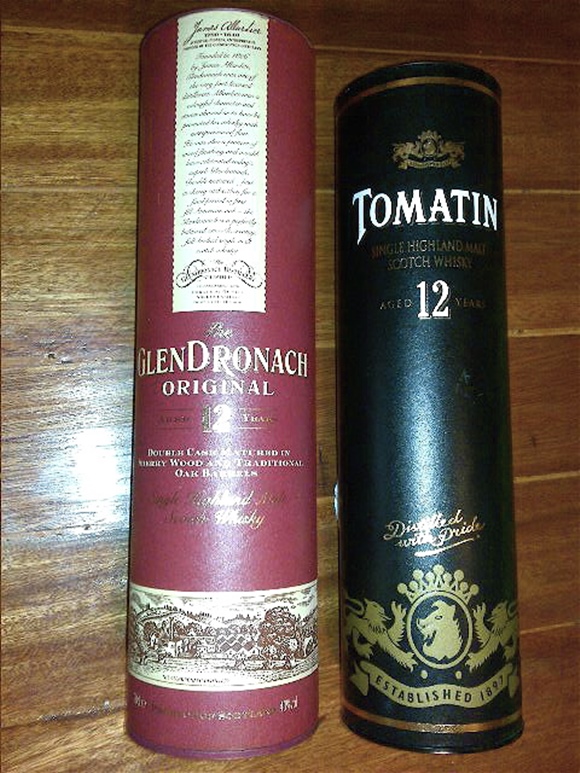 From the old folks' days, meaning the time of our fathers, we here in Manila got used to observing the hierarchy of imported whisky that we saw on the adults' tables at family parties. The Johnnie Walker Red Label of the early '50s was soon replaced by the higher-end Black Label, and through the '60s we got accustomed to its competitors: Chivas Regal, Swing, Dimples, Royal Salute, and the lower-end Ballantine's, J&B, Passport, et al.
What we called Scotch, usually taken on the rocks (with ice), we eventually learned was blended whisky. Only whisky from Scotland could be spelled that way; anything from neighboring Ireland, or the United States, which was mostly bourbon, had to add an "e" to make it "whiskey."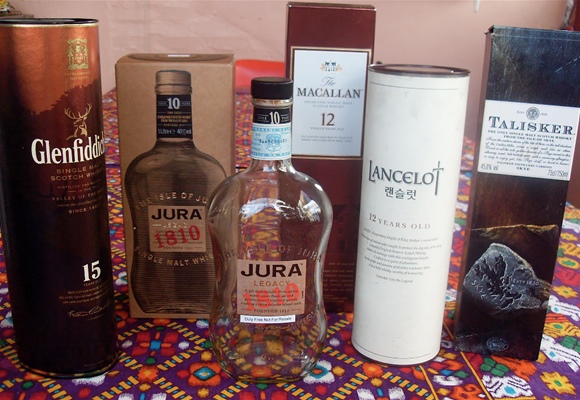 A gift of a first Glenfiddich bottle sometime in the '80s acquainted me to what was called "pure malt," which wasn't blended, but rather produced by a single distillery, almost as a cottage industry. Glenfiddich it was that came up with the commercial breakthrough that had serious tipplers all over the world learning about non-blended whisky. The next bottles were of single malt, an even better edition, straight out of wooden casks that had earlier been used for sherry and other wines, thus imparting their flavor to the golden brew that had been aged for anywhere from ten to 30 years.
Each label of single malt whisky has its own unique character. Aye, there's the wondrous difference. A Scottish Highlands tour in the early '90s that featured stops in distilleries and a sampling of their products made me aware of the subtle bouquet, body, and aftertaste qualities of each exemplar of uisge beatha — old Gaelic for "water of life."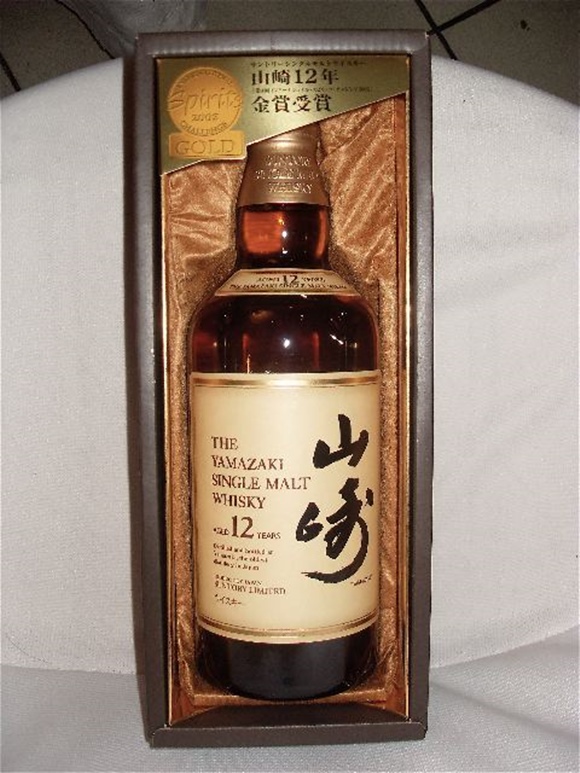 I began to appreciate the distinctions among Island, Highland, Lowland, and Speyside malts. Those are the four "classsic" regions in Scotland where over a hundred distinct single malts come from, before they provide a whisky master the contents for a blend such as Johnnie Walker, from Red to Blue. You can have the high-end Blue; I'll take any Island malt over it anytime, for the peaty, smoky, briny taste and aroma.
My favorite is Lagavulin from the Isle of Islay, followed by Laphroaig, also from the Hebrides. Early last December I lucked in on a Laphroaig Quarter-Cask at a liquor shop cum bar at The Fort. What a find, for the virtual Duty-Free price of P2,500. It is all of 96 proof, thus needs a bit of water, especially since it's barbaric to toss rocks into a glass, preferably tulip, of single malt. It was even smokier and peatier than my fave Lagavulin.
I also purchased an even cheaper Glendronach 12 Year Old that same night. A Highland malt, it was much lighter, sweeter, with a fruity aroma and taste. Then the gifts came in: a Tomatin 12 and Singleton 12, both from Speyside, a Glenmorangie 10 that is a Highland malt, a Matisse 12, and the lovely, hard-to-find Kuruizawa 12 years from Tokyo. (Japanese distillers have appropriated the materials and technology, adding only their own brook water, and now produce at least three excellent single malts that have won international awards.)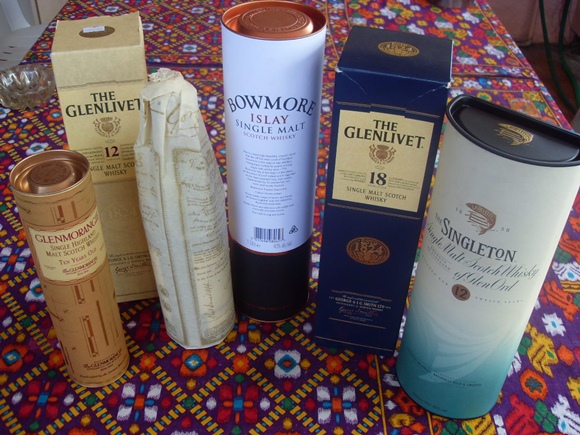 And then the clincher — a dear friend came up with a special gift: the Glenmorangie Lasanta Extra Matured (in Spanish Oloroso Sherry casks), which I had tasted once before, but only a wee dram or two. As of this writing, I'm still looking at the bottle, licking my chops and trying to determine when I break it open: on Valentine's Day or my nth birthday?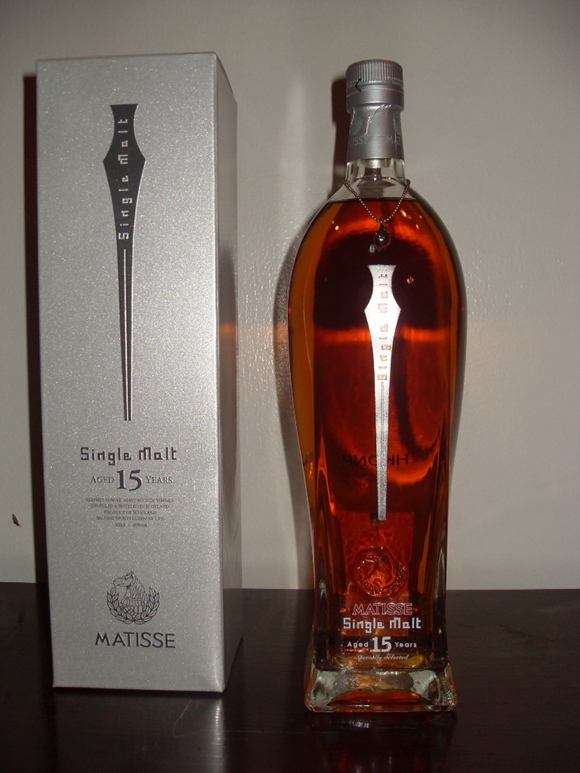 Indulging in single malts has had me fantasizing about being caught inside Kipling's Cigar and Single Malt Bar at Mandarin Hotel in Makati at the height of a coup. Maybe the putschists ring the financial district for a month or so, and I get to taste nearly all of the hundred varieties of single malt whisky in gorgeous array on the shelves. Never mind if I don't get to break the vault and glass case that hold The Macallan 30 Year Old selling for something like 60K in pesos.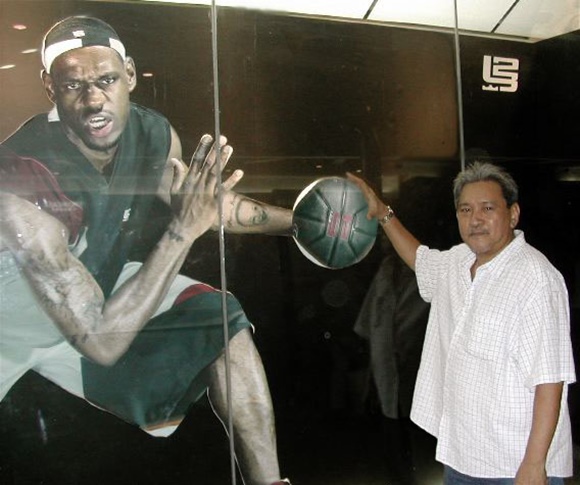 No, it's not an obsession yet, since I don't care to indulge in my favored whisky every single day. That daily fare is reserved for the NBA games on TV or via the Internet, especially when the Cleveland Cavaliers are playing, starring LeBron James. He's my idol, he's my icon, he's my reason for living well beyond my years — at least until he gets his first championship ring. Then of course we'll both turn greedy and pine for a second, third, etc.
Should my darling Cavs finally make it past the Orlando Magic, Boston Celtics and Los Angeles Lakers come playoff time in June, I'll sit back on a rocking chair and savor the moment with tulip glass in hand, gently pouring, nosing, and sweetly savoring the amber liquid that should indulge me till eternity.