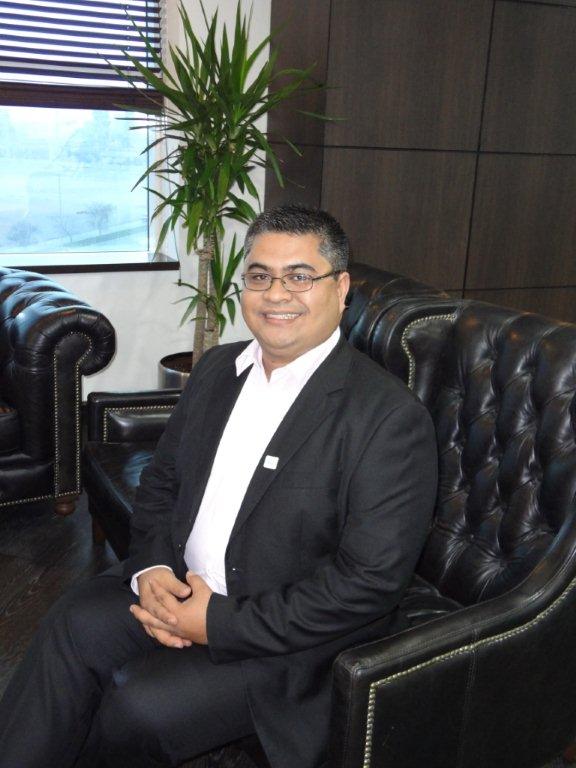 EDUARDO HUNI
Commercial  Manager
RAK Tourism Development Authority (TDA)
Ras Al Khaimah
My Job
I am the main contact person for potential investors who are interested to start their business, preferably hotel investments, in the emirate of Ras Al Khaimah. During the Arabian Hotel Investment Conference, held in Dubai from 28th to April to 30th April 2012, Ras Al Khaimah TDA launched the Investors' Guide which contains information for potential investors in Ras Al Khaimah's developing hospitality industry. I am proud to say that I was part of this project together with our PR & Marketing Team. The guide was presented to all potential hotel investors and it was a real success!
As a Commercial Manager, I am also in-charge of Hotel Feasibility Studies and the Statistics Department. A final analysis monthly report (based on the figures provided by Ras Al Khaimah Hotels) is presented to our Chief Operating Officer of Ras Al Khaimah TDA and to His Highness Sheikh Saud Bin Saqr Al Qasimi, Ruler of Ras Al Khaimah.
As I always say, "I am living my ordinary life, extra-ordinarily well." In other words, I am a simple person and I love my job. I started my career as a Bellman in a 3-star hotel in the Philippines. I moved to the UAE in 2000 looking for opportunities. I have worked and shown loyalty to Hilton Worldwide for 11 long happy years and received six job promotions, as a result of efforts, commitment and having team work spirit!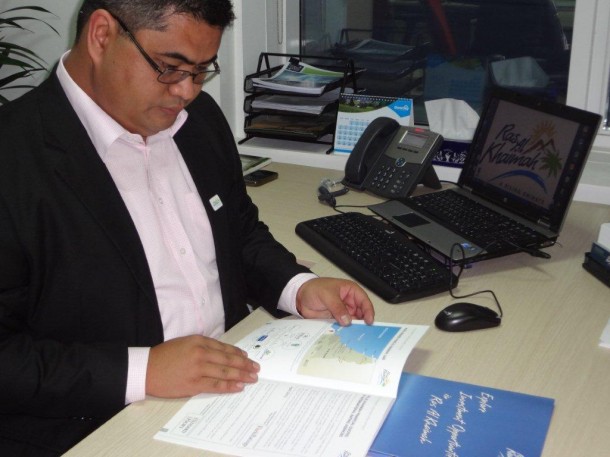 A typical day for me
In the morning, I read the newspapers focusing on the business section to keep abreast with developments on the financial market, technology, as well as the tourism and hospitality sectors. This keeps me updated, not only with the local market but also with happenings worldwide, in a wider aspect.  Tourism related websites are another source of information, which I consider the best news complement to magazines and newspapers.
Throughout the day, I am involved in meetings with hotel General Managers and Revenue Managers. Furthermore, daily follow ups are done for our current projects and future opportunities as well.
Message to Filipinos
In our lives, we encounter challenges (emotional, financial and professional) that will test how far and long we can stand and eventually overcome them. For me, just keep up the faith. Prayers are the only and best answer! We need to be honest, trustworthy and hardworking in our field and for sure, someday we will be rewarded. Be proud that we are Filipinos. We have almost all the positive attributes when it comes to work. We always smile. We are diligent, always positive at work and are very resilient. But we also need to be energetic so we can compete and survive in this very demanding market. Believe that dreams do come true, keep yourself always updated so you will be able to discover and develop your skills. Live your life to the fullest without resentments, anger or jealousy. Simply trust God and all will be fine.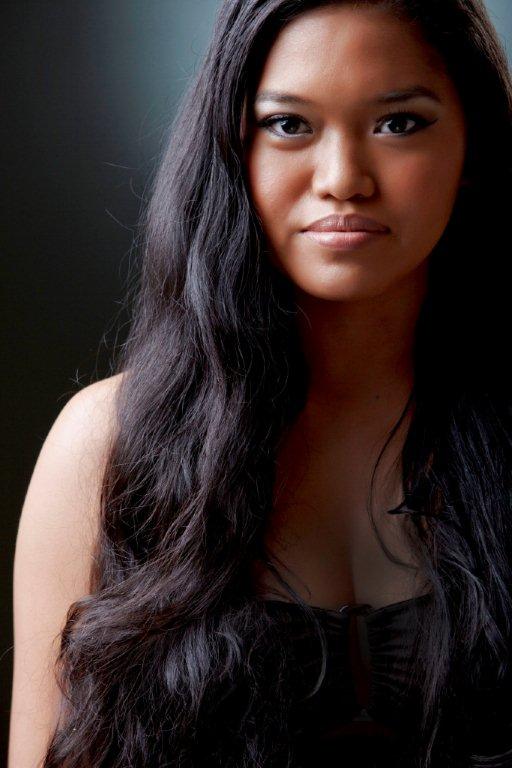 JENIFFER MARIE TUNGOL
Interior Designer
Marya Development and Real Estate Investment
Dubai
My Job
I am an Interior Designer and FF&E (Furniture, fixtures and equipment) and OS&E (Operating Supplies and Equipment) Specialist.
On a technical standpoint, as an FF&E Designer I create furniture layouts, perspectives, concept presentations, materials, furniture, lighting and accessories specifications, contact suppliers, contractors and exhibitors, update and maintain the FF&E library, purchasing, create material sample boards, review shop drawings, site meetings, attending shows and exhibitions and shopping all over the world. Yes! You heard it right, shopping in the most luxurious places with most coveted designer brands.
In other words, I put glamour, character and personality to any structure/space, which goes beyond the technical aspects. It is more of having the chance to display my imagination and stepping into the fabulous world of my elite clients.
A typical day for me
There can never be a typical day in a multi-cultural design company. Anything goes and creativity comes from all angles and sources. Today I could be creating a concept for a resort hotel lobby, the next morning an ultra-luxurious penthouse in Paris, by the afternoon a presidential suite of a 5-star hotel, the following day, who knows?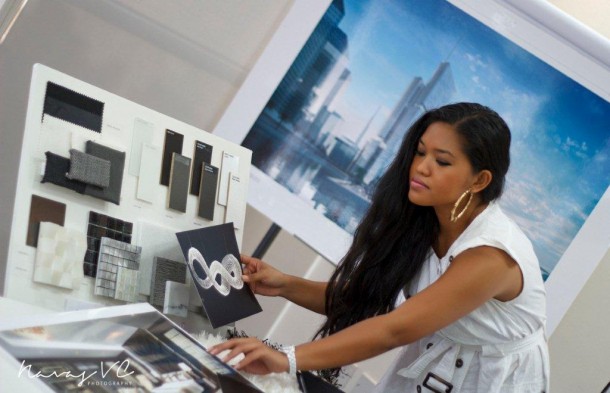 Though my days often involve getting online to be updated with the latest global design trends, blogs, creative ideas in all fields of design (design, architecture, fashion, food, lifestyle etc.) which influence the way I am creating visual concepts, developing ambience for spaces, selecting materials, furniture and discussing design concepts, project coordination, writing specification and the not so enjoyable answering of relentless phone calls, emails  from suppliers, contractors and colleagues.
Message to Filipinos
Always be a proud, honest and resilient, especially while working abroad because when we get discouraged by stereotyping, discrimination, and false characterization that belittle us and we don't do anything about it, it is like betraying our roots and denying our good traits.
We were once on a concept presentation to style one demanding international fashion store at the Dubai Mall. While discussing the project one of the client representative said something reckless (intentional or not) about the Filipino sales ladies working in most of the retail shops in Dubai, probably not realizing that I am a Filipino. It broke my heart to hear this. I was challenged professionally and had to stay poised despite this.  So the meeting went on and we eventually won the account but I wasn't satisfied until I was able to candidly say to that person, "By the way, I am happy to design your shop and I am from the Philippines and I am proud of it!" I felt I had to reverse the wrong perception and make it an opportunity to show what a Filipino working abroad is truly made of. Innovation, resilience, creativity and passion!
We have so much worthy and respectable qualities, all we have to do is to harness them and apply them in everything we do, anywhere we are.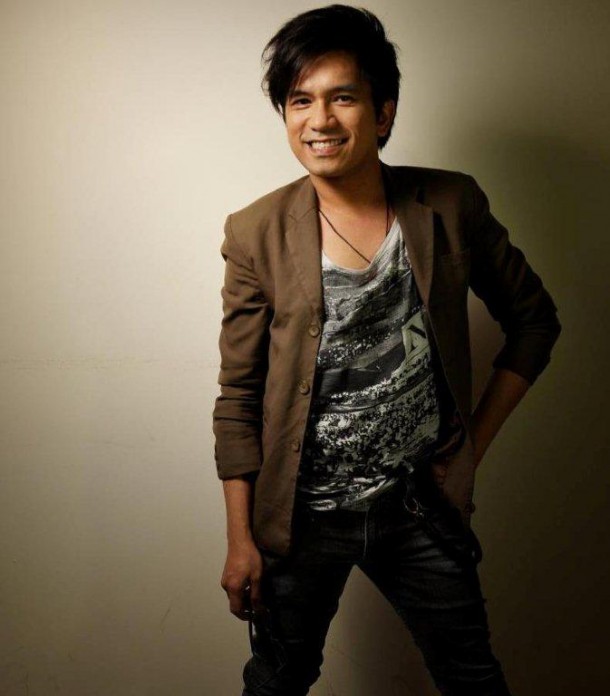 RHONALD MERCADO BABAO
Customer Support on Sales Planning
(UAE Telecommunications Company)
Dubai
My Job
I work with small and medium businesses in Dubai, coordinating with Account Managers dealing with the services our telecommunications company offers to corporate clients.  My job is key in helping determine customer retention by providing excellent and competent services and support.
In my post, being a Filipino definitely works to my advantage. We are polite in so many ways and respect, not only for customers, but also our colleagues, comes so naturally. So this ingrained trait comes in handy when dealing with customers inquiring and needing support. I take pride in treating my customers well and making them feel good about themselves.
A typical day for me
I wake up early to catch 7AM on the dot, as this is the start of my daily working schedule. On a regular basis, my PC is my constant companion and MS Excel is my tool of expertise.
It is my job to know the profile of each small and medium company in Dubai. Managing and analyzing thousands and thousands of data everyday to complete my daily task, is not as easy as I have originally expected.
Lately, I have gotten used to having a late lunch at 2PM or as late as 3PM, as I have adjusted to the eating habit of my colleagues who are predominantly Emiratis. There are times when the work takes as long as 15 hours when I have to finish a project alongside my team, but I done mind. As a Filipino expat, my principle is – "Work Hard, Earn More."
Career Advice
No matter how tedious and toxic our work is, let us not forget to be polite in any which way possible. We Filipinos are flexible and trustworthy and we should show that we are not only good on-the-job but also outside work. I think in my own little way, being polite and courteous has prevented me from becoming egotistical; instead it created a sense of fulfillment and pride. And I think I have proven that it works after receiving an Award of Recognition from the Management for my dedicated service and hard work. I can say it's all worth it!