Janet Barlow
 Entrepreneur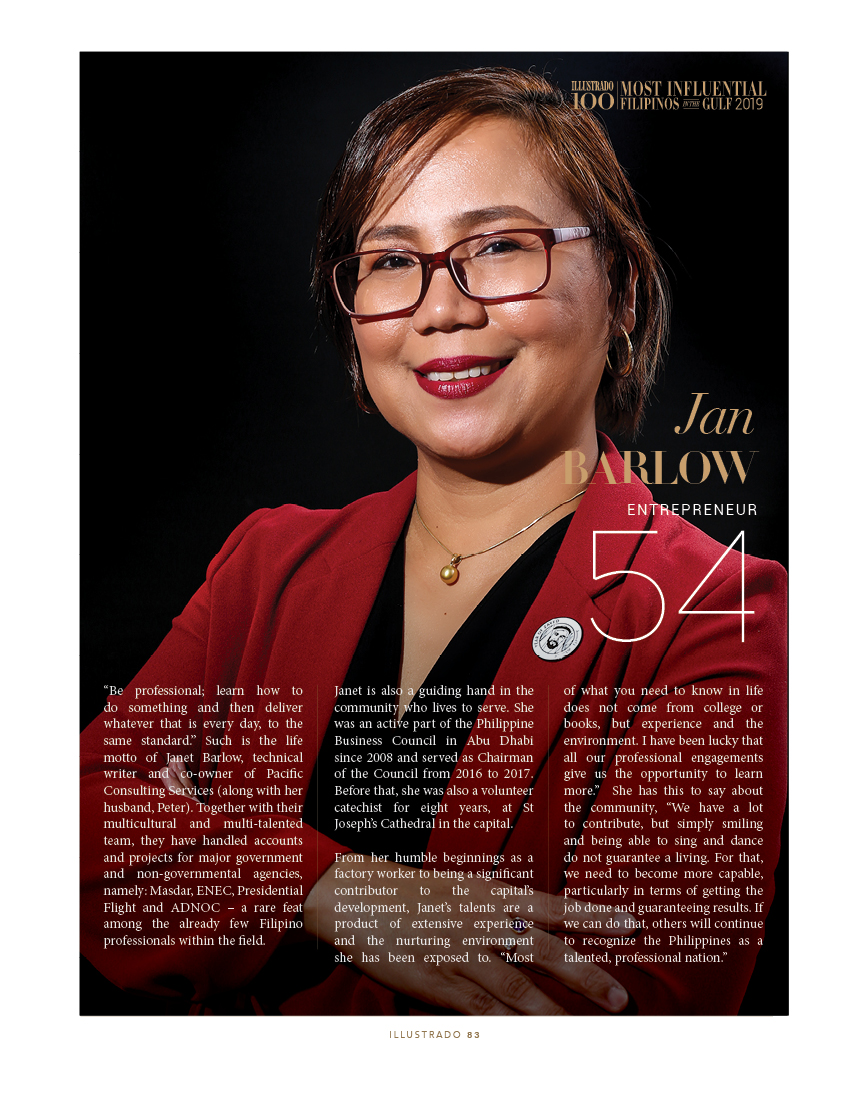 "Be professional; learn how to do something and then deliver whatever that is every day, to the same standard."
Such is the life motto of Janet Barlow, technical writer and co-owner of Pacific Consulting Services (along with her husband, Peter). Together with their multicultural and multi-talented team, they have handled accounts and projects for major government and non-governmental agencies, namely: Masdar, ENEC, Presidential Flight and ADNOC – a rare feat among the already few Filipino professionals within the field.
Janet is also a guiding hand in the community who lives to serve. She was an active part of the Philippine Business Council in Abu Dhabi since 2008 and served as Chairman of the Council from 2016 to 2017. Before that, she was also a volunteer catechist for eight years, at St Joseph's Cathedral in the capital.
From her humble beginnings as a factory worker to being a significant contributor to the capital's development, Janet's talents are a product of extensive experience and the nurturing environment she has been exposed to. "Most of what you need to know in life does not come from college or books, but experience and the environment. I have been lucky that all our professional engagements give us the opportunity to learn more."  She has this to say about the community, "We have a lot to contribute, but simply smiling and being able to sing and dance do not guarantee a living. For that, we need to become more capable, particularly in terms of getting the job done and guaranteeing results. If we can do that, others will continue to recognize the Philippines as a talented, professional nation."
……………………….
Special thanks to our sponsors: Emirates Airline, Stars n Bars La Mer, Liali, Instax – Grandstores UAE, Dusit Thani Dubai, Gver – Your Friendly Marketplace for Sharing, Meeting Dancewear , MPQ, CMG, Filbrit, and our partners Rozen Antonio Photography,  Alex Callueng Photography, Jef Anog Photography, and Ethereal Photography.