Trailblazer – Jethroefel Ramboyong 
Community Champion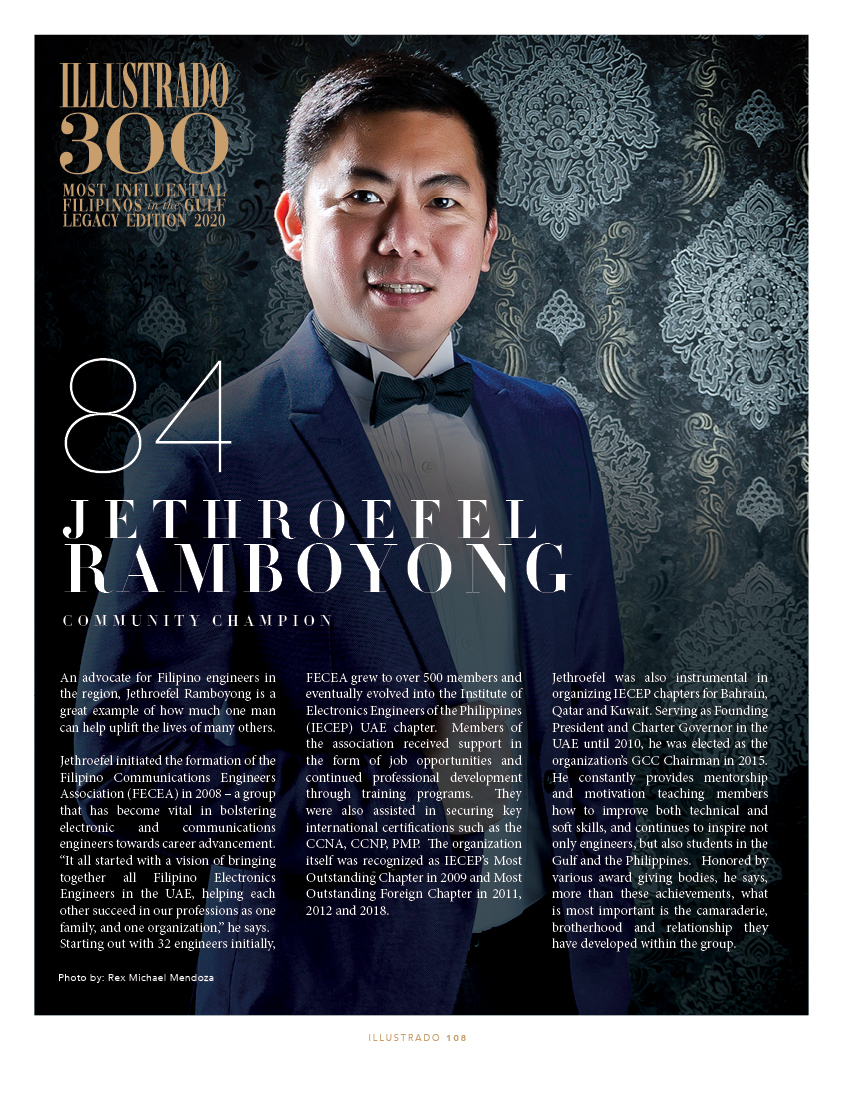 An advocate for Filipino engineers in the region, Jethroefel Ramboyong is a great example of how much one man can help uplift the lives of many others.
Jethroefel initiated the formation of the Filipino Communications Engineers Association (FECEA) in 2008 – a group that has become vital in bolstering electronic and communications engineers towards career advancement. "It all started with a vision of bringing together all Filipino Electronics Engineers in the UAE, helping each other succeed in our professions as one family, and one organization," he says.
Starting out with 32 engineers initially, FECEA grew to over 500 members and eventually evolved into the Institute of Electronics Engineers of the Philippines (IECEP) UAE chapter.  Members of the association received support in the form of job opportunities and continued professional development through training programs.  They were also assisted in securing key international certifications such as the CCNA, CCNP, PMP.  The organization itself was recognized as IECEP's Most Outstanding Chapter in 2009 and Most Outstanding Foreign Chapter in 2011, 2012 and 2018.
Jethroefel was also instrumental in organizing IECEP chapters for Bahrain, Qatar and Kuwait. Serving as Founding President and Charter Governor in the UAE until 2010, he was elected as the organization's GCC Chairman in 2015.  He constantly provides mentorship and motivation teaching members how to improve both technical and soft skills, and continues to inspire not only engineers, but also students in the Gulf and the Philippines.   Honored by various award giving bodies, he says, more than these achievements, what is most important is the camaraderie, brotherhood and relationship they have developed within the group.
Illustrado 300 Most Influential Filipinos in the Gulf is Supported by: Kaya Skin Clinic,  Emirates Airline, and Unilever.
Special Thanks to Michael Cinco, Ezra Couture , Giordano, Darcey Flowers, IKON Solutions, Victors Freight, MPQ Tourism, Asia Gulf Companies –La Carne & Filfood, WOL Water
Get a copy of Illustrado 300 Most Influential Filipinos in the Gulf Legacy Edition