Jhoe Lina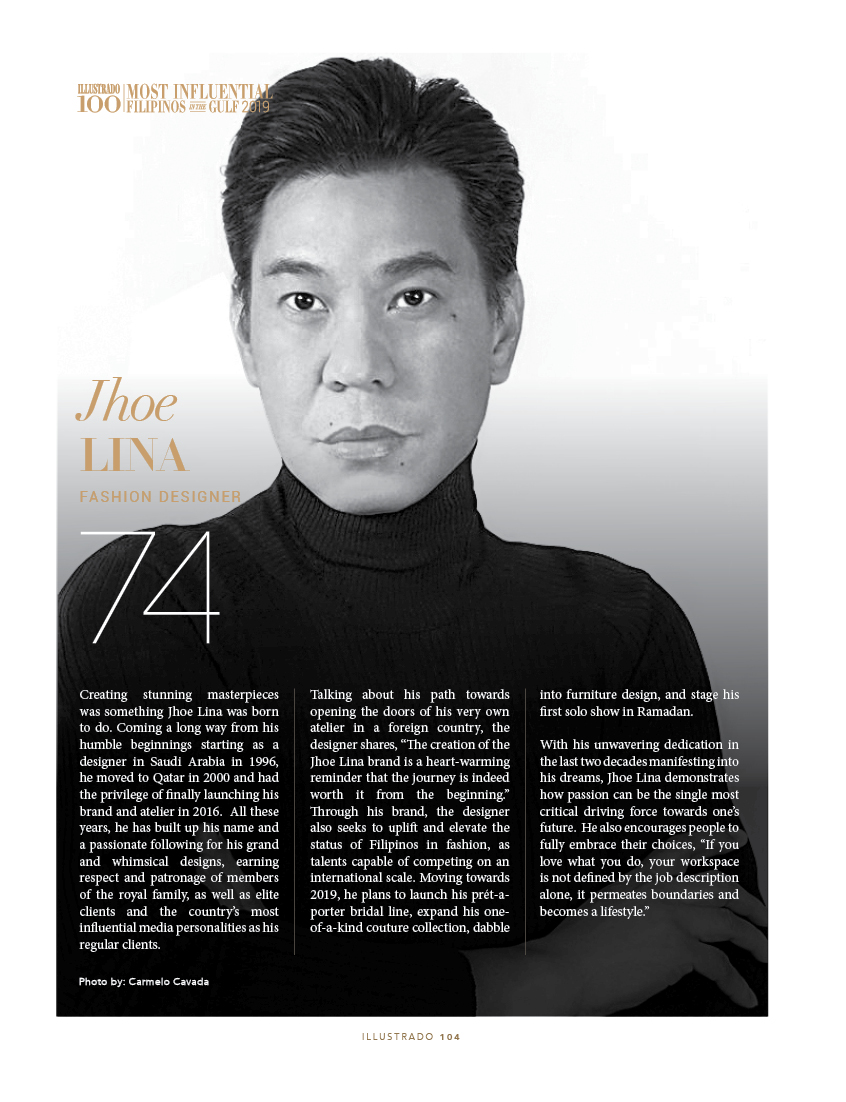 Creating stunning masterpieces was something Jhoe Lina was born to do. Coming a long way from his humble beginnings starting as a designer in Saudi Arabia in 1996, he moved to Qatar in 2000 and had the privilege of finally launching his brand and atelier in 2016.  All these years, he has built up his name and a passionate following for his grand and whimsical designs, earning respect and patronage of members of the royal family, as well as elite clients and the country's most influential media personalities as his regular clients.
Talking about his path towards opening the doors of his very own atelier in a foreign country, the designer shares, "The creation of the Jhoe Lina brand is a heart-warming reminder that the journey is indeed worth it from the beginning." Through his brand, the designer also seeks to uplift and elevate the status of Filipinos in fashion, as talents capable of competing on an international scale. Moving towards 2019, he plans to launch his prét-a-porter bridal line, expand his one-of-a-kind couture collection, dabble into furniture design, and stage his first solo show in Ramadan.
With his unwavering dedication in the last two decades manifesting into his dreams, Jhoe Lina demonstrates how passion can be the single most critical driving force towards one's future.  He also encourages people to fully embrace their choices, "If you love what you do, your workspace is not defined by the job description alone, it permeates boundaries and becomes a lifestyle." 
……………………….
Special thanks to our sponsors: Emirates Airline, Stars n Bars La Mer, Liali, Instax – Grandstores UAE, Dusit Thani Dubai, Gver – Your Friendly Marketplace for Sharing, Meeting Dancewear , MPQ, CMG, Filbrit, and our partners Rozen Antonio Photography,  Alex Callueng Photography, Jef Anog Photography, and Ethereal Photography.