Joan Tuaño
Intrapreneur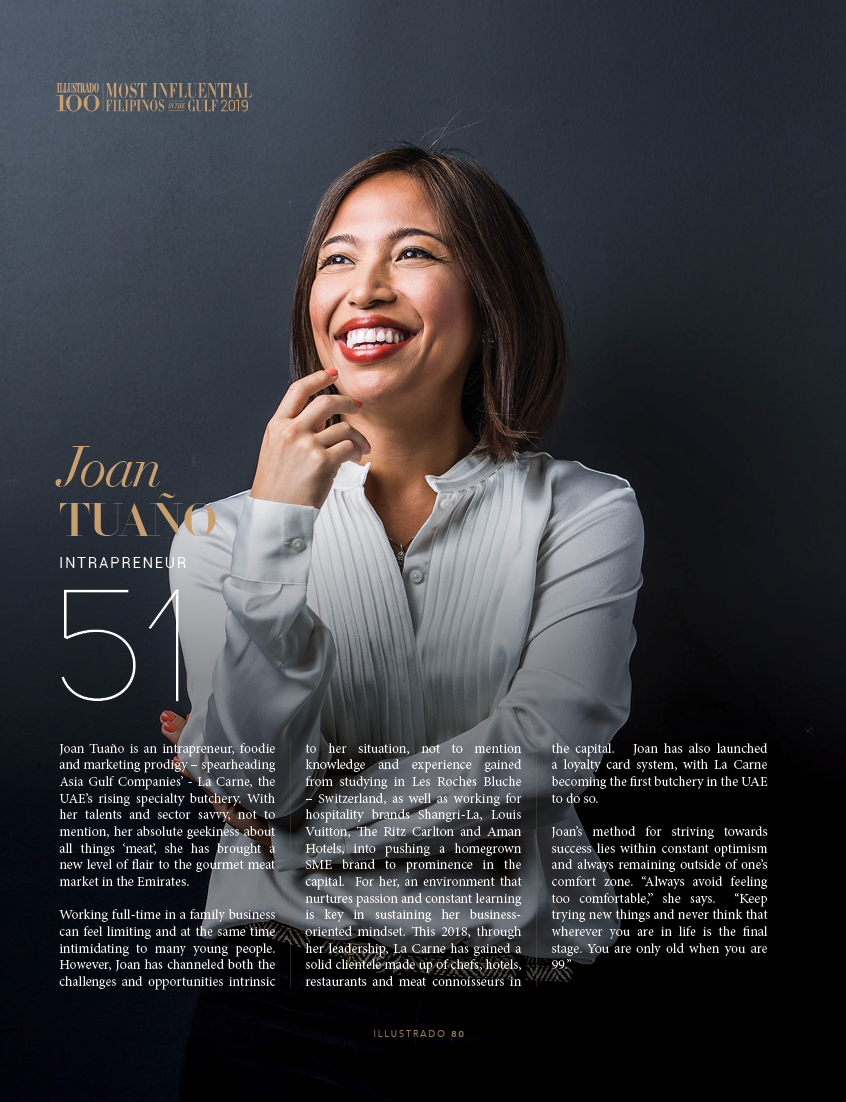 Joan Tuaño is an intrapreneur, foodie and marketing prodigy – spearheading Asia Gulf Companies' – La Carne, the UAE's rising specialty butchery. With her talents and sector savvy, not to mention, her absolute geekiness about all things 'meat', she has brought a new level of flair to the gourmet meat market in the Emirates.
Working full-time in a family business can feel limiting and at the same time intimidating to many young people. However, Joan has channeled both the challenges and opportunities intrinsic to her situation, not to mention knowledge and experience gained from studying in Les Roches Bluche – Switzerland, as well as working for hospitality brands Shangri-La, Louis Vuitton, The Ritz Carlton and Aman Hotels, into pushing a homegrown SME brand to prominence in the capital.  For her, an environment that nurtures passion and constant learning is key in sustaining her business-oriented mindset. This 2018, through her leadership, La Carne has gained a solid clientele made up of chefs, hotels, restaurants and meat connoisseurs in the capital.   Joan has also launched a loyalty card system, with La Carne becoming the first butchery in the UAE to do so.
Joan's method for striving towards success lies within constant optimism and always remaining outside of one's comfort zone. "Always avoid feeling too comfortable," she says.  "Keep trying new things and never think that wherever you are in life is the final stage. You are only old when you are 99."
……………………….
Special thanks to our sponsors: Emirates Airline, Stars n Bars La Mer, Liali, Instax – Grandstores UAE, Dusit Thani Dubai, Gver – Your Friendly Marketplace for Sharing, Meeting Dancewear , MPQ, CMG, Filbrit, and our partners Rozen Antonio Photography,  Alex Callueng Photography, Jef Anog Photography, and Ethereal Photography.