Thoughtleader – Jorhie Alban
PR & Communications Expert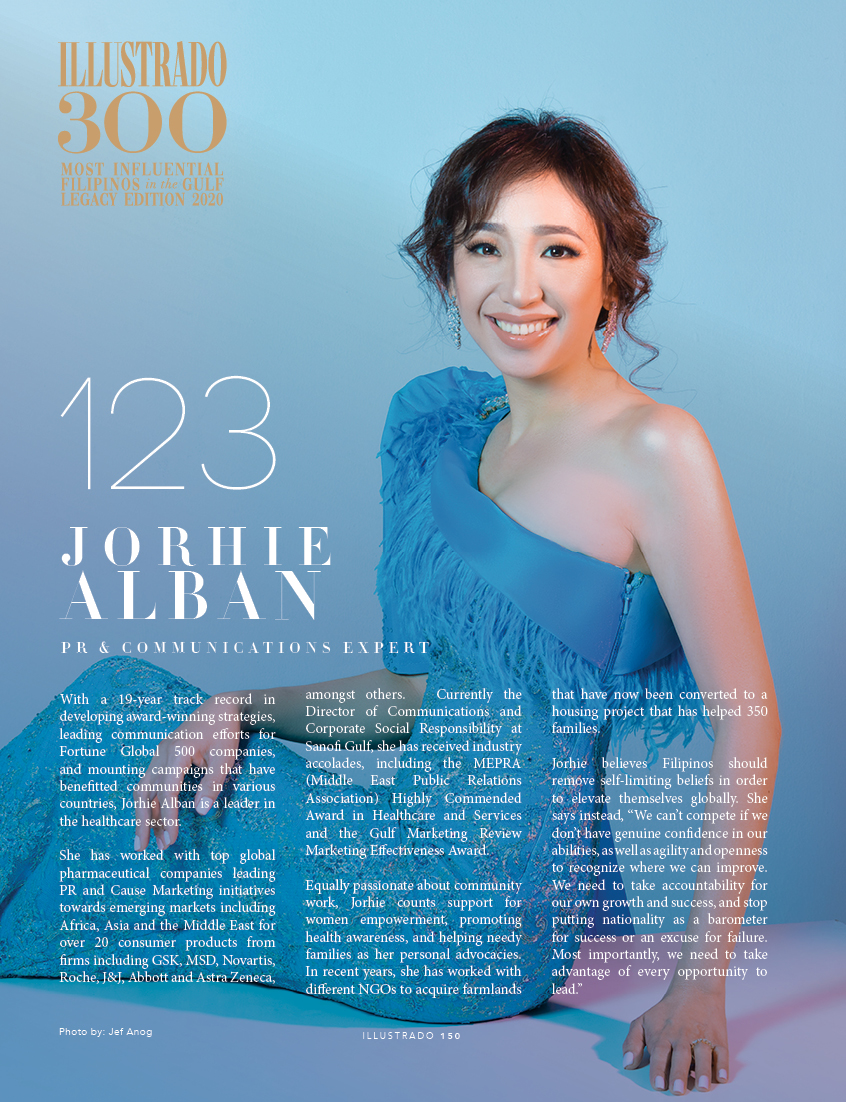 With a 19-year track record in developing award-winning strategies, leading communication efforts for Fortune Global 500 companies, and mounting campaigns that have benefitted communities in various countries, Jorhie Alban is a leader in the healthcare sector.
She has worked with top global pharmaceutical companies leading PR and Cause Marketing initiatives towards emerging markets including Africa, Asia and the Middle East for over 20 consumer products from firms including GSK, MSD, Novartis, Roche, J&J, Abbott and Astra Zeneca, amongst others.   Currently the Director of Communications and Corporate Social Responsibility at Sanofi Gulf, she has received industry accolades, including the MEPRA (Middle East Public Relations Association) Highly Commended Award in Healthcare and Services and the Gulf Marketing Review Marketing Effectiveness Award.
Equally passionate about community work, Jorhie counts support for women empowerment, promoting health awareness, and helping needy families as her personal advocacies.  In recent years, she has worked with different NGOs to acquire farmlands that have now been converted to a housing project that has helped 350 families.
Jorhie believes Filipinos should remove self-limiting beliefs in order to elevate themselves globally. She says instead, "We can't compete if we don't have genuine confidence in our abilities, as well as agility and openness to recognize where we can improve. We need to take accountability for our own growth and success, and stop putting nationality as a barometer for success or an excuse for failure. Most importantly, we need to take advantage of every opportunity to lead."
Illustrado 300 Most Influential Filipinos in the Gulf is Supported by: Kaya Skin Clinic,  Emirates Airline, and Unilever.
Special Thanks to Michael Cinco, Ezra Couture , Giordano, Darcey Flowers, IKON Solutions, Victors Freight, MPQ Tourism, Asia Gulf Companies –La Carne & Filfood, WOL Water
Get a copy of Illustrado 300 Most Influential Filipinos in the Gulf Legacy Edition