Josephine Cuthbert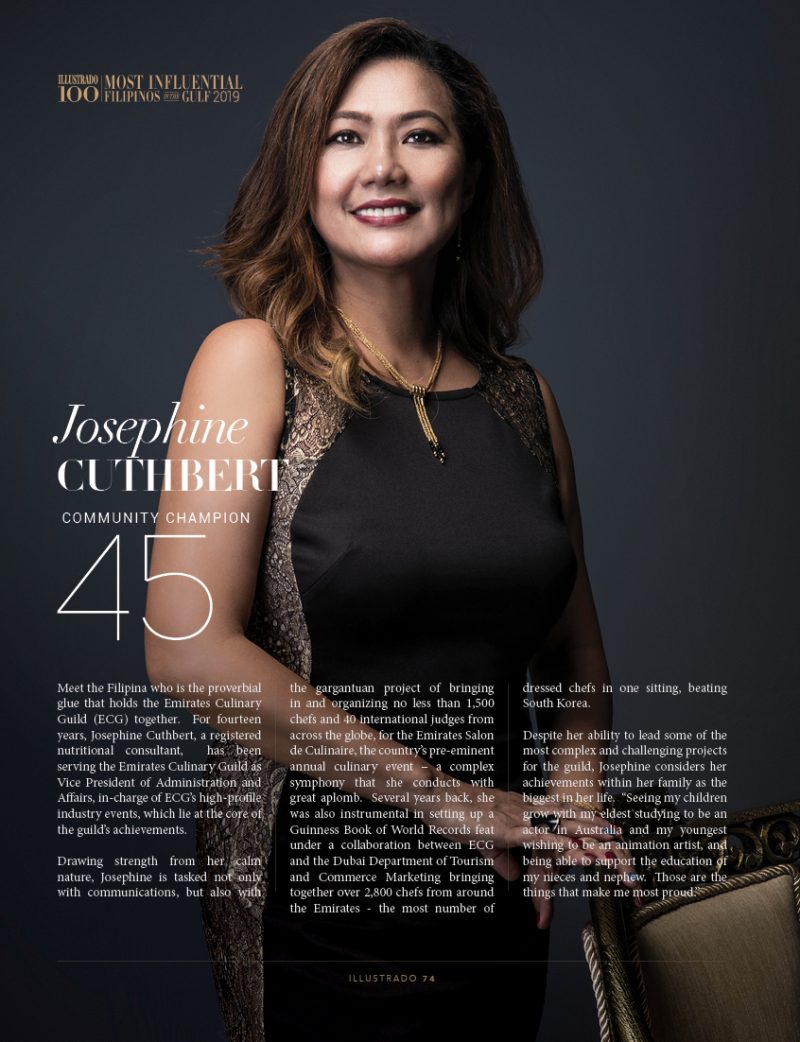 Meet the Filipina who is the proverbial glue that holds the Emirates Culinary Guild (ECG) together.  For fourteen years, Josephine Cuthbert, a registered nutritional consultant,  has been serving the Emirates Culinary Guild as Vice President of Administration and Affairs, in-charge of ECG's high-profile industry events, which lie at the core of the guild's achievements.
Drawing strength from her calm nature, Josephine is tasked not only with communications, but also with the gargantuan project of bringing in and organizing no less than 1,500 chefs and 40 international judges from across the globe, for the Emirates Salon de Culinaire, the country's pre-eminent annual culinary event – a complex symphony that she conducts with great aplomb.  Several years back, she was also instrumental in setting up a Guinness Book of World Records feat under a collaboration between ECG and the Dubai Department of Tourism and Commerce Marketing bringing together over 2,800 chefs from around the Emirates – the most number of dressed chefs in one sitting, beating South Korea.
Despite her ability to lead some of the most complex and challenging projects for the guild, Josephine considers her achievements within her family as the biggest in her life.  "Seeing my children grow with my eldest studying to be an actor in Australia and my youngest wishing to be an animation artist, and being able to support the education of my nieces and nephew.  Those are the things that make me most proud."
……………………….
Special thanks to our sponsors: Emirates Airline, Stars n Bars La Mer, Liali, Instax – Grandstores UAE, Dusit Thani Dubai, Gver – Your Friendly Marketplace for Sharing, Meeting Dancewear , MPQ, CMG, Filbrit, and our partners Rozen Antonio Photography,  Alex Callueng Photography, Jef Anog Photography, and Ethereal Photography.