Thoughtleader – Krishna Dela Paz
Marketing Professional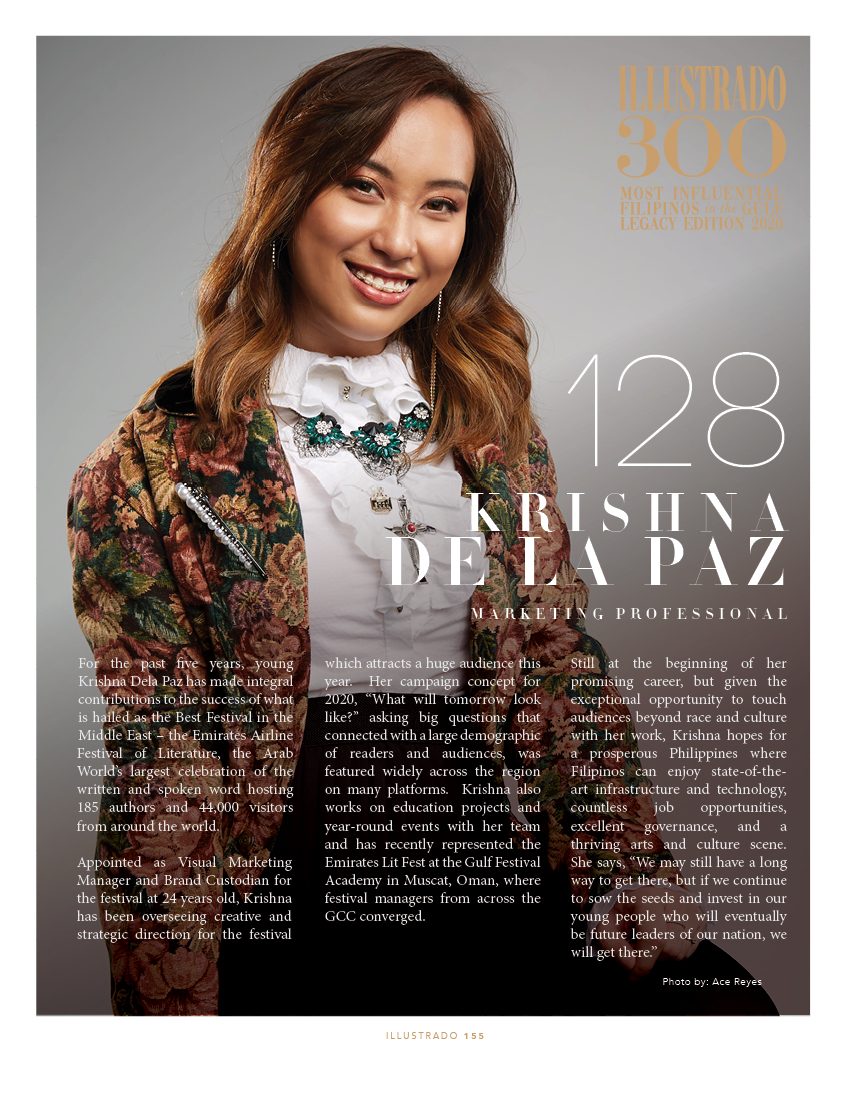 For the past five years, young Krishna Dela Paz has made integral contributions to the success of what is hailed as the Best Festival in the Middle East – the Emirates Airline Festival of Literature, the Arab World's largest celebration of the written and spoken word hosting 185 authors and 44,000 visitors from around the world.
Appointed as Visual Marketing Manager and Brand Custodian for the festival at 24 years old, Krishna has been overseeing creative and strategic direction for the festival which attracts a huge audience this year.  Her campaign concept for 2020, "What will tomorrow look like?" asking big questions that connected with a large demographic of readers and audiences, was featured widely across the region on many platforms.  Krishna also works on education projects and year-round events with her team and has recently represented the Emirates Lit Fest at the Gulf Festival Academy in Muscat, Oman, where festival managers from across the GCC converged.
Still at the beginning of her promising career, but given the exceptional opportunity to touch audiences beyond race and culture with her work, Krishna hopes for a prosperous Philippines where Filipinos can enjoy state-of-the-art infrastructure and technology, countless job opportunities, excellent governance, and a thriving arts and culture scene.  She says, "We may still have a long way to get there, but if we continue to sow the seeds and invest in our young people who will eventually be future leaders of our nation, we will get there."
Illustrado 300 Most Influential Filipinos in the Gulf is Supported by: Kaya Skin Clinic,  Emirates Airline, and Unilever.
Special Thanks to Michael Cinco, Ezra Couture , Giordano, Darcey Flowers, IKON Solutions, Victors Freight, MPQ Tourism, Asia Gulf Companies –La Carne & Filfood, WOL Water
Get a copy of Illustrado 300 Most Influential Filipinos in the Gulf Legacy Edition