Larry Carumba
Artist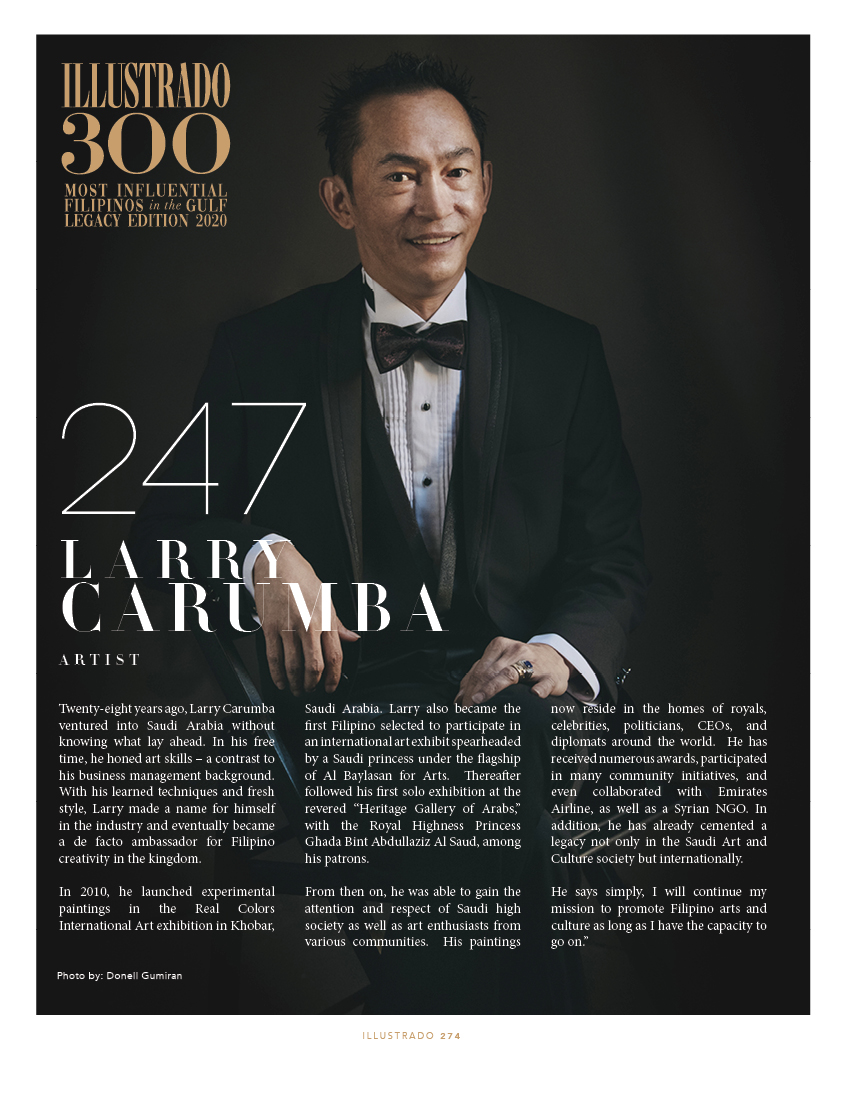 Twenty-eight years ago, Larry Carumba ventured into Saudi Arabia without knowing what lay ahead. In his free time, he honed art skills – a contrast to his business management background. With his learned techniques and fresh style, Larry made a name for himself in the industry and eventually became a de facto ambassador for Filipino creativity in the kingdom.
In 2010, he launched experimental paintings in the Real Colors International Art exhibition in Khobar, Saudi Arabia. Larry also became the first Filipino selected to participate in an international art exhibit spearheaded by a Saudi princess under the flagship of Al Baylasan for Arts.  Thereafter followed his first solo exhibition at the revered "Heritage Gallery of Arabs," with the Royal Highness Princess Ghada Bint Abdullaziz Al Saud, among his patrons.
From then on, he was able to gain the attention and respect of Saudi high society as well as art enthusiasts from various communities.  His paintings now reside in the homes of royals, celebrities, politicians, CEOs, and diplomats around the world.  He has received numerous awards, participated in many community initiatives, and even collaborated with Emirates Airline, as well as a Syrian NGO. In addition, he has already cemented a legacy not only in the Saudi Art and Culture society but internationally.
He says simply, I will continue my mission to promote Filipino arts and culture as long as I have the capacity to go on."
Illustrado 300 Most Influential Filipinos in the Gulf is Supported by: Kaya Skin Clinic,  Emirates Airline, and Unilever.
Special Thanks to Michael Cinco, Ezra Couture , Giordano, Darcey Flowers, IKON Solutions, Victors Freight, MPQ Tourism, Asia Gulf Companies –La Carne & Filfood, WOL Water
Get a copy of Illustrado 300 Most Influential Filipinos in the Gulf Legacy Edition