Trailblazer – Laurence De Guzman
Autism Awareness Advocate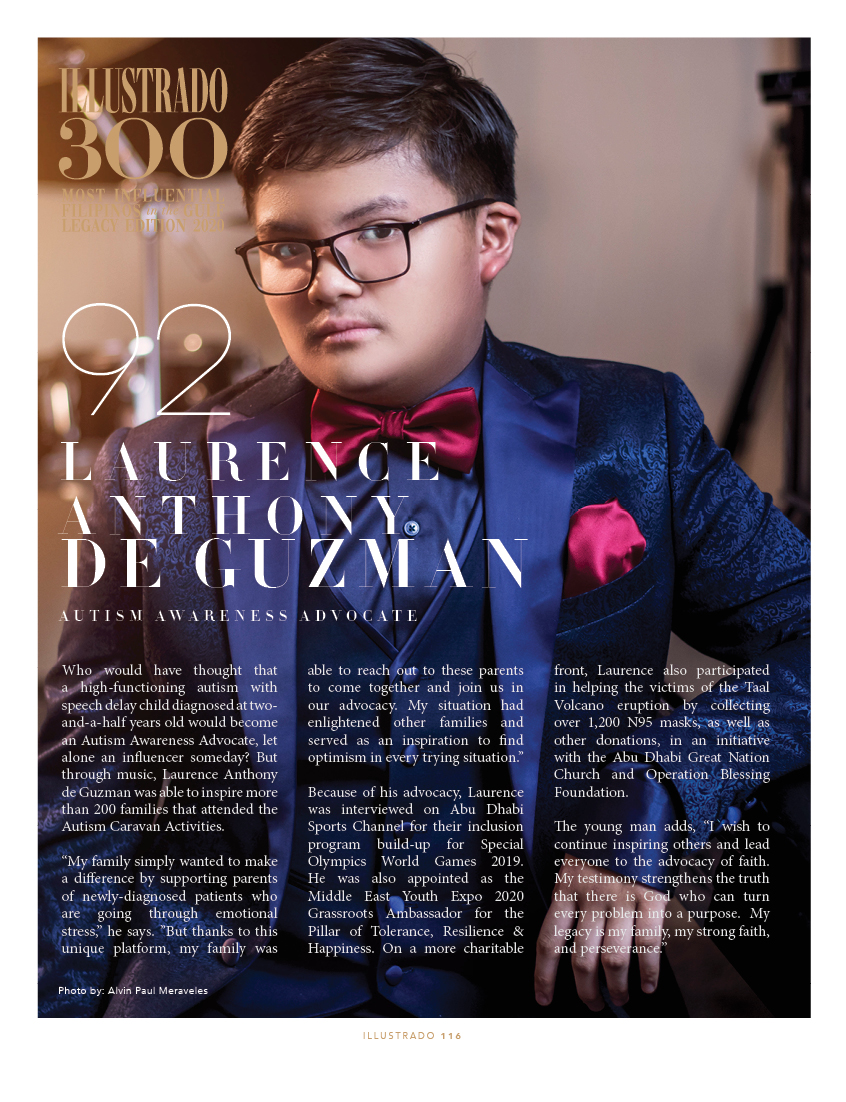 Who would have thought that a high-functioning autism with speech delay child diagnosed at two-and-a-half years old would become an Autism Awareness Advocate, let alone an influencer someday? But through music, Laurence Anthony de Guzman was able to inspire more than 200 families that attended the Autism Caravan Activities.
"My family simply wanted to make a difference by supporting parents of newly-diagnosed patients who are going through emotional stress," he says. "But thanks to this unique platform, my family was able to reach out to these parents to come together and join us in our advocacy. My situation had enlightened other families and served as an inspiration to find optimism in every trying situation."
Because of his advocacy, Laurence was interviewed on Abu Dhabi Sports Channel for their inclusion program build-up for Special Olympics World Games 2019. He was also appointed as the Middle East Youth Expo 2020 Grassroots Ambassador for the Pillar of Tolerance, Resilience & Happiness. On a more charitable front, Laurence also participated in helping the victims of the Taal Volcano eruption by collecting over 1,200 N95 masks, as well as other donations, in an initiative with the Abu Dhabi Great Nation Church and Operation Blessing Foundation.
The young man adds, "I wish to continue inspiring others and lead everyone to the advocacy of faith.  My testimony strengthens the truth that there is God who can turn every problem into a purpose.  My legacy is my family, my strong faith, and perseverance."
Illustrado 300 Most Influential Filipinos in the Gulf is Supported by: Kaya Skin Clinic,  Emirates Airline, and Unilever.
Special Thanks to Michael Cinco, Ezra Couture , Giordano, Darcey Flowers, IKON Solutions, Victors Freight, MPQ Tourism, Asia Gulf Companies –La Carne & Filfood, WOL Water
Get a copy of Illustrado 300 Most Influential Filipinos in the Gulf Legacy Edition