By Bernadette Reyes
As an awarded poet, Neva Kares Talladen never really thought about becoming an entrepreneur. She probably never thought that she would transform skin rashes into a homegrown Philippine cosmetics and skin care line that is fast becoming a world-class brand.
In her twenties, while Neva was indulging her fascination for make-up as most girls her age, she suddenly developed severe skin allergies known as eczema and contact dermatitis which are characterized by severe rashes. None of the dermatologists she consulted were able to cure her condition until an allergologist diagnosed she is allergic to phenoxyethanol and sulfate which are chemical compounds commonly used in most commercial skin care products.
To remedy her allergies, Neva had to source organic products from the United States which was altogether expensive and difficult to buy. Her cousins convinced her to concoct her own skin care products. Desperate as she was, she took up an online course on how to make natural and organic products and even went to product seminars offered by DTI (Department of Trade and Industry)
"I attended local workshops about product-making, and one that offered to teach about making organic products. But they were all lacking and they wouldn't teach the basics – making products from scratch. It was from a biochemist from California that I learned how to make these products from scratch."
Adding her own research through the internet and countless books, from the confines of her kitchen, Neva started to make skin butter, shower gels and shampoos. These products were meant only for personal consumption until her family and friends started to place orders. With a capital of PHP50,000 Neva launched her product line, calling it Leyende, the Spanish word for "legend" in February 2007. "I didn't have a background in business but I said to myself, 'I'm passionate about these products and I use them myself from head to toe.'"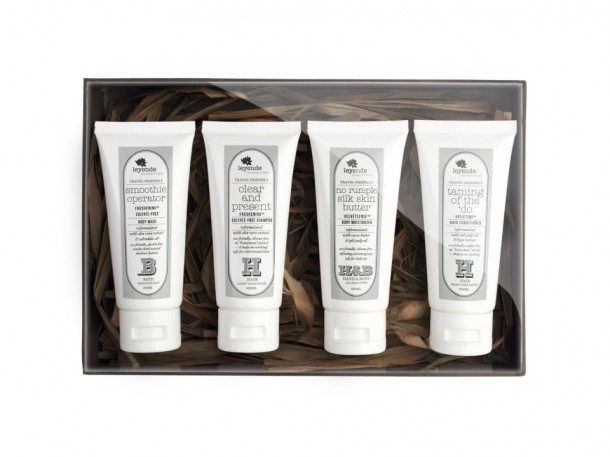 Named after famous movies and books, Leyende products are an interesting eye-catcher: Clear and Present shampoo named after the movie Clear and Present Danger, Rapunsilk Shampoo after the famous cartoons Rapunzel and Smoothie Operator bath and shower gel after the movie Smooth Operator.
Leyende products are not only witty, they are also effective. "After using any Leyende product once, you will feel and see an immediate effect," said Neva. "The lotion for example will not leave a sticky feel because we don't use mineral oil that clogs the skin," she explained. As a natural and organic brand, Neva strives to maintain the quality of her products and says emphatically that there is only one definition of organic — which has now become a word that is used loosely.
"Organic standards are not up to us. It is based on international standards developed for decades now. So there is just one definition of organic, and no exceptions:  If it doesn't come from a certified organic farm or source, it is not organic. Period." says Neva.
Priced more expensive than similar products in the market today, Neva had difficulties in gaining consumer acceptance at the outset. A Leyende lip balm for example would fetch at PHP200 versus another brand which sells at PHP60. But Neva refused to scrimp on quality. Rather than engaging in a price war, she dedicated her marketing efforts to educating consumers about the benefits of using organic products. "We are in a generation that uses chemical-laden products and we are now seeing rising incidence of cancers and tumors as we discover the effects of its long-term use. Now that we know better, the organic shampoo is still not as soft compared to commercial brands, but you know there is no residue in your skin and you know it's safe for the environment," Neva stresses.
A proudly-Philippine made brand, Leyende is also gaining acceptance in the international market with current distribution in Singapore, Malaysia and Nigeria. In June, Leyende will also penetrate the cosmetics market in Vietnam. Before yearend, Neva will again participate in the natural and organic fair in the Biofach Japan Natural and Organic Expo held in Japan. Last year, Leyende was the only Filipino company in the trade fair and was an instant hit – all the products Neva brought were sold out. This year she will bring in US$30,000 worth of products for the trade fair and samples for prospective institutional clients. "We look premium, our ingredients are premium and we have a very competitive price range," Neva stated.
Leyende would not have succeeded if it weren't for a solid business plan that delineated the budget required for the business to operate. Neva put in additional US$4,000 to grow her business otherwise her success would have been short-lived. "When you have a business no matter how small, you are going to die if you only have capital. You also have to have an operating capital otherwise you cannot grow plus supplemental capital for more manpower and procurement of additional raw materials to meet the growing demand."
The Internet was also instrumental in Leyende's success. Neva tapped social networking sites to market her products at the outset until the export market saw its potential. She pointed out the need for a "professional looking website" rather than just putting up a plain-looking page.
Neva is focused on making Leyende an international household name especially after the region has started to look at the Philippines as a possible source of imported cosmetics products. "Thailand has very limited variants, Vietnam has problems with sourcing containers and Japanese products are expensive," she explained.
Leyende is poised to set an example that Philippine-made products can become world-class. "My goal is to be an example of a world class brand so when they say it's a Philippine brand they know it is synonymous to quality and good design," she said.
Yet before the international market could embrace any Philippine product such as Leyende, Filipinos must first believe in the quality of "gawang Pinoy."  "They should buy more Philippine made products – it doesn't matter if it's mine or other products. I think we should be more nationalistic in buying clothes, food and household products. We are not inferior anymore, we have become competitive," Neva ended.
For more information about Leyende Organic Skincare Business, check out:
website: www.leyende.com or call +(632) 484-9197, e-mail: info@leyende.com