Chancing Upon Filipino-Belgian Painter Christian Van Maele's 4th Solo Exhibition in Belgium
By Kristine Abante
Photo credits: Mark Ganzon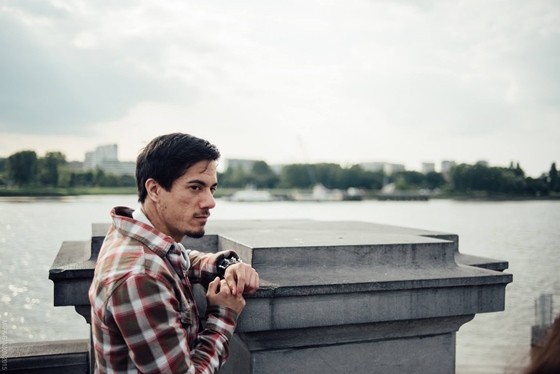 Antwerp, a city known for its diamond trade, revealed to me during an unplanned visit that it was also hiding other gems like Christian Van Maele.
It was an unusually cold summer day when we arrived at the private viewing of Filipino-Belgian painter Christian Van Maele's solo exhibition.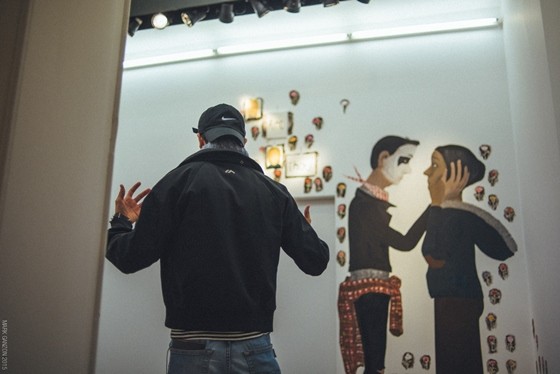 Christian met us at a beautifully ornate 18th century train station after he finished his shift at a nearby restaurant. From there, we navigated the eerily empty streets lit by the setting sun and headed towards an art gallery called "Life is Art." His paintings were currently on exhibit there, and he himself invited me and my friends to a private viewing. It is not everyday that one gets invited by the artist himself to see his show, so we four Pinoy tourists from Dubai counted ourselves lucky.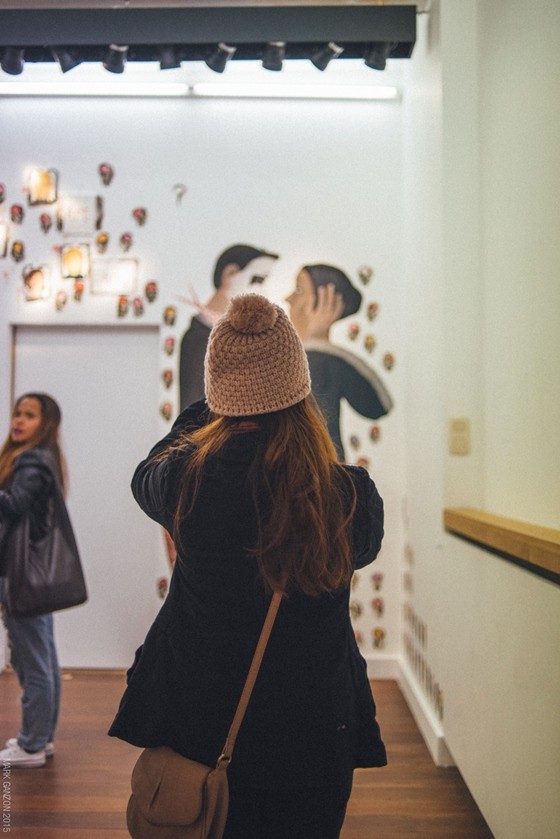 Turning the key of the gallery's door, he ushered us into a doorway that led to a fascinating private world made of waking dreams and quiet, fragile reflections.
THE ARTIST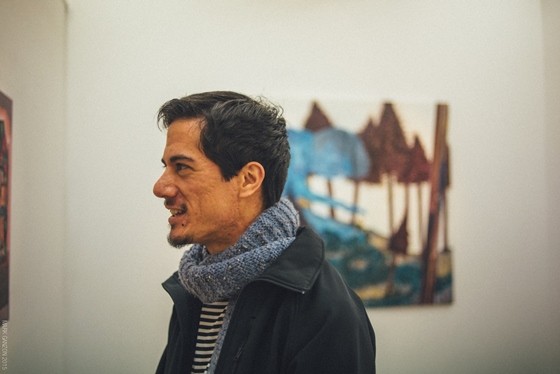 Christian Van Maele was born and raised in Belgium, in a city called Tielt in West Flanders. He has a younger sister named Catherine, and they got their Filipino roots from their mother.
He took up Fine Arts in college, and in 2010, earned his Masters degree in painting from Saint Lucas College in Antwerp.
He currently works at a restaurant near the art gallery where he was exhibiting, a day job that he was keeping so he can pay the bills. At the same time, the job's flexibility affords him more time to spend on pursuing his craft.
Low-key and reserved, he coyly shared with me his inclination towards the arts, and explained why he would rather be referred to as a 'painter' instead of an 'artist.'
"I cannot say why I am an artist. Partly because I feel like an outsider, and perceiving the world as an artist helps me to better function in it. But I actually prefer telling people that I'm a painter rather than I'm an artist. The response I receive, in general, is more down-to-earth, and I like it that way."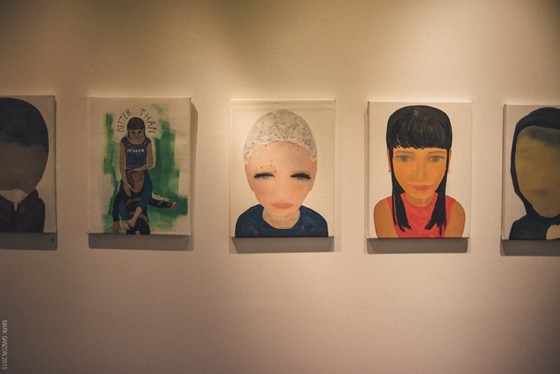 Inspired by the works of Abstract Expressionists such as Clyfford Still, Christian is fascinated by the vibrancy, aura, and storytelling abilities of Abstract Expressionism.
"It's like when you're looking at the clouds and they affect your imagination. It's about finding something, or someone, valuable and bringing that experience into your own private world. Or, maybe it's the exact opposite, like when you experience life as a hollow walkthrough."
"I exclusively do oil paintings because I like the idea of playing with its inherent cultural background and harnessing its power in creating a dialogue. I actually sit on the canvas—this allows me to merge myself with the medium. When I paint, it's like I don't have skin. I am both methodical and trusting of my feelings."
THE PROCESS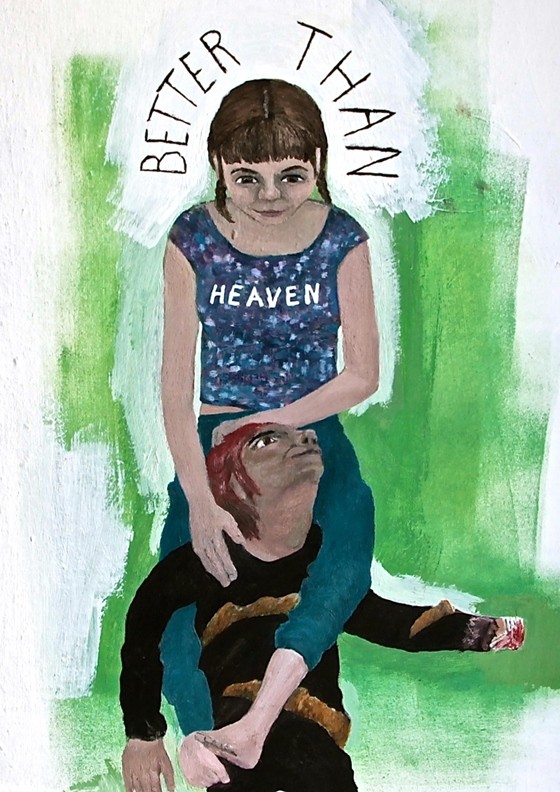 The exhibit, called 'Better Than Heaven,' is Christian's fourth solo exhibition.
It all started in 2011 when he replied to an ad about an art program opening in Brussels. That same year, he had his first solo exhibition in CC Strombeek in Grimbergen entitled, 'Extramuros (Are you a dreamer or part of the dream?)'.
The following year, he had another solo show called 'Extramuros (Field recordings)' which was held in Wijkbureau Mannenstraat, Leuven.
His third one, called 'Cavities,' was held in Life is Art, the same gallery where he took us to see 'Better Than Heaven.'
"When I learned that I was invited to do the new show, I had about eight months to prepare. I was interested in letting the first selection of art pieces come to me as organically as possible, and I employed the same kind of strategy that I use when I paint: I conceptualize the art space as a soon-to-be painted surface."
"The first paintings that were chosen to be included in the show ('Bonnie Pink,' 'All of the Lights' and 'Blackpool') eventually defined the flow of the artworks. I ended the show with a mural painting; I made it three weeks prior to the opening night."
Christian said that in retrospect, he realized that the works he selected to include in the exhibit tell more about the pivotal points in his artistic process and the choices he made in order to move forward.
THE EXHIBIT
Moving through the gallery, one could sense that his paintings evoked a guarded vulnerability. Some of them seem too personal, but at the same time, they were also universal. Relatable ideas were portrayed, like love.
"My paintings have to do with falling in and out of love. Many of my new paintings from this year, I have yet to put up on my blog because they are just too personal. Therefore, I am obligated to seek out a different approach in order for me to be okay with making these works available to the public."
Unlike other artists who, either consciously or unconsciously, evoke some kind of affinity to their national identity, Christian does not consider his artworks to be exclusively Belgian or Filipino, nor European or Asian.
"To be honest, I don't think about the audience. It's all about working from feeling. In my case, identifying as a citizen of a particular country is irrelevant."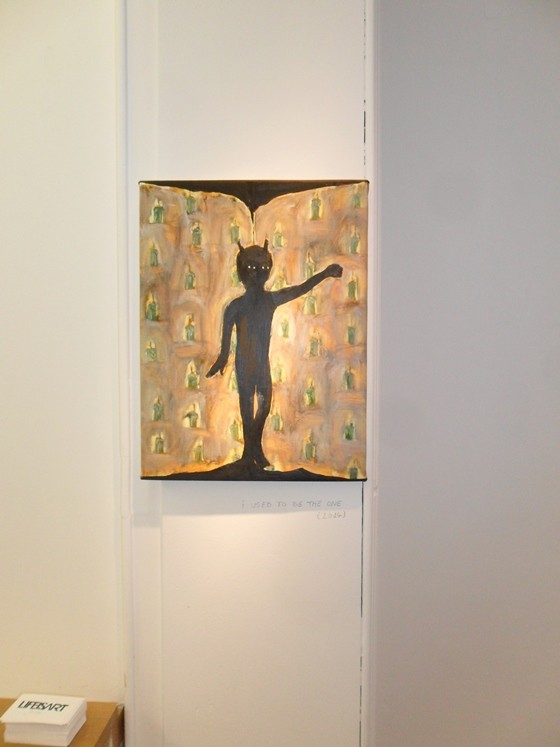 There was a small painting in the exhibit that has grown on me; it was called 'I Used to Be the One.' It depicts an underworld of large walls lit up by candles, and in the middle, stands a solitary lonely soul. It was very heavy, the brushstrokes especially, and the colors have a poisonous quality to them. And the way the piece faced the entire exhibit brought a certain wholeness to it. It completely caught me off guard. In the end, I realized that the smallest painting in the exhibit was also the most powerful.
SUPERHERO DREAMS
You can say that his self-awareness and grounded sensitivity that were honed by daily struggles with the mundane made Christian's artworks unique and intensely appealing.
Christian narrated how he once liberated mandatory uniforms made from paper hats by turning them into art pieces that, if pieced together, could make for a graphic novel.
"The restaurant where I work regularly gets inspected on hygiene, which is normal. But a year ago, it was proposed that all employees had to wear disposable paper hats, which arguably isn't necessary for the work that I do, which is doing the dishes and taking care of the tables and coffee machines. Regardless, I went with it for four months. And almost immediately after being issued the paper hats, I started drawing on them using a ballpoint pen. I thought it was a creative way of showing some of my interests. Having to deal with a company uniform, you would consciously want to make your individuality noticeable. I eventually dedicated a blog to those drawings."
Christian told me about the importance of hard work and self-belief in pursuing a craft.
"As a painter, I act on dreams. But above all, it takes a lot of believing to truly paint. I imagine the painter as a superhero, a person who stands for love, and at the same time, does not belong to anyone."
Indeed, his daily alter ego reminds me of superheroes: the double life they live, and how they are often characterized by a sense of both wonder and isolation, a theme that is prevalent in a lot of Christian's paintings.
I left the gallery with a sense of wonder, because, surprisingly, in the middle of many valuable pieces, I discovered a hidden, priceless gem.
Follow Christian Van Maele on his blog to see more of his works : https://casmo28.wordpress.com or check out the exhibit at http://www.lifeisart.be/christian-van-maele/