Maha Al Shamsi
Entrepreneur, Car Racer
Wife.  Mother.  Entrepreneur.  Rockstar female car racer. Maha represents the new face of female empowerment and ethnic amalgamation.  She is a smart, ambitious and fearless Emirati-Filipina who has defied gender and cultural stereotypes by pursuing her passion for racing and channeling the same dedication to her independent entrepreneurial ventures.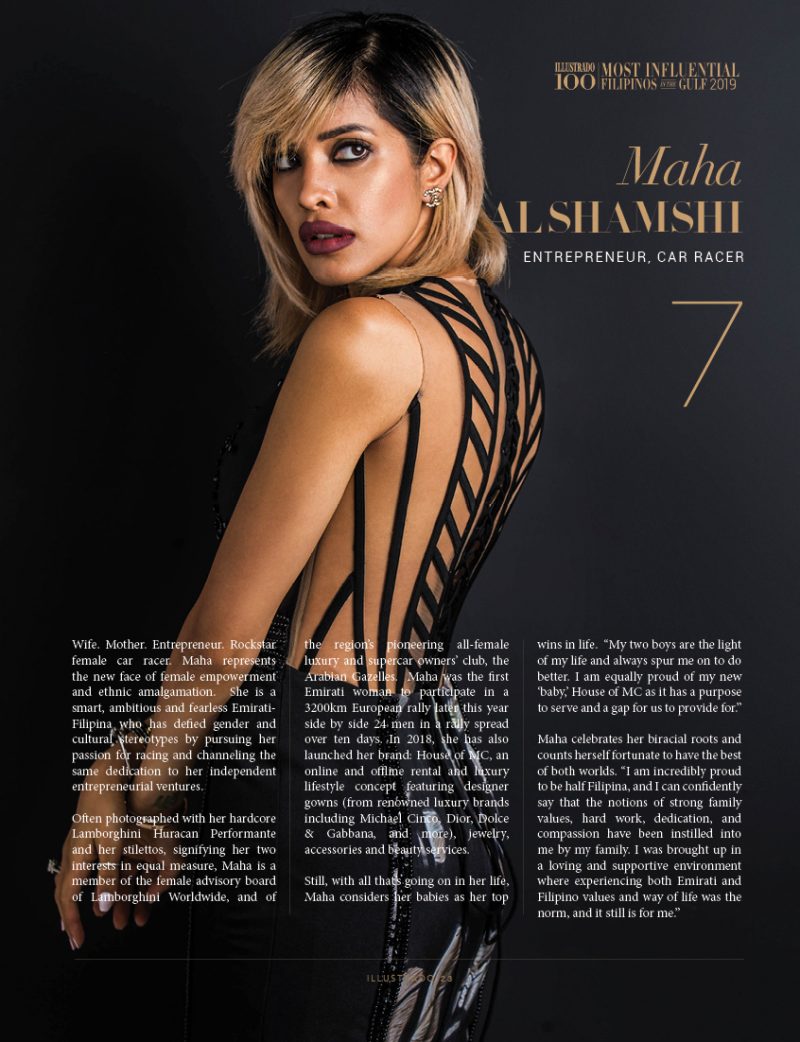 Often photographed with her hardcore Lamborghini Huracan Performante and her stilettos, signifying her two interests in equal measure, Maha is a member of the female advisory board of Lamborghini Worldwide, and of the region's pioneering all-female luxury and supercar owners' club, the Arabian Gazelles.  Maha was the first Emirati woman to participate in a 3200km European rally later this year side by side 24 men in a rally spread over ten days. In 2018, she has also launched her brand: House of MC, an online and offline rental and luxury lifestyle concept featuring designer gowns (from renowned luxury brands including Michael Cinco, Dior, Dolce & Gabbana, and more), jewelry, accessories and beauty services.
Still, with all that's going on in her life, Maha considers her babies as her top wins in life.  "My two boys are the light of my life and always spur me on to do better. I am equally proud of my new 'baby,' House of MC as it has a purpose to serve and a gap for us to provide for."
Maha celebrates her biracial roots and counts herself fortunate to have the best of both worlds. "I am incredibly proud to be half Filipina, and I can confidently say that the notions of strong family values, hard work, dedication, and compassion have been instilled into me by my family. I was brought up in a loving and supportive environment where experiencing both Emirati and Filipino values and way of life was the norm, and it still is for me."
……………………….
Special thanks to our sponsors: Emirates Airline, Stars n Bars La Mer, Liali, Instax – Grandstores UAE, Dusit Thani Dubai, Gver – Your Friendly Marketplace for Sharing, Meeting Dancewear , MPQ, CMG, Filbrit, and our partners Rozen Antonio Photography,  Alex Callueng Photography, Jef Anog Photography, and Ethereal Photography.