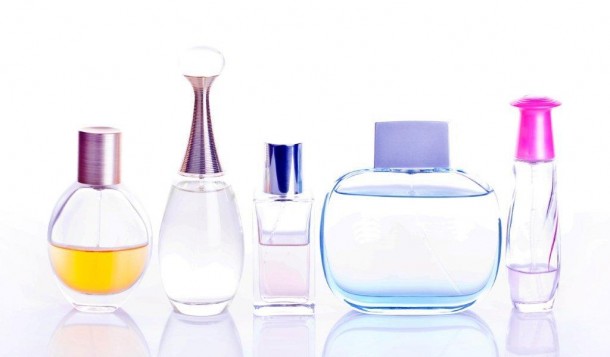 By Bernadette Reyes
This season of love, make money out of personalized sensual scents and blends or make one as a gift for your loved ones.
Sisters Bettina and Nicole Huang, owners of Grasse Fragrance, talk about their nose for business as well as fragrances.
Bettina and Nicole never thought they would end up in the fragrance business. However, since their family has long been in the packaging business for cosmetics, they thought engaging in a related business would give them an edge.
On a proverbial leap of faith, in 2006, the sisters started attending fragrance seminars and trainings in France. Shortly after, they set up their own fragrance business called Grasse Fragrance, named after a city in France best-known for making perfumes.
Since then, Grasse Fragrance has been the exclusive distributor of France-based fragrance company, Expressions Parfumees. They have also been teaching people how to make fragrances for business or as a personal scent.
Sniffing out an entrepreneurial opportunity
"We import fragrance oils from France and sell it to big manufacturers in the Philippines. The other part of the business is we teach entrepreneurs how to start their own business by making fragrances and other related products," says Bettina, 27, who established Grasse Fragrance with her older sister, Nicole, 30.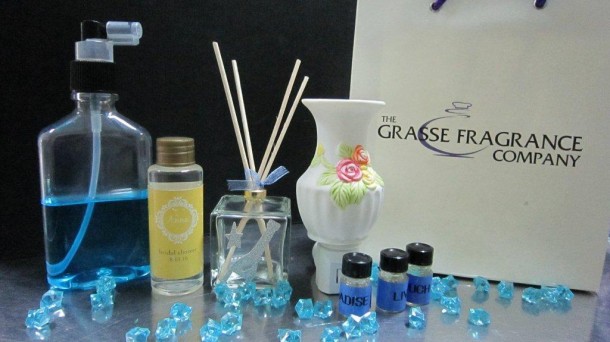 With capital of PHP10,000, an aspiring entrepreneur can already produce 40 perfumes and 20 to 30 bottles of massage oils (depending on size). While capital may be kept at a minimum, Bettina advises entrepreneurs to buy in bulk if their capital permits. "While we also sell in small volume, it is more cost effective to buy in bulk."
Start-up business owners, says Bettina, usually sell their products to neighbors, friends and officemates for personal use or as souvenirs for special occasions such as Christening, weddings and debuts. For a wider distribution channel, these products may be sold or consigned in bazaars, malls, spas and beauty stores.  Depending on one's marketing skills, the capital may be recovered in a week or a month.
Interested individuals and groups may take a trip to the training facility and supplies store in Makati for a one-time seminar which lasts for about 1 – 2 hours.  The seminar fee of PHP800 already covers supplies to get you started.
Apart from learning how to mix their own perfume blends, participants are also taught how to make their own product, cost them out and package them.
A wide range of packaging materials are available in the store from bottles and containers to boxes and paper bags. A printing facility where entrepreneurs can make their own label for their products is available for participants to use. However, to cut back on costs, entrepreneurs may choose to make their own label at home using sticker labels.
"The capital you need to start your own business isn't that much. A lot of Overseas Filipinos (OFs), they come home and they don't know where to invest their money. We show them that they can use their money for business," says Bettina.
A lot of others seem to have gotten a whiff of this idea as numerous people from all walks of life enter the store everyday because of their interest in fragrances as a business or hobby.
Grasse Fragrances started out using their fragrance oils to make personalized perfumes and colognes. They have since expanded their product line to include ready-made bases for other body care products such as shampoo, conditioner, body scrub and massage oil.
Recently, the company also introduced home fragrances such as reed diffuser which is a kind of air freshener, linen sprays and room spray. "The quality of the products we make is comparable to that of imported products," says Bettina.
While many similar businesses have emerged in recent years, Bettina believes the market is far from being saturated. "You always have a different take on products. Even if you sell the same products you can change the packaging and marketing style. The possibilities are endless," she says. But creativity is only half of the equation. Hard work, as in any business, is still crucial to succeed. "A lot of our clients who made it are the ones who keep a close eye on their business. Their supervision remains so the quality remains the same."
The same creativity and hard work put in by sisters Nicole and Bettina made their business a success. Bettina, who took up Marketing in Sta. Clara University in the US, handles the marketing side of the business. Nicole, a graduate of Communications Technology in Ateneo de Manila University takes charge of back operations.
Bettina says it could be tough working with a family member since they get to talk about the business even when they are already home but she wouldn't have gotten any other partner if it weren't her sister. "This gives us the chance to work together and we know we have the same goals and we know we can trust each other."
Aside from selling their products in the store, Grasse Fragrance also ship supplies to entrepreneurs in the provinces. The sisters are currently working on how to launch distribution offshore as they get a lot of inquiries from abroad. They are currently putting up a facility for an online store to further expand their reach with Dubai and Bahrain as possible the areas for expansion.
From a variety of 20 fragrances since the business started to over a hundred selections today, Grasse Fragrance is making an impressive success because as the company grows, Bettina and Nicole know that somewhere, someone is repeating their success, whether as a budding entrepreneur making a business work, a hobbyist concocting a new scent or simply a lover making a love potion for a partner this Valentine's Day.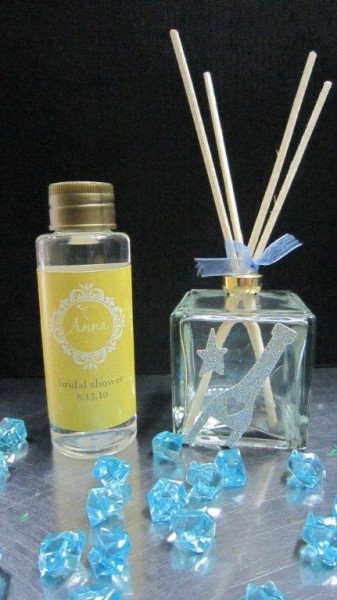 Make your own love potion no. 5 at Grasse Fragrance:
1. Measure the fragrance base. (Choose from perfume, EDT or cologne)
2. Compute how much quantity of each mixture you need.  For cologne example:  75 percent alcohol, 5 percent fragrance oil, 1 percent fixative, 19 percent distilled water.
3. In a graduated cylinder, mix fragrance base with alcohol, oil, and distilled water.
4. Add in fixative.
5. Pour in a few drops of diluted food coloring. (Optional)
6. Transfer to a container glass or plastic bottle.
7. Label and package your finished product.
Make your own massage oil: 
1. Measure mineral oil e.g. sweet almond oil
2. Measure the fragrance oil.
3. Pour in the fragrance oil into the mineral oil and stir.
3. Add food coloring if you want.
4. Transfer to a container.
5. Label the package.
GRASSE FRAGRANCE COMPANY
G/F Saville Building 8728 Paseo de Roxas Ave. cor Buendia Makati City
Mobile No.: +63922-833-05-17
Email: info@grassefragrance.com
Website: www.grassefragrance.com