Maria Josephine Panagsagan Abina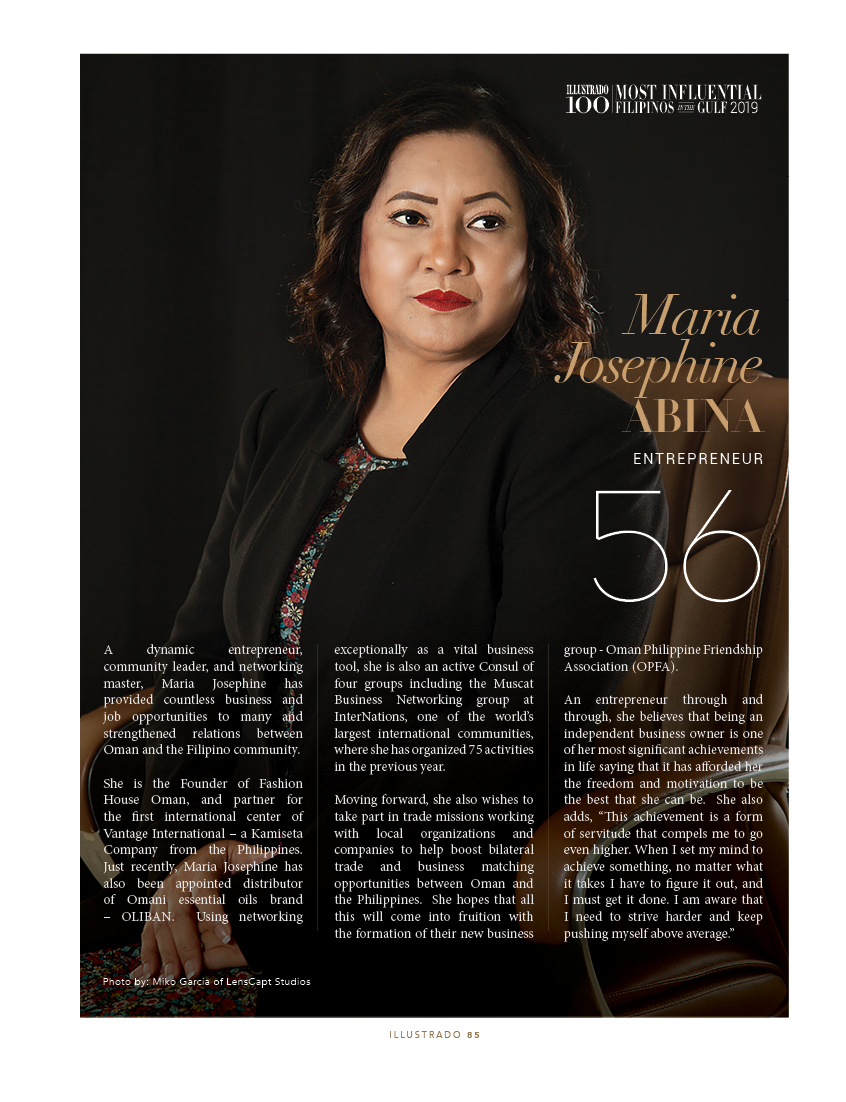 A dynamic entrepreneur, community leader, and networking master, Maria Josephine has provided countless business and job opportunities to many and strengthened relations between Oman and the Filipino community.
She is the Founder of Fashion House Oman, and partner for the first international center of Vantage International – a Kamiseta Company from the Philippines. Just recently, Maria Josephine has also been appointed distributor of Omani essential oils brand – OLIBAN.  Using networking exceptionally as a vital business tool, she is also an active Consul of four groups including the Muscat Business Networking group at InterNations, one of the world's largest international communities, where she has organized 75 activities in the previous year.
Moving forward, she also wishes to take part in trade missions working with local organizations and companies to help boost bilateral trade and business matching opportunities between Oman and the Philippines.  She hopes that all this will come into fruition with the formation of their new business group – Oman Philippine Friendship Association (OPFA).
An entrepreneur through and through, she believes that being an independent business owner is one of her most significant achievements in life saying that it has afforded her the freedom and motivation to be the best that she can be.  She also adds, "This achievement is a form of servitude that compels me to go even higher. When I set my mind to achieve something, no matter what it takes I have to figure it out, and I must get it done. I am aware that I need to strive harder and keep pushing myself above average."
……………………….
Special thanks to our sponsors: Emirates Airline, Stars n Bars La Mer, Liali, Instax – Grandstores UAE, Dusit Thani Dubai, Gver – Your Friendly Marketplace for Sharing, Meeting Dancewear , MPQ, CMG, Filbrit, and our partners Rozen Antonio Photography,  Alex Callueng Photography, Jef Anog Photography, and Ethereal Photography.