Tastemaker: Menon
Hiphop Artist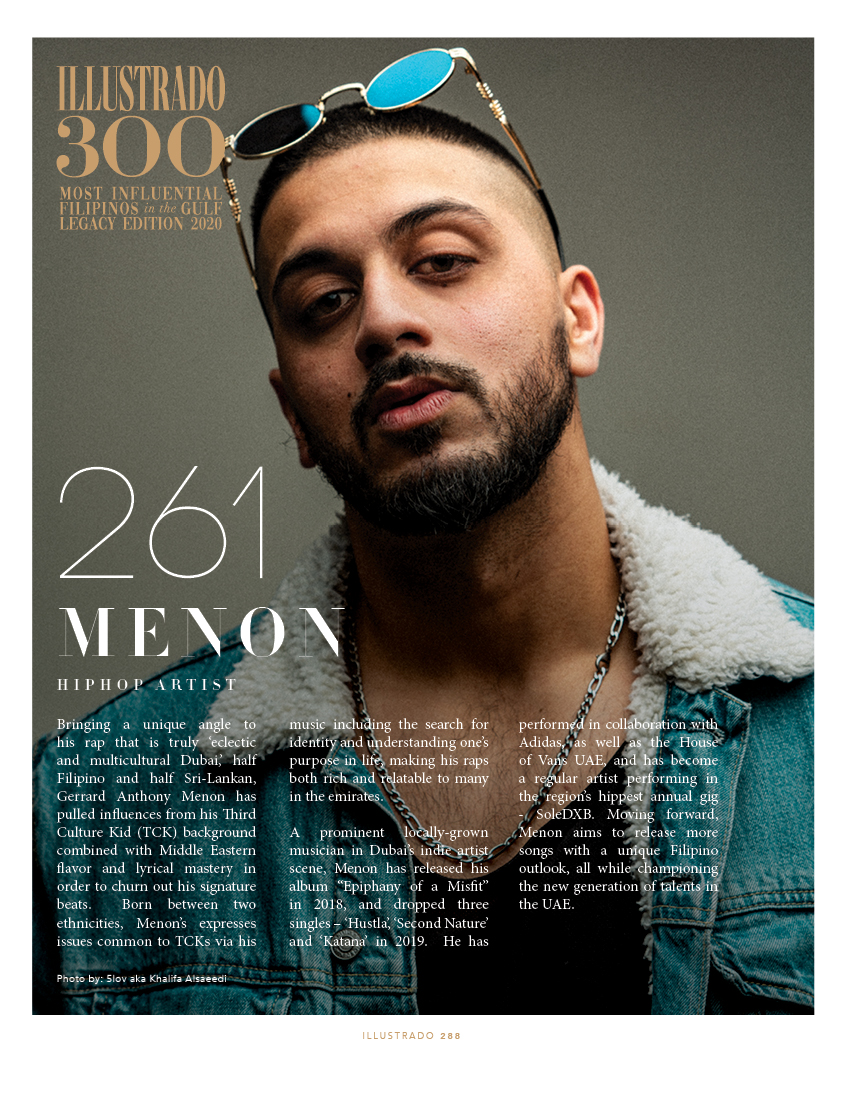 Bringing a unique angle to his rap that is truly 'eclectic and multicultural Dubai,' half Filipino and half Sri-Lankan, Gerrard Anthony Menon has pulled influences from his Third Culture Kid (TCK) background combined with Middle Eastern flavor and lyrical mastery in order to churn out his signature beats.  Born between two ethnicities, Menon's expresses issues common to TCKs via his music including the search for identity and understanding one's purpose in life, making his raps both rich and relatable to many in the emirates.
A prominent locally-grown musician in Dubai's indie artist scene, Menon has released his album "Epiphany of a Misfit" in 2018, and dropped three singles – 'Hustla', 'Second Nature' and 'Katana' in 2019.  He has performed in collaboration with Adidas, as well as the House of Vans UAE, and has become a regular artist performing in the region's hippest annual gig – SoleDXB. Moving forward, Menon aims to release more songs with a unique Filipino outlook, all while championing the new generation of talents in the UAE.
Illustrado 300 Most Influential Filipinos in the Gulf is Supported by: Kaya Skin Clinic,  Emirates Airline, and Unilever.
Special Thanks to Michael Cinco, Ezra Couture , Giordano, Darcey Flowers, IKON Solutions, Victors Freight, MPQ Tourism, Asia Gulf Companies –La Carne & Filfood, WOL Water
Get a copy of Illustrado 300 Most Influential Filipinos in the Gulf Legacy Edition